The hatred between Werewolves and vampires is not secret to the rest of the world, whether they know this world actually exists or not. Not many people actually know the story of the relationship between Vampires, werewolves and Witches. All most people know is that they hate each other.
Origins
Witches have been around since the beginning of time. Some witches believe it to be evolution while others believe it is a gift from nature itself. The first witch coven called themselves Sisters of Harmony, it was made up of five young women in a very small town. They believed their abilities were to help nature keeps it's natural balance while also helping humans with problems, small or big. Mistakenly showing their abilities to their neighbors and families in hopes they would believe their gifts were given to help. Unfortunately instead they believed their gifts were given by the devil and ran them out of town. They spent their lives together, never away from each other. This created a bond like no other, the original coven.
With every group there is a power struggle. Two members of the group constantly disagreed on everything so they decided that every decision should be put to a vote, no one would rule over the others. They evolved their abilities over the years and
discovered each witch had their own special talent. They also discovered dark magic, which they voted was against nature and it was never to be used by a witch or that witch must be killed. However not all followed this rule, one of the five wanted all the power they could get and practiced dark magic as well as 'light' magic. Eventually the witch became completely dark, everything about her changes and the rest noticed. They realized she had been using dark magic and tried to kill her but it didn't work and the dark witch fled.
The dark witch lived from town to town, constantly moving. Everywhere she went the others found her. One night on a full moon she created vampires, using three unsuspecting teenagers.She used them to protect herself from the constant attacks from her former coven. For years her life was peaceful until her vampires became tired of being controlled by the dark witch and planned to kill her for their freedom.
Fortunately she left information on the vampires from years of watching and interacting with them. Her former coven members found her and buried her. After burying her they, together created werewolves to hunt down the vampires. Werewolves were created using the weaknesses of vampires.
Centuries has passed since these species have been born. there are now hundreds of witch covens, packs of werewolves, and vampire covens all around the world.
Plot
For centuries in a small town called Cherry Blossom a werewolf pack has protected the town's humans from vampires. The vampires have stayed at bay outside the borders of the town waiting for an opportunity to hunt there They soon got the opportunity they were waiting for when the recent Alpha died leaving no heir to the position. The pack turned on each other fighting about who should be the next Alpha, leaving the borders unguarded.
Meanwhile a coven of witches who have lived, hidden, in the town are trying to find a way to keep the peace between the two species while also staying hidden from them.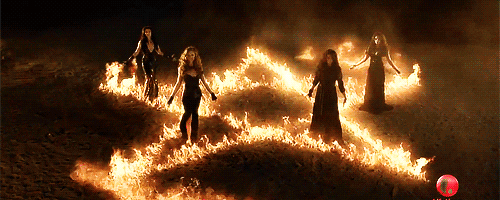 ---
---
---
---
Character Sheet
I don't really have a code for this so do whatever you like with it. This is just a list of things that need to be included.
Name:
Age:
Sexuality:
Species:
Rank: (if werewolf before/after Alpha's death.)
Occupation: (if vampire/witch/werewolf you don't have to have this unless you live in the town and are trying to fit in.)
Ability:(Vampires as well as witches get one ability. If witch and chose elemental please specify which element.)
Mate:
Appearance:
Personality:
History:(If vampire include how you became a vampire)
1. Please reserve OCC, if you submit a CS without reserving it WILL be rejected.
2. I will allow two characters per player
3. If you are a former member and did not receive a PM from me you will have to reserve and create a brand new character.
4. Drama IC is welcome/ Drama OCC is not. If something needs solved either contact me via PM or move it to PM yourselves
5. Reservations last 3 days, W.I.P's must be up by the first two days.
6. Please read the species info in the OOC.
7. Once I accept your reservation please send me your face-claim, No anime.
8. Please try to post at least twice a week, once a week is also acceptable. If I see no post from you by the end of a week I will contact you via PM. If this happens three times consecutively your character will be killed off.
To prove you read these rules tell me something from the species forum.
Taking place in...
25 posts here • Page 1 of 1
25 posts here • Page 1 of 1
Arcs are bundles of posts that you can organize on your own. They're useful for telling a story that might span long periods of time or space.
There are no arcs in this roleplay.
There are no quests in this roleplay.
Here's the current leaderboard.
There are no groups in this roleplay!
Welcome home, Promethean. Here, you can manage your universe.
Arcs are bundles of posts from any location, allowing you to easily capture sub-plots which might be spread out across multiple locations.
You can create Quests with various rewards, encouraging your players to engage with specific plot lines.
Settings are the backdrop for the characters in your universe, giving meaning and context to their existence. By creating a number of well-written locations, you can organize your universe into areas and regions.
Navigation
While not required, locations can be organized onto a map. More information soon!
There are no groups in this roleplay!
By creating Collectibles, you can reward your players with unique items that accentuate their character sheets.
Once an Item has been created, it can be spawned in the IC using /spawn Item Name (case-sensitive, as usual) — this can be followed with /take Item Name to retrieve the item into the current character's inventory.
Give your Universe life by adding a Mob, which are auto-replenishing NPCs your players can interact with. Useful for some quick hack-and-slash fun!
Mobs can be automated spawns, like rats and bats, or full-on NPCs complete with conversation menus. Use them to enhance your player experience!
Current Mobs
No mobs have been created yet.
Locations where Mobs and Items might appear.
You can schedule events for your players to create notifications and schedule times for everyone to plan around.
Add and remove other people from your Universe.
The Forge
Use your INK to craft new artifacts in Cherry Blossom's War -Reboot-. Once created, Items cannot be changed, but they can be bought and sold in the marketplace.
Notable Items
No items have been created yet!
The Market
Buy, sell, and even craft your own items in this universe.
Market Data

Market conditions are unknown. Use caution when trading.

Quick Buy (Items Most Recently Listed for Sale)
None
Discussions
Topics

Replies
Views

Last post
Cherry Blossom's War -Reboot-
1

,

2

,

3

,

4

,

5by thehalfbreed443 on Wed Feb 01, 2017 7:12 pm


92 Replies
4162 Views
Last post by thehalfbreed443
on Fri Jul 14, 2017 11:49 pm

Cherry Blossom's Relationships
by thehalfbreed443 on Sun Feb 05, 2017 11:28 am


11 Replies
998 Views
Last post by Lostsoulsbleed
on Sun Feb 19, 2017 2:49 am

Species Information
by thehalfbreed443 on Thu Feb 02, 2017 12:22 am


0 Replies
466 Views
Last post by thehalfbreed443
on Thu Feb 02, 2017 12:22 am
Most recent OOC posts in Cherry Blossom's War -Reboot-
There have been no posts in the OOC topic for this roleplay!