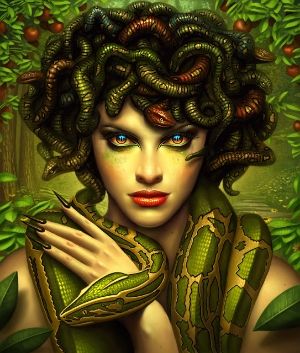 BATTLE FORM (not exact)
- - -
● ● ● ❝Kallistrate Dimitriou
- - -
RELENTLESS / CYNICAL / FLIRTATIOUS / AGGRESSIVE / SNEAKY
➔ BIRTHDAY (NUMERICAL AGE) : 245 years (appears 25)

➔ RACE : Stheno Gorgon

➔ DISTINGUISHING MARKS // APPEARANCE : Kallistrate's snakes are, during her work days, loosely tied in the back in a low ponytail to control them, and are as long as her waist. She has slitted blue eyes, and her snakes are red and smooth, also with blue eyes. At 5'7" in her non-battle form, without the oxfords she favors with her standard MI uniform, Kallistrate is also snakelike--curved, although not in an exaggerated way, but sinuous. Her MI uniform is simple and sophisticated, and as an investigator she is usually in a black suit paired with low-heeled oxfords. Her blazers are paired with colorfully feminine shirts, always coordinated well with her snakes who, with a small purchased glamour that she activates when in human areas, look like very thick red hair. She carries a gun in a shoulder holster, but mostly for appearance's sake. Her MI badge is clipped to her belt, a shield with the Chicagoland MI symbol. The same glamour that conceals her snakes from the non-Monster population also conceal the faint outline of scales that could otherwise be seen in her pale skin.

➔ OCCUPATION : Chicagoland Monster Investigator

➔ FACTION : CCMAA


➔ POWERS : Immortal, brass talons, above human speed and strength, Gorgon battle form (her lower half turns into a large and powerful snake's tail), able to move very silently when necessary

➔ POWERS : As a Gorgon, Kallistrate possesses snakes for hair, who are highly venomous. This venom has been compared to that of the eastern brown or the inland taipan snakes, producing certain death within an hour of being bitten if left untreated, and the treatment is not well-known and is difficult to make. Her venom is much more concentrated in her own fangs in her mouth, and can induce death within moments if she bites you directly. However, this venom is most effective on humans and Monster species closest to humans in biology. Gorgon venom produces different effects, depending on the monster's species and individual strength, but the most common side effect if a monster is strong enough to resist most of the effects of her venom is paralysis. Her snakes are not sentient as such, but they do carry instincts of their own and operate independently from Kallistrate's will, which is why they are typically bound, if loosely.

➔ POWERS : In Gorgon battle form, Kallistrate's tail is very long and muscular, tapering to a point without a rattle. This tail is red with black speckles and a white underbelly. It can be used for constricting purposes, as well as some climbing, and if in a battle with another gorgon Kallistrate will affix a metal spike or trident to the end of her tail, to use against her foe.


➔ RANDOM FACT : Kallistrate is known as "Kalli" to her friends, but only her friends.

➔ RANDOM FACT : She cannot turn people to stone, her Gorgon subspecies is all wrong for that, but her prey does tend to freeze in fear.

➔ RANDOM FACT : In her high-stress, fast-paced job, Kallistrate will not get through the day without her coffee.