---
⌈
nickname/alias
⌋
She is known under various of nicknames, one of them she truly adores being Aisha, Taya respectively. For alias, she has too many to count as the time passed and more identities she faked, more people she deceived. One alias that will always follow her everywhere is 'cursed child' or 'witch', an assumption of the society that she gradually believes in, too.
⌈
role
⌋
Traveler | Aid (possible enemy in the future) for the Children
⌈
gender
⌋
Female
⌈
age
⌋
24 years old
⌈
sexuality
⌋
Pansexual
⌈
face claim
⌋
Oichi from Sengoku Basara
---
⌈
height
⌋
5'8 ft
⌈
appearance details
⌋
Taya is the epitome of refinement, elegance and beauty; standing tall and adequate almost regally, as though belong to a fine home. She embodies a beautiful slender figure almost hourglass-like which put emphasize in the right curves to appear more spledidly. While she leaves the impression of fragility and vulnerability, her strong brave sharp sand-coloured orbs tells another story inwhich resistance and stubbornity are apparent. Peculiar coloured eyes that are shown bathing in golden shades under intense light; shaped a little droopy which adds to the false assumption of her weak being. A mistake that was damned to go on forever unless her beauty fades away within the course of time.

Oddly pale skin soft for the touch let her ebony black hair allure more brilliantly, slipping from her small frame down to her knee. Her soft and silky hair which adorned her pretty head is of flawless texture with strands cutted at the front to create even bangs which covered both sides of her forehead as if meant to be.

Her face is nicely structured, within proportions close to reaching perfection. A sharp nose sits perfectly whereas her slim bloody red lips below create a contrast to her pale skin which adds to her allure as a grown up woman. It is though, saddened that she always covers it, makes it into a freezing blue colour. Beyond everything, there's also a mole, sitting directly beneath her underlip which certainly may count as beauty mark.

Her outfit varies, but more often within her travel she wears these dresses of nobel house she stole in the past. Within the garment she attracts men like flowers bees entirely for the purpose to have everything easier for the taking. Most of time though she travels within an unnoticeable coat wherein she covers her entity to not attract too much attention she would otherwise. At the choice she'll wear only the most comfortable ones, preferrably those who are actually meant for men - as they are large and have the warmth she seeks for.
---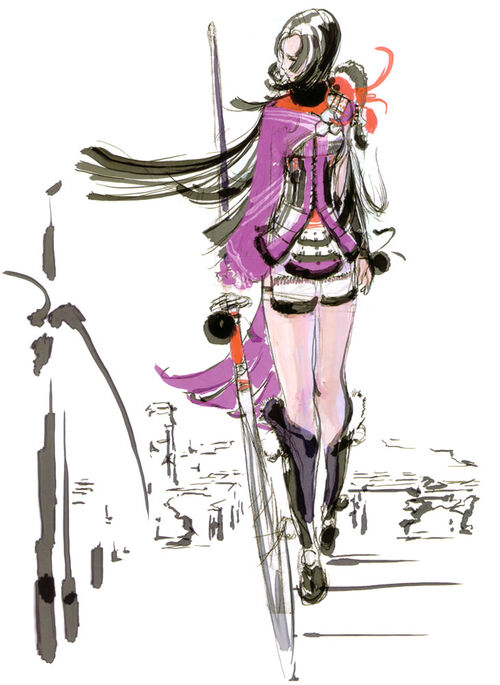 ⌈
powers/abilities
⌋
○

Demonic right arm

;; A power which is granted to her as curse, at the beginning the first steps of her transformation into a demon. The darkness, which creeped up to her that time by penetrating the skin of her right hand, yet didn't go as far as her shoulder as she disconnected her whole right arm by chopping it immediately. However, it wasn't suppose to end as easy as that, her right arm was connected once again the next day, with shades of black bruises all over. Now she covers them with arm-length clothes and gloves, tries to write with the left hand and exert herself to use her left hand only - yet she has no choice but to at critical times wielding her weapon with the cursed right hand. The 'demonic' right arm simply because it bestows her more strength, accuracy and power despite the pain she is burdened with afterwards.
⌈
likes
⌋
♥

Leaf blowing

;; Firstly, she'll search for a suitable leaf that meets with her conditions such as oval shape, smooth edge, a little elastic feature and also thin, which is approximately 2- 2,3 inch long and ~1 inch wide. And then she'll do it just like she figured out by herself, smoothly producing sounds as though she plays flute. A hobby sort of to relax herself with.
♥

The thrill of deceit

;; She doesn't look like the type, but at times she has childish tendencies, where she just enjoys her little role-play she does to deceit people to unconsciously help her to achieve her desires. It is neither evilness nor pure purposeful mind wherein she puts the most significance - it is amusement she seeks and also somehow to be left in the minds of people.
♥

Horses especially and animals in general

;; She is an excellent equestrian woman and one could see her affection towards animals in general, but especially horses she treats with absolute care. Also she is known to be able to tame, even domesticate animals in a way that may appear crazy, but for Taya simply no big deal. She seems to lack fear in this aspect.
♥

To discover

;; Part of the reason she's a traveler, duh.
♥

Leaving traces behind

;; She wants to be remembered by the people she meets because without family she was of no importance to anyone (according to her). She yearns for affection, to occupy a special place in someone's heart - yet she never manages to get into the stage, and always only dwell shortly at one place and the other. It is though her greatest wish that even while she has only known a person shortly, she'll leave traces of her being there, that being either she steals something from them, she makes a mess out of their house or, which happens quite often, is that she injures them. And I am certainly not talking about a light injury; it is an injury that will remain within their hearts or on their physique for quite some time.
⌈
dislikes
⌋
x

Peeping Tom, drunks, etc.

;; Better watch out for her kick - it's definitely is something to beware about. The cases of this obvious sexual harrasment is almost something she meets daily with; and within the matter she knows no pardon. She is someone who'd like to have control over who can see and touch her, if you'd be so kind.
x

Pretense

;; Even while she does pretense, she hates others do the same to her. If someone acts in front of her, she usually notice because she has the experience to look through their true faces and after all, she does the same so she knows somewhat how it goes. It is due to her selfish desires she simply dislike people pretending in front of her. Sometimes it may end up with her bullying the pretending person to the point they do not have a choice but surface their true nature. She's conflicted, alright.
x

Religion

;; Simply because it is the fault of religious people that she got thrown out of some town she called home for years, and to top it be branded as 'witch'. Obviously, she does not believe in so called 'Gods' as consequence.
x

To become entranched

;; She doesn't like to be hurt - and she definitely doesn't want to be thrown away again, to be betrayed once more by the people she trusts. Which is why she always only dwells a short period of time in one place before going to another and do the same there.
x

Her photographic memory

;; She has reason of wanting to forget certain memories. Like everyone has.
⌈
strengths
⌋
↳

Wields two naginata

;; Taya wields two naginata bonded and connected by a cord, which she can separate and chainlink to its bar. Effective against a large number of enemies. Wileding her weapon with her right hand let her stand in a whole other level of strength, and leaves the enemy whether far ranged or close ranged no more advantages than her.
↳

Deceit & Allure

;; She is used in using fake identities, pretending to be someone else, and thus reaching her goals with ease. At most cases it is through allure and flirting with men though, that she finally get what she wants. The world is simple that way, she guesses.
↳

Musical sensitivity

;; She has a knack about anything surrounding music, and appears to have talent in the section. Once she hears a meoldy, it will never fade within her thoughts. Probably also because of her photographic memory. In any way, it is saddened she can't develop her talent any further, having instruments to be a rare find.
⌈
weaknesses
⌋
↳

Side effects of her demonic arm

;; Not only it tires her out as if draines life energy from her, but also it makes a certain physical pain apparent that may last several days depending on how much she uses her demonic arm. That's why she tries not to overuse it, despite it's tremendous power.
↳

Children

;; They're too cute and innocent, she can't help but be nice to them and pamper them. Actually she is quite an expert handling children as she loves to please them even without compensation (which is honestly weird coming from her).
↳

Enemy of simplicity

;; Somehow she always likes to solve problems in a complicated way, even everyday things - this woman knows exactly how to make a simply thing turn to a overly serious matter in a very short amount of time.
⌈
fears
⌋
•

To lose herself

;; To go overboard with her cruel tendencies.
•

To be within darkness possession

;; To turn to a demon someday.
•

To be forgotten

;; She just wants to be a meaningful existence.
---
⌈
personality
⌋
She is twisted by nature and conflicting within her demeanour. It is not as though she has a splitted personality merely it is her confused entity shown within her inconsequence which has her considered to be a mysterious and distant personage. Of course you can say, it may have resulted through her demonic right arm, but it is fact that this started far before the incident even happened. It is her difficulty to find her identity, her purpose that shaped her this way, portray her in a rough hard to describe and determine manner. Her whole essence is a blurry picture wherefrom one can't take anything but indication of surface, outlines of her superficial being. She is unpredictable, inconsequent and peculiar - that does make it difficult to capture her whole character.

She might be kind to you now, only to betray later on. By no means is she someone to trust, as she also do not believe that by trusting she'd gain any advantages and thus distrusts anyone. While selfish, self-centered and cruel in her ways and methods, she has her own thinking and belief in justice, might even be stronger than everyone elses. While she likes to be in the spotlight, she also uses her charm to help another and give up the spotlight for some seconds. It is difficult to see her as a kind person, but she definitely is not pure evil. Even though she at times may appear like that.

Taya is someone to care about how others see her, and at times has a tendency to be possessive and quite a control freak. It is though, luckily nothing that sticks out that much because she does it indirectly, and often with cunning, cruel and sadistic ways. Mercy is nothing she is aquintanced with, at least if she doesn't like your guts. But before she can get closer to you, know more about you, she'll run away and disappear for good. Farewells are never something she likes, so she silently went away, always disappoints those she left without notice.

You can say, Taya is a coward. Someone who still keeps the scars of her past. Someone, who doesn't want to go beyond, to move forward. And all the sadness, the disappointment and void buried within her is which is reflected by her actions, justified through her sorry self. That, while she never shows a weakness, never cries (only fakes it) and appears to have excessive confidence. Everything pretense. Her whole life is a stage and she wears a mask, that'll always conceal her true entity.
⌈
history
⌋
answer here
---
⌈relationships⌋





Asrai Xylion

- Friend
She met Asrai back when she was still a child. She introduced herself with Aisha and played with her for awhile, helped her gather food (in methods she wisely used for not losing Asrai's respect) and stayed beside her. Unusually long, that is. Before she could not ever let go, she left Asrai without saying words of goodbye and went far away to have Asrai out of her reach. While she often thinks back and remember the time she spent with her, Taya couldn't help but look forward, saying that Asrai would be disappointed in her anyways so that he never has a chance to patch back their relationship anylonger.





Yoshitane "Yashi" Ashikaga

- Friend/ at times Rival
A thief just like her she often met ways with. Some ways or another they get along just fine and thus at times helped each other in hard to crack cases, i. e. stealing from a rich man's house. They share quite the unusual encounter, nothing one could easily forget. Yashi is probably the only one who can somewhat see through her true colours more than other people, someone she put trust on even if she doesn't like to admit it.