Name: Luna Star
Age: 16
Gender: female
Role: Angel
Appearance: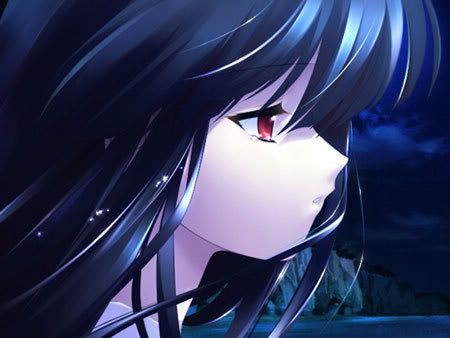 Luna is farely tall and her body is in good shape. She has long black hair that has some silver streaks here and there. Here eyes are crystaly blue that have a silver shine.
Weapon: a cresent shaped blade can be used as a boomerang or a sword.
Ability: pyrokinesis
Weaknesses: Her love ones being hurt. she has to be left alone for a little or she gets very umm irritable. She has a heart of gold and she always gives anyone a second chance.
Personality:She is not the bright, and cheerful person like people would think an angel would be. She is the exact opposite, she is quiet, cold, and has no emotion most of the time. But if she is with someone she loves or cares for she become the protective one who only smiles for that person.
How did you die: She protected her friend who betrayed her.
History: Luna was always the quiet one. When she grew up she was a very smart child. She was the top in her class, but strangely enough she had no friends. Of course she desired at least one but she never showed it. Luna always help other people not expecting anything back, even if she did want something in return no one will give, they were too selfish. She didnt care though, all she wanted was at least one friend so she kept trying to help people. Until one day Luna met a boy, a boy that was her first crush and friend. They became friends when she fell down near a playground were the other kids were playing at. That boy was a popular one, all the girls swoon for him and all the guys wish to be him. She would never knew he was the first one to come forward and help her. After that they always hanged out and then became a couple, but one day the boys "friends" told him "why do you hang out with her! if you keep hanging out with her we will not be your friends anymore!". The boy listen and left luna alone... He yelled at her saying "hah! you thought i was your friend! no one will be your friend freak!" Then he ran off but he didnt know a car was racing toward him. Luna ran forward tears falling from her eyes and push the boy out of the way. When she was hit, everything went white....
Other: [anything else?]
Theme Song:fade to black (the iris version)