When I was born I was named; Otter Starr Jinx.
A.K.A. Otto, or her middle name, Starr.

Hood up or down?
Age:
19.
Gender:
Female.
Role:
Vampire.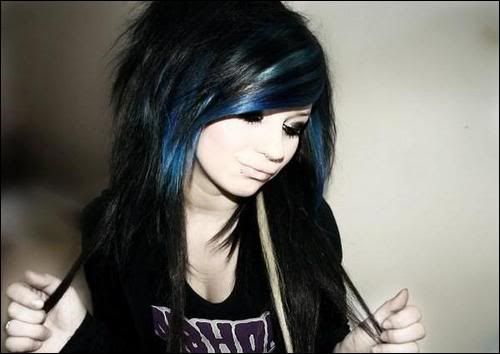 Appearance:
-Normal attire; She tends to kick it in either skinny jeans or a pair of ripped jeans, maybe a skirt or a dress if she's feelin' it. Accompanyed with sentimental band tee-shirts or v-necks. Maybe a leather jacket or some combat boots for an extra side dish. She accesorizes with multiple different colored bows, hair clips, studded belts, belt buckles, necklaces and bracelets She has multiple piercings, including her tongue, snakebites, a nose stud on the left side, her ears pierced twice on the bottom and a safety pin stuck through the industrial of either ear. She like to wear makeup alot, mostly heavy eyeliner on top and light on bottom and dark or light eyeshadow depending on what she is wearing. And of course, you can't take off tattoo's, just ask her about them, she would love to show them off.
-Body; 5'6, 122 lbs. Hourglass frame. Pale skin.
-Hair; Long, thick, lucious and black, she usually keeps it straight, sometimes curling for special occasions.
-Eyes;
Purple when she is a human.
Neon pink at night. Surrounded by long, dark lashes.
-Tattoos;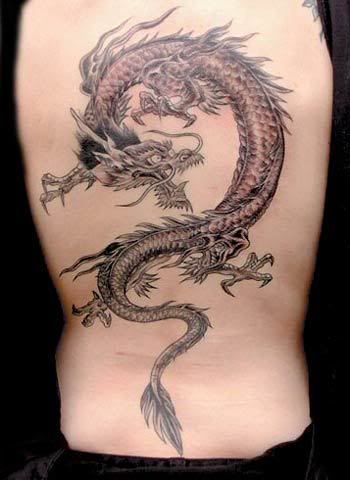 Weapon:
Weaknesses:
Good looking men.
Personality:
Otter is on the perky side. She likes to socialize from time to time but she tends to stay in her own world doing anything and practically everything that she pleases. Unless the opposite sex is involved. She's not much for hanging around girls; always finding them to be an annoyance and mostly a waste of flesh although she is interested in both genders when it comes to getting dirty. Let's just say she knows her way around a bedroom. Not necessarily getting around as much as experienced. She could show you a good time is a good summarization. Aside from that, she is normally found listening to music or causing trouble. But otherwise, she's awfully sweet and caring, as well she was blessed with book smart. Although she may look innocent, she's obviously not. On the other hand, though, she is normally up for about anything, especially if she is bored. She is really weird, and crazy on occasion, causing people to stare her in wonder, thinking, "What on Earth is wrong with that girl?" But she doesn't care what people think of her, and really doesn't care about anything in general. She is particularily lazy, except for when she is interested in what she is doing. Although she is one to love her pleasures, she let's the boys come to her, and they always do. Otto cares alot about fashion and style. Everyday taking at least an hour to look her best. She may look small, but that doesn't stop her from standing up for herself, and she never backs down from a fight. Otter is also very stubborn and hard headed, so when she wants something, she gets it. Otter is very impatient she hates depending on others for something, making her quite independent. After being in an abusive household, she's learned how to throw a couple of punches and finds herself to be quite the speedster and light on her toes making it to where she rarely loses a fight.
How did you die: With all of the drugs that Otter had herself wrapped up in, she was bound to make a mistake. She ended up attempting to create a new drug, a kind of new Meth, one that would last for days. Well, it ended up badly, and we'll just leave it at that.
History:
Her good looks being from her mother, she has alot in common with her. Picking up her addiction to Meth for a while as well as how to be the proper lady from time to time. After being conceived, her mother departed, leaving her to stay with her father, Sixx. Being as beautiful as she was, as well as hard headed that he was, Sixx just couldn't keep his hands off of her, in beating and sexual ways. After a while, she got tired of her father's devilish ways and killed him in an attempt in self defence. After living in his house for a while, her addiction grew and she began attempting to make new kinds of Speed, resulting in her accident. She had been cooking away, combining chemicals one after the other and out of nowhere, her house exploded, making her the creature of the night that you see today.
Other:
Is nearly constantly smoking, sometimes does drugs on occasion. As well, she has another major flaw;
Otter suffers from the mental disorder schizophrenia.
Her symptoms include;
She hears different voices particullarly often, some good, others not so much.
She gained Insomnia after being diagnosed with her disorder, the stress and voices causing her to stay awake for days on end without get medication.
Occasional mood swings.
Numerous hallucinations and delusions.
She even has times where she isn't in control of her own brain, one of the voices taking over or a large amount of jumbled thoughts when put into words, never make sense.
Theme Song:
Born To Quit; The Used!
Exorcise the demon
That is living up inside you
After all you think you've been through
Just what have you been through
Try to get beside yourself
This tearing at your insides
If you end up on the wrong side
Always standing so strong
Sharpen up your teeth
Your dreams are more than worth defending
In a fight that's never ending
Go on, go ahead and prove me wrong
The further you go, the less you'll know
You're born to quit, you've blown it (you've blown it)
You need to let go, of letting go
You're full of shit, you're born to quit
Something supernatural
It seems it could possess you
No malevolence about you
And that might not be true (that might not be true)
How they cared to demonize
The fucked up situation
How you killed off all the angels
Taking notice of you
Sharpen up your teeth
Your dreams are more than worth defending
In a fight that's never ending
Go on, go ahead and prove me wrong
The further you go, the less you'll know
You're born to quit, you've blown it (you've blown it)
You need to let go, of letting go
You're full of shit, you're born to quit
You've blown it
You're born to quit
Sharpen up your teeth
Your dreams are more than worth defending
In a fight that's never ending
Go on, go ahead and prove me right
The further you go, the less you'll know
You're born to quit, you've blown it (you've blown it)
You need to let go, of letting go
You're full of shit, you're born to quit
You've blown it
You're born to quit
You've blown it
(You've blown it, You've blown it)