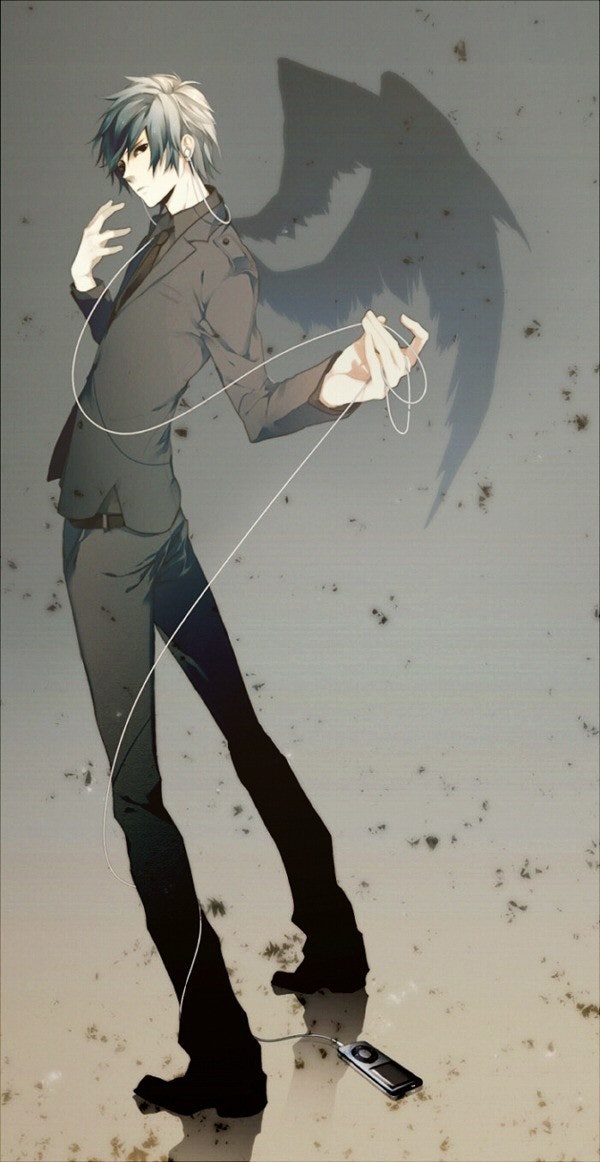 Name:

Cinaed Liste

Nickname/Alias:

Cin.

"Sure, you can call me Sin."

Age:

Eighteen.

Gender:

Male.

Sexuality:

Bisexual.

"All the same to me."

Love Interest:

No one.

"Would you be mine?"


Daytime Appearance:
Cinaed typically dresses clean; a simple, fitted black suit and a dark brown shirt and tie. His hair is the only thing he doesn't try to tame; the whitish-blond strands blowing chaotically around his face, almost as if they hint at the deeper part of him.

"I hate messes."


Night-time Appearance:
Cinaed's hair becomes darker- a dark grey; more wild and out-of-place. He stands taller, and his normally reserved posture relaxes into something wilder... sinister. His formerly perfect clothes are unbuttoned and loose, and he often wears a sly grin.

"Your blood is quite attractive!"


Personality:
During the day, Cinaed is one of the sweetest people you could meet. He is humble, polite, shy, and soft-spoken. He walks with almost a dancer's grace; careful, nimble movements. In the sunlit hours Cinaed is calmer, more composed. He likes to have control over his environment as perfection is something he values. His attire must be unwrinkled and buttoned up, his shoes polished, and his tie in place or his day is just ruined. It is not odd to see Cinaed brush lint off of another's clothes, or fix their jacket while conversing with them; he just can't stand when things are out of place. Cinaed also carries with him an iPod he is quite fond of- He keeps it in his pocket for those time's he is alone, as he cannot stand silence. The music helps calm his darker emotions suppressed. Should Cinaed be left to deal with the quite, his insanity starts to eat away at him. In the daytime Cinaed doesn't find killing appealing; it is often too messy.
"Do you need help with that?"
During the night, Cinaed is like the mirror reflection of his morning self; darker, less controlled, wild. It is almost as if the sun dulls his twisted persona down, channeling it into an obsession with perfection, but at night- it is set free. Cinaed's transformation is quite shocking; he may choose to grin like a cat, or dance to the music in his head; his movements sharp and spontaneous. Cinaed's actions and words are much more raw as the shadows creep in; filled by his innermost emotions and desires. A dangerous fire plays in his brown eyes that is missing when the sun shines. He is much more ruthless, but quite curious as well; if he is intrigued enough, he may pause his weapon (Or his song), even if it means he won't be able to see his victim's beautiful inner liquid...
Cinaed is quite agile and fast; he uses a long
whip
that he is quite adept at; pulling weapons out of other's grasps, or wrapping it around their necks. It keeps his enemies at a distance, where he likes them. He thinks of fighting as a dance; the one with the best choreography wins.
Cinaed's has control over sound waves; he can create a pulsing "song" he uses to kill his victims. It make's the listener feel as if they are loosing their mind, but if a person is exposed for too long to it, it can cause extreme pain and death. This "song" only effects the victim's sanity if they can hear it; if not, the pulses do internal damage to the brain, killing the person after a couple of minutes.
"It's the most beautiful song you will ever hear."
Cinaed cannot stand silence. Even if it is a little too quite, he will start whispering a song or humming a tune, to keep his fears at bay. This doesn't work for him however; his own voice lends him no real relief, so he carries with him an iPod, for the times when his paranoia starts to creep up on him. If left without anyone to talk to for a while, Cinaed will slowly degenerate into a sobbing, shivering mess. With no more sense than an rabid animal, he will tear at himself, and even harm those he cares for, until he can be soothed by music of some sort.
"Don't leave me alone. At least, not without something to listen to! Ok? Ok good."
Cinaed's stepfather was an evil bastard. He used the boy's mother for her money, and would come home drunk every night. His mother tried to protect Cinaed as much as she could, but working three jobs- she was rarely home. One day, Cinaed came home to find his stepfather in the kitchen with a hooker, drunk as usual, and being robbed of all his wife's money. Cinaed protested, driving the thieving whore from his mother's house, but when the slobbering drunk woke he was enraged. Impassioned with liquor, and delusional with the fear of being found out, the man's solution was to lock Cinaed in the house's unused cellar. It was pitch dark, and the stones were cold and wet. Worst of all, it was silent. As silent as a tomb. He cried out for days, but no one could hear him. Cinaed lasted four frightened days; suffering bouts of insanity and schizophrenia, until he succumbed to dehydration and starvation.
Cinaed loved his mother, even more than his love for music; she was the most important thing to him. When she married his step-father, Cinaed protested, but it fell on dead ears. He felt as if she had been ripped away from him; they used to be so close, but the boogieman stole her away. The drunk's needs became her focus; leaving her lonely child in his neglect care, she now overworked herself to provide for the "family". Every day Cinaed watched his mother stumble through the door, fatigued and worn, only to be abused by the evil man. He was helpless. Ignored. His nature being a soft one, Cinaed was no more good than a third-party observer, unable to do anything about it. Alone; the only guilty solace he found was when he was out of the house. It just got worse. His mother stopped coming home some nights, and the boogieman began inviting "guests" over. Then came the fateful day Cinaed found him passed out on the kitchen table, with a prostitute rummaging through his pockets. It was the last straw: Cinaed ripped the bills away and threw the lady from his home, cursing her. During the commotion his step-father awoke, and in a drunken panic, locked him in the deepest part of the house.
"I don't blame my mother... I can't."
Goal:

Cinaed suffers from the guilt of leaving his mother behind, defenseless. He also has a burning hate for the man that took his life.
"Revenge, revenge, revenge."
Cin and Cinead are the same person, but they are not the same. Cin is the darker side of Cinead- the one born from the trauma of his death, which emerges when the sun goes down; when the city becomes much more still. Both Cin and Cinead like to talk a lot, simply because they cannot deal with things being too quiet. Cin will not sleep during the night; instead he wanders, trying to find places he may sit and listen to other's talk, or he hunts vampires to hear them scream. Cinead likes to sleep during the day; to find a nice warm spot in a bustling place, where he can be lulled into dreams among endless chatter. Cinead is much softer and kinder person during the day, and because of this, he often feels remorse about his conduct during the night.
"I feel so guilty sometimes..."