Name:
Estelle Brown
Nickname/Alias:
Elle
Age:
21
Gender:
Female
Sexuality:
Straight
Love Interest:
N/A (for now)
Daytime Appearance:
Estelle works as a waitress at a posh up town hotel restaurant during the day so her day clothes are mainly comprised of a black knee length pencil skirt, white blouse, black waistcoat and low heeled black shoes. Her long brown hair is pulled back from her face in a high ponytail. When she is not at work she wears dresses, skirts and shorts with tights and plain t-shirts. She prefers to wear hooded jackets that are too big for her. She also wears her hair down.
Night-time Appearance:
Estelle has only one change. At night, when she uses her angel powers, tattoos in the shape of intricate black words wind up her wrists and arms and depending on how long she uses her powers for they can extend up her shoulders and neck and across her face. The words are the 10 commandments from the Christian Bible.
Personality:
Estelle is quiet and tries her best to stay away from others. She doesn't trust other people due to her past life, especially not men. She also fears to get too close to anyone in case they get hurt by being involved with her.
Weapon: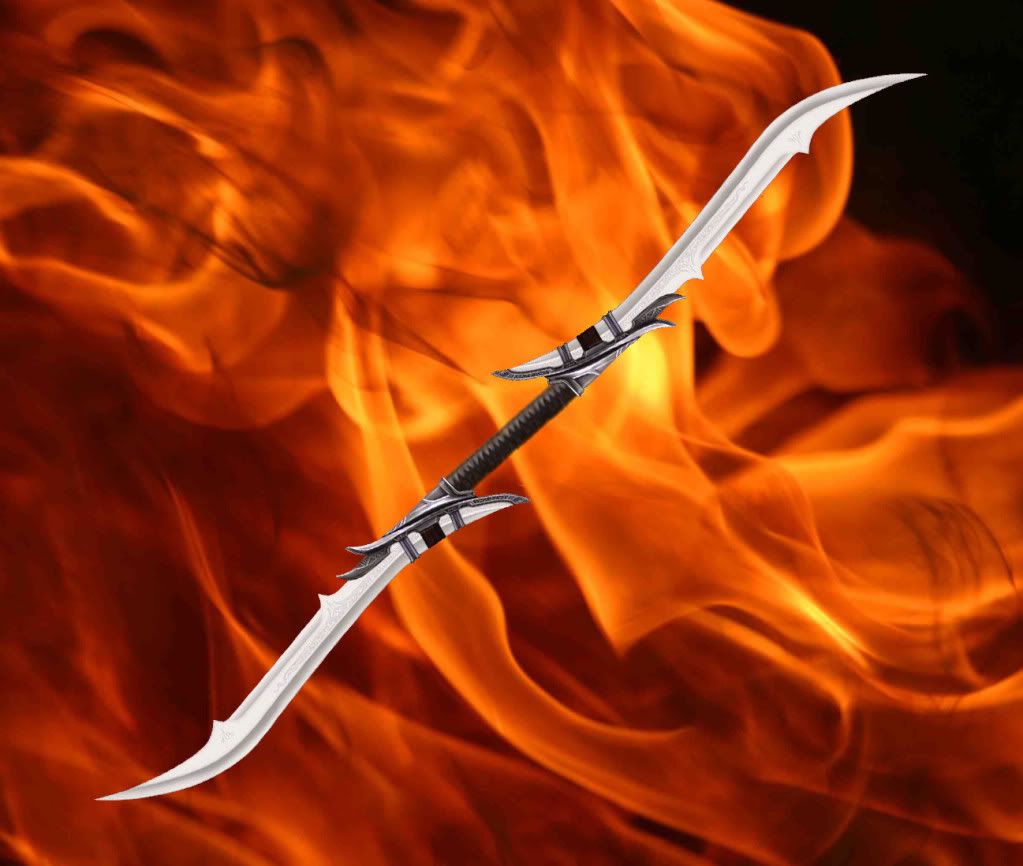 The double bladed staff has a special meaning to Estelle. One blade represents the unobservant helper that she was and other other represents the sinning savior that she has become.
Ability:
Estelle can feel the pain of others. This can help in locating vampires that are killing but Estelle isn't sure whether it's an ability or a curse.
Weakness:
The fact that she can feel the pain of others is Estelle's biggest weakness. She feels the deaths of those killed in ungodly ways as if it were her own death. Sometimes the pain can cripple her for days but it does vary. If the person who's pain she senses is a sinner then she feels sorrow and a small pain in her heart but if the person in pain is an innocent then she feels the death 5 times over.
Death:
Estelle grew up with her mother and her sister in the slums of London. Her mother was a drug addict and would do anything for the substances that kept her going. Estelle's mother was sick and the effects of the drugs were slowly eating away at her body so she couldn't work. This left the family in debt with the drug dealers in the neighborhood so Estelle quit school and started work. As she was only fourteen she had to take a seedy low paid job in a strip club as barmaid but it kept enough money in the house to pay for her mothers drugs and food. Estelle insisted in her younger sister Amy attending school. She hoped that Amy would be able to get a good education and then leave the world that they had been born into. While Estelle was working her mother would keep Amy home from school and sell her off to the highest bidder for a few hours a day to get more money for drugs. Estelle didn't know about this and Amy never told her. Estelle believed that by working as hard as she was she was protecting her sister and Amy didn't want to let her big sister down. This went on for a few years until the police closed down the strip club where Estelle worked and the money stopped coming into the house. The debts with the drug dealers were still huge. One day men came to the house and took Amy away and shot Estelle and her mother at point blank range.
History:
Estelle was hard working and persistent. Even when things were at their worst she never gave up hope for her sisters future. She was so driven by this that she became unobservant of her sisters situation and continued to let Amy suffer for years.
Goal:
To find and Save Amy
Other:
The tattoos on her body are the 10 commandments. This is as a constant reminder of her sin of negligence though Estelle does not know this.
Theme:
http://www.youtube.com/watch?v=P2b4xEB6T5Y