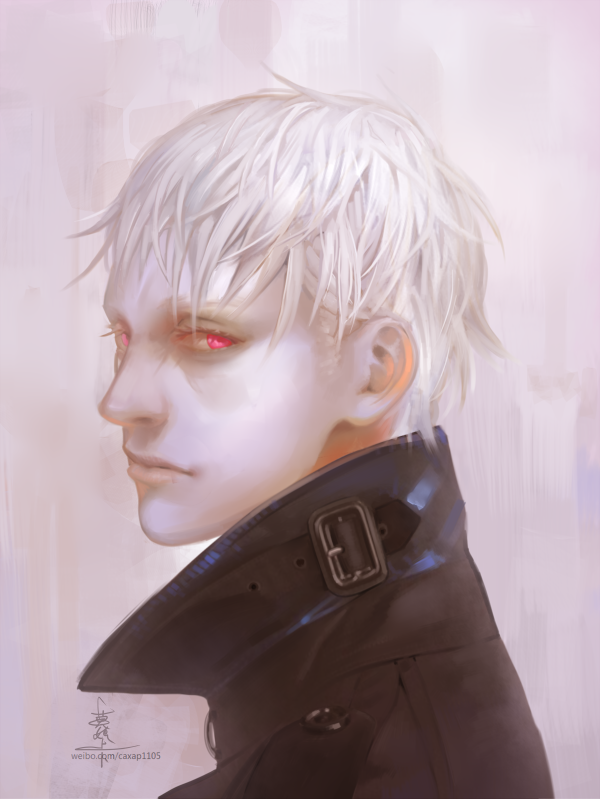 Name: Aeston
Age: 18
Gender: Male
Race: Shevan
Faction: Sheba
Occupation: Champion of Sin
Appearance: At a young age he had a frail frame due towards his origins. His skin is pale due to his Shevan features and blood that runs black. His hair was once blonde but unfortunately his hair lost color pigment due to an incident. He is now seen wearing a black leather cloak these days. His eyes became a reddish color from his change in race.
Abilities and Equipment: He carries a short sword by his side and a satchel around his waist. Aeston has the ability to wield Nether energy and reanimate corpses. Another ability of his is to teleport from one location to another nearby, though this takes up a lot of energy.
Personality: Aeston has a charisma that is both negative and positive. He is very manipulative with those around him and stuck upon only one motive in his life; to kill all those who see themselves above another person.
History: Aeston's origins are uncleanly, in fact this is what shaped him into the person he is today. He never knew who his father was, as a child his mother was the only one who treated him well during the time.
Aeston and his mother were slaves to Agoroth and neither could change their fate. At the age of eight Aeston was pulled from his mother and stripped naked. He would be forced to throw coal beneath a bath house built for royalty. It was dark other than the fire that burned in the furnaces. Every six hours they would be able to drink from a bowl and were fed cold servings of leftovers collected from the streets. After they would have ate they would be allowed to take a two hour's rest.
When Aeston reached the age of fourteen his mother sneaked in to attempt to escape with her child. Unfortunately she was caught and in front of Aeston's eyes the guards had raped her. She eventually gave up and just accepted her fate. When they had finished having their way with her, the woman was locked into the furnace. Aeston watched in horror, the smoke that emitted was filled with cries.
That night as the guards were half asleep, Aeston swung a metal shovel across the head of one of them. The other guard stood up and arched backwards to lash at him. Before he could though he was struck by the shovel. Aeston took to his heels and scattered off into the bath house and then out into the streets.
A large man offered Aeston a blanket and a place in his home. Aeston accepted his offer and followed him for he knew not what to do with his life. Many soldiers were scouting for him in the streets so he hid close to the man. When they arrived, Aeston was fed and given a place to stay. The man smiled when a rich looking man entered his home, apparently he was a king.
The large man was given thirty gold pieces and the King stripped off his clothing. Aeston's eyes widened in horror. Aeston was too weak to resist the man and ended up raping him that night. Aeston's freedom was purchased and he was taken back to the castle and locked in a room with a few boys. After a boy reaches the age of sixteen the king no longer wished to be with him and would thus be thrown into the wilds. And that's what happened to Aeston, he was thrown into a forest to be forgotten.
He was bare and naked and saw a womanly figure nearby. It brought comfort because the only woman he had ever known was his mother and she was not someone who ever harmed him. Aeston crawled to her and reached out for comfort, in which this is what she offered. Lilune had embraced him and this was where his true life began.
Nero and Aeston became rivals for Lilune's attention as they traveled together. They endured life together and had small moments that were great. Eventually though Nero and Aeston became Shevan by drinking Lilune's blood after an incident. Nero taught Aeston how to handle a short sword and Aeston noticed changes in his agility and perception.
During a fight against a group of paladins, Aeston awakened his powers. He struck a bolt of violet energy against the enemy and they were weakened and in pain. He casted more jolts of energy and soon he lost control. Lilune had to drain his energy to get close enough to comfort him. Lilune decided that they would direct their hatred towards the king and queen since she and Aeston had dark history with them both.