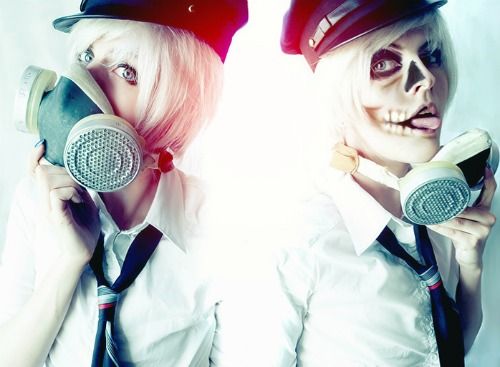 Name[s]:
Olaf and Oleg, respectively of course.
What we do:
The twins were both born with a curious minds and valuable, though gory talents. Olaf is a Bone Manipulator, able to enhance the speed of which his bones grow and have them protrude out of his flesh, while his brother calls his talent "shedding". Oleg, much like a snake, undergoes a process every night where his skin begins to sag and he is forced to tear off his flesh in order for a fresher appearance to come into play. It's a very gruesome experience, so it's only natural that they would call themselves "The Macabre Brothers". In their act, it's also not unusual for either of them to put on an act of "sibling rivalry" and attempt to harm each other during the show. Knives,pencils, even sewing scissors at one point were used during the show to stab each other with, much to the audience's surprise. After the initial panic of seeing the two covered in blood, most of the audience members were flabbergasted to see how quickly the too were healing.
Nicknames:
The two will affectionately call each other "Olly", but so far they haven't developed any new nicknames for themselves.
Appearance:
Both reaching approximately 5'11, and weighing around 122 pounds, they are certainly more on the lightweight side then most of the other circus members. While not exactly athletic, they do manage to keep up with some exercise , something that has given them enough muscle that no one would dare call them girls. Clear crystal gray eyes that remind them of crystal balls they often see around the fortune teller's tent. Unknown to all is the origin of their hair color, as they've changed it hundred of times since the first day they both came along to join the fiendish circus. At the moment they've both become content with parading around with brilliantly white hair, cut in a stylish bob manner . Much like their dark personalities, their attire is very Gothic and not at all like what you would see on most young men of this time period. Sometimes, such as the picture to the right shows, they enjoy wearing simple white shirts and a casual tie whenever they don't have a show to put on. Right before the sun goes down and the circus lights go on, it's when they bring out the tail coats and gentlemen jackets. Black, brown, and white are the favorite of colors among the two men, with of course the sure to be had blood spatters that stain there clothes at every show.
Personalities:

Olaf:Generally speaking, Olaf is the less insane of the twins. While he enjoys blood,gore, and all methods of perversions, he tends to be a much more docile and controlled being than Oleg. He tends to not talk quite as much as most people, his brother included, but when he does he appreciates it when people actually listen or take his advice. While appearing more quiet and reserved in the day time, he turns into the complete opposite psychopath that the audience loves during the night. Slashing, hacking, and bone growing are all the things he truly loves and strives to become a master of. He makes it no secret that hurting people is what really gets him going, but most of the staff have learned to accept him, his brother, and their gory ways. If they haven't, makes no difference to them...though they may want to make sure never to end up in a dark room alone with them.
Oleg: In his mind, there is no one greater or more powerful then himself. Immortal, talented, and good looking even when blood's smeared across his face? It's very rare for those three things to come into play in the world, and Oleg is always sure to let his audience members know that. He's a cocky bastard; always the first to announce his newest achievement even when no one's interested in hearing it. He genuinely enjoy hurting others, and is pretty interested in testing out the new girl's blood, just to see if it looks the same as everyone else's even if he's already sure it does. He does most of the speaking for the two despite his younger brother being very capable of speaking for himself.[/b]
What they think of you:
Zuzu:
The twins have the same opinion of her. A goddess among the cattle of the world and a woman not to be trifled with. Out of all the people, freaks, and even animals of the group, they are the most afraid of her.
Deliah:
She's a lion tamer, and very pretty. Reminds them a bit of their mother, except they don't want to kill her. Her hair looks a bit like cotton candy minus the pinkness.
Theo:
This fella here can turn into a lion. They once threw a large ball of yarn at him to play with, but it didn't seem like he enjoyed their gift as much as the boys thought he would. Still, the twins find him..interesting.
Eyra:
Her general love for the things most people find repulsive earns her points with the twins. She's too young looking for either of them to seduce her, but she is nice to look at.
Saint's Shadow:
They aren't his biggest fans as they find most acrobats and contortionists to be beneath them. Seeing as he's the ring mistress's son, there isn't much to be done but patiently waiting for the day they can get a good stab in.
Moe:
The twins don't have much of an opinion about old Moe. He's certainly an intresting person due to his sudden appearance whenever he's needed without actually calling for him.
Xavier:
The illusionist defies all logic and that is something the Macabre brother can appreciate. It isn't a rare thing for the two boys, Olaf especially, to go and watch the magicians show when there own is over with.
The Rumor Mill:
Generally speaking, not too many rumors have passed around the circus about the Macabre brothers. Some say they were born in Russia, others America. They don't seem to have any accents, which makes it them much harder for others to decipher where exactly their origins are. The performers do assume that the boys had a tense relationship with their mother, even going as far as killing her but no one knows if that little secret is true or not. It's not like anyone's going to go up to them and ask anyways.