Name:
Ember Reels
Stage Name:
Target
Age:
18
Gender:
Female
Role:
Aerialist
Blood Type:
AB-
~~~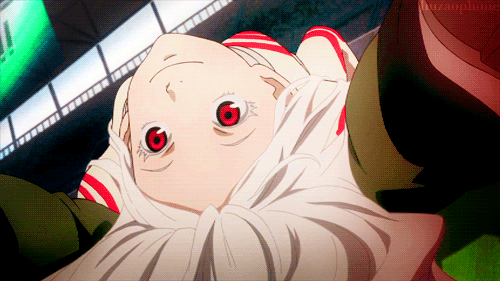 ~~~
Eye Color:
Red
Hair Color:
White
Dressing Style:
Bodysuit
Weight:
180 Lb
Height:
5'3"
~~~
~~~
Likes:
Sweets
Happy things
Flowers
Being high in the sky
Dancing
Smiling people
Cats
Dislikes:
Being caged
Sad people
Being scared
Crying
Tall people
Habits:
Hiding when startled
Smacking someone's hand away if touched
Carrying her kitty (his name is Simon) around, close to her chest
Crush:
N/A
Personality:
Ember is a very happy and bubbly person. Though she is also considered naive or even dumb at points, simply because she doesn't seem to understand serious topics. She wants to make people smile so that she can smile, since she is easily succumb-able to fear. She doesn't know why... But she is very paranoid of people, especially if they are bigger than her. She hates it when people can tower over her. Not because she doesn't like being short, she just simply does not like it. So it's not rare for her to scream at someone, telling them to be shorter.
~~~
~~~
Skills:
Moving her body in odd positions
Dancing
Amazing balance
Speed
Family:
None
History:
Ember's story starts when she was seven years old. Her father, mother, twin brother, and herself went on a vacation to a place she couldn't even pronounce the name of. Her father was a big business man that made a lot of money... And a lot of enemies. During this vacation, her mother took her and her brother to a park nearby to play for a bit. She always brought her kitty Simon with her simply because, besides her bother, he was her only friend. She and her brother were simply playing in the sandbox, trying to make it like a castle when their mother was knocked unconscious and they were too. Her mother woke up with nothing but a headache, and two missing babies.
Ember and her twin on the other hand... They were taken away. They found themselves in what seemed to be a hotel room... Tied up, but no injured. And thankfully, they had taken Simon with them. They didn't care about the cat and had grabbed him on accident. The people who took them consisted of two people. A blond woman, and a black male. The woman was actually the more vicious one who just wanted her damn money. They were locked in the room for days, given very little food. Ember had tried many times to escape when someone was coming in or leaving, but she would always be kicked or slapped for it.
While they were both there, weeks had passed by, both her and her brother had things done to them that neither would want to admit to. And eventually, they were separated. Her brother was taken into the male's hotel room, and she was left in the female's. One day, she started to complain again.
"Misses? Simon needs food..."
Over and over again. The woman eventually got annoyed enough to go get the damn cat some food just to shut her up. She was getting impatient and sloppy. Ember hadn't lost any of her willingness to leave. So when the woman went to go take a shower, Ember had stolen one of the room keys and hid it. She was slapped and beaten for stealing it, but they had no proof. They looked around the room, trying to find it. Until they gave up, thinking that it wasn't stolen at all since she obviously didn't hide it anywhere.
When she was sure the woman was gone, she grabbed Simon and left the room. She went next door to where she could hear her brother's cries and screams at night (having a connected hotel room), but the key wouldn't work. She figured she'd have to go ask someone to help. So she ran, and ran. She got lost. She had no idea where in this maze of a damn hotel she was. And by the time she got to the lobby, she heard a furious shriek from upstairs. It sounded like the Misses. She saw the man start rushing down the stairs at her. She booked it out of there. Thankfully that they were in a very crowded town, she was able to weasel her way in between people's legs given her small size.
She ran to a park. The park she had been kidnapped at and ran right up to a lady with a baby. She was sobbing and scared and just wanted to go home. She was brought to the police who were astonished. She'd been gone a month. Her parents had given up looking for them thinking that they were dead. They tried to ask what had happened to her, but she was sobbing so hard she couldn't talk. She just kept sobbing her brother's name... Knowing something must have happened to him.
Because they knew they'd have to get a hold of her parents somehow, she was put into an orphanage. She hated it there and constantly ran away. One day, she had stumbled upon the circus... She was 8 at that point in time. Her birthday having gone by when she was in captivity. She willingly signed her name for the circus... Thinking anything would be better than living in a place where her parents wouldn't even come get her from. Or without her own twin brother to keep her company.
~~~
~~~
Gallery: