Lenka Paris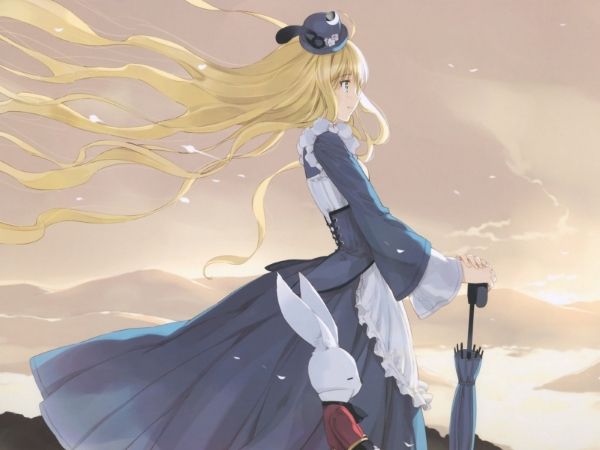 Stage Name: The Lightgiver
Age: 15
Gender: Female
Role: Freak (Animator)
Blood Type: AB+

~~~

Eye Color: Hazel-green
Hair Color: Pale blonde
Dressing Style: Formal
Weight: 110lbs
Height: 5'4''

~~~

Likes:
Being in the dark
Solitude
Silence
Adrenaline rushes
Sewing
Stage makeup
Books (especially philosophy and mathematical theory)
Music

Dislikes:
Painters
Singers
Less-than-intelligent people
People in general
Condescension
Being fussed over
Being treated "like a child"
Crying

Habits:
Lenka tends to work on her sewing projects for hours on end. She never stops a project until she's completely finished. Additionally, she'll rage and scream at anyone who tries to stop her from working on her projects. The only exceptions she'll make are for showtimes and those who are far superior to her in rank. She's very picky about her own manners and won't take anything less from those around her, making sure to act polite and ladylike in any situation even though she was hardly raised to be a member of such a social class.

Lenka is extremely reserved both in her style of dress and in her mannerisms. She won't speak unless absolutely necessary and will seek out darkness wherever she goes— in part because her skin burns easily and in part because she can't stand to be in the glaring light of the sun, believing it illuminates too much of the parts she doesn't want others to see in her.

She also likes lines and order and leans toward the obsessive side in organizing her belongings.

Crush: None yet.

Personality
Lenka, for the most part, is a gentle and docile girl with a personality that seems befitting of her delicate composure. With watery eyes and pale skin, she appears very weak. In terms of physical strength, this is certainly true, but her mind isn't one to be underestimated. Lenka can grasp vast amounts of information and has a very good ability to understand things many are unable to comprehend. As such, she's an avid reader, especially loving philosophy and the pseudoscientific metaphysics for the sheer vastness of its reach. She thinks Plato was an absolute moron but loves most of the other Greek philosophers, holding Aristotle in high regard. She's well-versed in history and any other information one might find in a book.

Despite her vast base of knowledge, Lenka is extremely socially inadequate, mostly due to her own shyness. When she interacts with others, she views it as a duty and does so robotically as though it's just another one of her acts. She has trouble understanding people beyond their biological and psychological functions and doesn't quite grasp emotion— whether it's her own or that of others. Because of this, she's prone to mood swings when she's stressed. Lenka can create a very logical argument but can't do so without inevitably bursting into tears for no real reason. She has very little control over her emotions, yet they seem to have almost no actual effect on her.

Lenka can be judgmental and rude, simply not talking to people she doesn't enjoy being around. While she may seem demure initially, her sharp tongue is a force to be reckoned with. Being physically non-threatening, she's never had to worry about getting into an actual fistfight, so she never worries that she'll ever get into one. She has always lived a life away from any action, having mostly experienced the world through imagination and extrapolation from books she read in the many hours she spent indoors instead of working on the family farm.

As a self-proclaimed but not unproven 'intellectual,' physical labor doesn't suit her tastes, and she does what she can to make sure she stays as far away from it as possible. It's not uncommon of her to send out her homunculi to work in her place, and, if forced to participate in any actual work, usually makes good use of her delicate form to feign lightheadedness or another malady of the dainty to get out of doing it.

Due to her origins (not working) on a farm, she has a constant need to prove that she is not 'crass' like her heritage might outline her to be. She puts massive emphasis on being ladylike and collected at all times and has read countless manuals on manners, fashion, and other such subjects as well as her favorites, philosophy and mathematics. She's fascinated by theoretical numbers and delights in the fact that the world has so many questions to ask and so many tentative answers yet-unproven. With her curiosity, and being somewhat childlike, she is somewhat easy to be taken advantage of— though she's naturally a cynic, and breaking her outer shell may prove tough, her inner self is soft from a lack of experience with the world. Though she has the soul and façade of an intellectual, she doesn't yet understand how to handle the immense power of her own mind.

To herself, all she is is a simple farm girl born to become something more refined.

~~~

Skills
Lenka can give a fraction of her life's essence away to the sack dolls she sews. She creates small acts with them and acts as their puppetmaster onstage. She's also very good with sewing and design and can mend and create costumes if given the chance. Lenka is also a talented pickpocket and thief, being lightweight and quiet on her feet. In addition, given the high level of function of her brain, she can resist magical foolery to some extent, but it wears her out physically and she's likely to faint if too much pressure is put on her.

Family:
Elise Griswold (Adoptive mother)
Samantha Griswold (Adoptive sister)
Richard Griswold (Adoptive father)
Katia Paris (Birth mother)(Deceased)
Jackson Paris (Birth father)(Imprisoned)

History
Lenka was born to a Yugoslavian immigrant mother locked and wedded into a heavily abusive relationship. After the birth of their daughter, she attempted to run off on her own, but speaking no English and unable to find a job or refuge, she was forced to give up the months-old infant with nothing more than a scribbled name at a local hospital. While the mother died a few months later of a lung infection, the child was adopted by a grieving mother who'd just lost the smaller of her twins.

Lenka stole the attention of her mother, being an early reader and a near-mute until the age of four. Being a bright child, she often pushed her slightly-younger sister out of the spotlight. The adopted child became the apple of her mother's eye, and, with this blatant favoritism, was able to use her mother's faith in the 'more promising' of her daughters to keep from being forced to work on the farm.

Though she's never been aware of her actual heritage, Lenka finds it odd that she was born just a handful of months earlier than her sister and has always suspected that one of the two was never the actual daughter— though she was sure it was she who was the daughter by birth, not the beta child largely ignored by her mother.

Things changed when her abilities began to present... and she won't talk about what happened next.

~~~

Gallery (to be modified later):
She looks a bit older than in the following, but it should be noted that yes, she is a bit younger-looking than she is.
Overall, though, she looks her age— not twelve, as one might think on seeing these pictures.