BASICS
"Don't mistake forwardness for being rude. Sometimes the quickest ways to get honest answers is by just asking outright."
-Nickname: ]"Millie" is her preferred nickname, though she occasionally goes by the name of "Minx". "Amy" is her least favorite name that people over the years have assigned to her.

-Age:22
-Gender:Female
-Species:Genetically Modified Human
-Role:Princess of the Underground
-Motivation: Performing the legwork of the Prince's desires, Millie is working towards establishing a peaceful world where people do not have to live in fear of oppression. Her intentions are noble, though her methods may not be viewed as such. But when morality is skewed the way it is, who is to say that what she is doing is right or wrong?

APPEARANCE
"Beauty, I suppose, is in the eye of the beholder. In this day and age, it can be more deceptive than the spoken word."
-Eyes: Millie has large eyes, giving her a youthful appearance. On any normal day, they look to be a gentle, grey-blue in color. However, if one were to focus more on the lenses themselves, the cloudiness of her irises are easily seen. It is like someone has placed a film over her natural eye color.
-Hair: Her hair hangs to her waist, straight as a pin, and black as coal. When its clean and well-kept, her hair has an iridescent sheen to it that gives it a nearly royal blue tinge.
-Height: She stands at roughly five feet, nine inches in height. If she's wearing combat boots or heels, this can be adjusted by a few inches.
-Weight: She weighs 140 pounds.
-Skin Tone: She has a pale, almost sickly transleuscent shade to her skin. She's sensitive to the sun, and many chemicals, so she does what she can to protect her skin integrity.
-Build: She has a lithe, lean build to her frame. Not exceptionally curvy or muscular, she has a flexible strength that makes it easy for her to get around.
-Body Markings:[/bNone of note.
MENTALITY
"The mind is the greatest weapon of all."
[b]-Quirks: She has a very specific morning routine, and has a need to feel clean at all times. It's a slight obsession of hers to maintain a sense of cleanliness, even if it isn't an entirely realistic expectation in the world she lives in. She prefers not to be interrupted when she is talking, and oftentimes has to restrain herself from making biting remarks when someone is annoying her (or interrupting her). She's in a position of power to the point where she expects not to have to deal with any kind of insubordination.
-Fears: One of her most prominent fears is the fear of losing the final battle, and of her cause falling to pieces before her eyes. Millie loves being in control, and feels that if she has full control over what her situation is like, then she will succeed no matter what the cost is. The idea of her own death does not phase her, and being alone she recognizes comes as a necessity, but if her purpose was thwarted? Another story entirely.
-Likes:Millie is a strategist, and sometimes a ruthless combatant. She enjoys a good campaign as well as she might enjoy a glass of wine (however difficult to come by that may be). She enjoys honing her skills, finds it to be a relaxing subject, and frequently enjoys her liaisons with the Prince. She prefers to fight with her men on the battle-field, participating in espionage and loving it when she can single-handedly bring about the destruction of one of the Noble's dastardly plans.
-Dislikes: Much like her fears, Millie hates being interrupted for any reason, and hates the idea of losing something she values. She dislikes insubordination, disrespect, and unruly behavior.
-Personality:Millie is a woman who is most at peace when she is in control of her environment. People, places and things all have to fall under her intense scrutiny, and when things are not up to her strict sense of perfection, it can cause her discomfort, sometimes to the point of distraction. This habit tends to get worse when she's under a greater amount of stress, and oftentimes has to excuse herself so that she might be able to give herself a chance to calm down.

When it comes to the people she serves (her higher ups and the people who follow her included), she desires to perform her very best, and will work to produce the best results she possibly can. Her greatest desire is to liberate herself and her people, so that they might be able to walk the streets freely without fear of being killed, or fear of being arrested or persecuted for things completely outside of their control. The drugs, the lying, the murdering and the stealing are not things she participates in, but she doesn't always object to her soldiers using them either. Whatever helps everyone gets through these difficult times is entirely their own prerogative, so long as they perform their best for the cause, and for her.

Her friends view her as business-like, sometimes cold. But getting past the outer shell that she often constructs for public purposes reveals a woman who is, at the heart, someone who does have good intentions. She will put others before herself, even at the expense of her own life to ascertain that the ultimate goal is achieved.
EQUIPMENT
"Forgiveness is sometimes out of the question."
-Clothing: She's often seen wearing dark denims and leather jackets over a white blouse, but at night, or when in combat, she wears close-fitting shorts, a strapless blouse, and a trenchcoat that reaches down to her ankles.
-Carried Items: She carries a plasma bolt rifle on her hip, as well as a com communicator so she can do field work and still maintain contact with her boss.
-Main Weapon Electron-laced Katana
•Name:Elixir
•Type:Long blade
•Made of:Electrum based metal
•Length:Three and a half feet
•Weight:Five pounds
•Description/Info: The wrapped rubber handle provides for easy grip, and prevents the user from being electrocuted by the blade's capabilities. The blade itself is double-edged, with a flat edge and an edge that curves to a point. Stained a light, cobalt blue, the electrum blade tends to make the weapon glow, especially at night, and oftentimes will electrocute the victim once the carrier has initiated a blow.

COMBATIVENESS
"I don't mean to brag, but…"
-Natural TalentsSword play, of any kind. Her preferred weapon is a single-handed long blade. Katana's work most suitably for this.
•Talent 1:One thing people do not often think of in times like this is the gift of song. Millie is actually a very talented singer.
•Talent 2:She is gifted with word both spoken and written. She's a good orator, wonderful with bringing people to a cause, and definitely the person of choice when it comes to writing declarations of any kind, be it war or peace treaty.
-Skills
•Skill 1:Sword play
•Skill 2:Strategizing
-Weaknesses
•Weakness 1:Being in total, complete darkness
•Weakness 2:Headaches.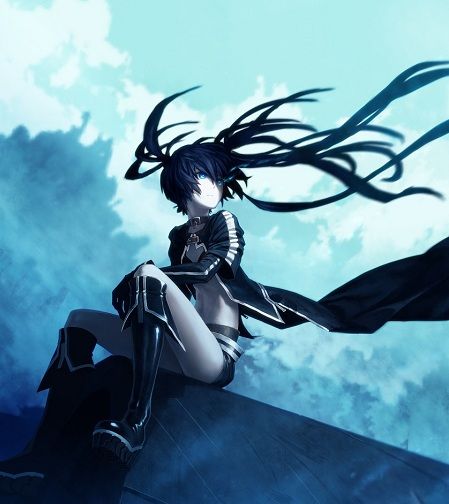 HISTORY
"Something I'd rather not delve into…"
-Life
•Marital Status:She remains single, because she has neither met any man that she might be interested in, and at the moment expresses no interest in the idea of marriage and having a family in the first place. Commitments are too difficult, and she wouldn't want to have to worry about their safety on top of everything else that she currently has to do.
•Family:She was born and raised to parents who worked to survive in the current world. They were good to her, loved her dearly, and supported her in all of her endeavors. When she discovered the Underground, she worked first as an underling before making her way to the top, and as she developed her relationships and established her status, she developed her own skills, making sure that she could defend herself, her friends, and her family if need be. Currently, her parents reside in an undisclosed location for their own safety, and at present she has no siblings to call her own.
•History: As mentioned before, Millie was raised in secret, in a relatively safe location for the time that she grew up. She learned to defend herself, discovered the Underground at a young age, and grew within their ranks, finally finding the strength to hide her parents away from the worst of the fighting while she continued her escapades in the middle of New York City. ((This part is somewhat incomplete. I tend to add to my profiles as I continue to roleplay and get to know the characters better.))