Name:


Aroha Verity Lightning

Species:
Fallen angel, but she's struggling and working as hard as she can to get back up from being a Fallen Angel.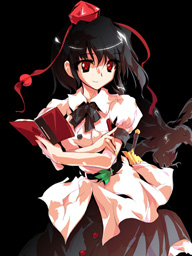 Gender:


Female



Age:


Appears to be around 19, but is actually 120 years old.



Appearance:


Aroha is definitely pretty, and is definitely someone people would like to be with. Not to brag or anything on her behalf, but it's true, and Aroha is always very modest about it. Boys always come up to her and read her cheesy poetry they wrote about her brown hair or her red eyes, about her small petite stature, about her soft cradling arms, or about just her in general. Her short brown hair never grows past her shoulders, and she keeps it in good check, combing it daily. It occasionally flops into her reddish brown eyes despite her red headband, but she puts it back in place. She's quite short and petite, standing at about 5'4, but she makes up for it in kindness and how embracing she is.

Aroha's wings are a light shade of brown, and are somewhere between medium and large. She uses them to fly often, as she loves the sensation of soaring through the air. Aroha was born in the human year of 1912, and she likes to wear clothes from that period, as they feel far more comfortable and homely to her. Originally Aroha wore long blouses and longer multilayered skirts, but now she wears shorter shirts and skirts, but wears shorts underneath her skirts so there aren't any awkward instances when she's flying. She wears a red headband to keep her hair out of her face, and she wears matching red shoes. She's not exactly athletic, but she's not exactly weak either. She'd rather read than go out and exercising for no real reason, but she does go out for walks and flies to stay in shape, and to keep Mediaolum under control.



Personality:


Aroha is very much the quiet type. She loves to stay inside and read or write a good book or write a poem, maybe sing a little, but she still enjoys other's company from time to time. She's definitely an introvert, but she can still talk to people pretty well, even if she is a little shy at first. She's kind, and is never mean to anyone, unless it's needed to keep the balance, but she tries and leaves that job to the demons anyway. Aroha doesn't always stand up for herself because of her shyness, and if she does, she does it subtly and wittily enough that whatever she didn't want to happen doesn't happen without any direct conflict. She's smart, and can talk to people with her kindness and wit to cheer them up, and she does that often to help keep the balance. Aroha can be quite passionate in what she does, and can be passionate about others too. She tries her best to be the best person possible, and she's especially trying hard now that she's fallen.



Likes:
Books
Poetry
Flying
Women
Clothes from the 1910s
The current human world, she wishes she could visit it.
Being a Guardian
The Arts, especially the performing arts
Nature
Female Human 1
Dislikes:


Being sick
Scary things
Mean people, unless they are guardians keeping the balance. That is the only exception.
Men, not that they're bad, just in the romantic preference sense of things.
Writer's block
Conflict of any kind
Sadness
Bullies, and avoids being one. Aroha tries to let the demons do the bad stuff, but if she has to she will
Being a Fallen Angel, and she's doing her best to get back to at least the Third Hierarchy.
Boats, as she gets seasick. Luckily there aren't many boats in the afterlife, and she can fly.



Afterlife History:

Aroha was always a very helping angel. She would guide new humans around heaven, and would assist others in everything. She is still very kind and helping, but she does it for a reason, to help keep the balance. That was the main point of her joining the guardians, she wanted to put herself to good use. She was definitely right for being a guardian, she was kind and helpful, but knew when was the right time to be brash. So she was accepted. Aroha bonded in different ways to all the guardians, but none in a romantic manner. Aroha had always thought she would have no lust of any kind apart from a lust for learning, until Mandisa became a guardian. She was so beautiful, and so funny. She always put a smile on Aroha's face, even when she wasn't speaking to her. Normally she wasn't speaking to her, because Aroha was so shy. Aroha always mentally kicked herself when she missed an opportunity to talk to the woman she admired so much. Mandisa's smile lit up the room, and her bright teeth set Aroha's heart pumping even faster than when she normally saw her. And then, she started talking to her. When she got to know her even more, Mandisa became even more beautiful, her soul and personality practically humming and drilling its way into Aroha's mind and heart. Mandisa was the most amazing person Aroha had ever met, and was overjoyed they were at least friends. But she definitely longed for more.

WIP until relationship further worked upon :3



Other:

Role is Female Angel 2, and face claim is Aya Shameimaru