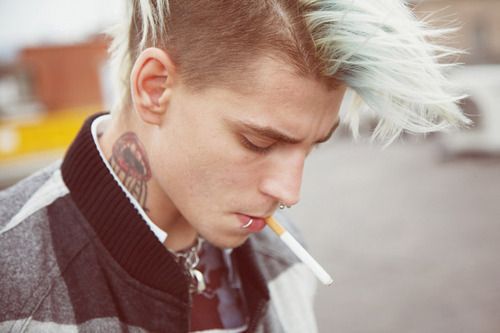 .::Cedric Brabury::.
:Basic Information:


Age:
16

Sex:
Male

Gender:
Gender Fluid

Sexual Orientation:
Homosexual

Reason for Admission:
1. Depression
2. Anxiety
3. Smoking
4. Drinking
5. Morphine



:Appearance:



The Face:
Cedric's face is very feminine in shape with very prominent cheek bones and full lips. His nose is very similar to his sister's, small and perfectly straight. Cedric has large, silvery blue eyes with flecks of green like his sister's. He has very pale, smooth skin.

Hair:
Cedric's hair is naturally a platinum blonde/white color and he loves to change the color. He has had long hair, but recently got it cut with tapers on each side and long on the top, like in the top two photos. His hair is soft and thick and smooth.

Style and Body:
Cedric loves graphic tees, skinny jeans and retro clothes. He loves scarves and wears one almost every day. Cedric is very short and petite. His physique is feminine, with a small waist, large hips and a slim figure.

Distinct Markings:
Cedric has many scars, mainly along his back and legs. He has stretched ears, a nose ring, lip ring and two cartilage piercings. He has an anitomically correct heart over his sternum and lyrics over both of his arms.



::Life::



History:
Cedric shares a mother with Sage, but was raised by Sage's father as his abandoned him when he was 7 like his mother had done when he and Sage were very young. Around the age of 12, Cedric left from his "Father's" house and began his life with a man named Jimmy. Jimmy found the boy hitchhiking on the side of the road and brought him home to his apartment. Jimmy was great at first, but then he started to get possessive. Cedric was rarely allowed to leave the house and was never allowed to talk to anyone without Jimmy around to monitor him. If Cedric did anything that bothered Jimmy he would be severely beaten, several times to near death. He ran away from that home and began living in the streets again. He soon was drinking, smoking, and addicted to morphine. He was arrested and sent to the rehab.