Nickname:
Kal or KJ
Age:
17
Gender:
Female
Sexuality:
Gay
Relationship Status:
Single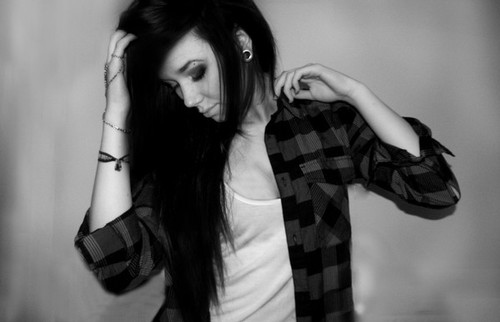 Height:
5'11'
Weight:
152 lbs
Build:
Slender, toned and muscular.
Eye Color:
Navy blue
Hair Color:
Dark brunette
Physical Description:
Kallin usually wore some sort of black or white tank top along with a plaid button up shirt. She liked to be able to show off her physic. Normally she was in a pair of jeans and black combat boots, unless she was working out, then she wears basketball shorts and just a tank top.
Likes:
Guitar, skateboarding, basketball, music, flirting, working out
Dislikes:
Emotions, hate, bullies, injustice, sleeping.
Fears:
Open water, drowning.
Personality:
Sarcastic and a bit of a smart ass. Kallin likes to wear a smirk or cocky grin, but her friends can usually tell that there is a lot of pain behind the mask. She's reckless about her own safety, incredibly independent, and hates for others to see her as weak. She doesn't know how to handle emotions or understand them, and suffers from Alexithymia (inability to describe and identify emotions in oneself) . She's loyal, and would do anything for her friends, but she does get defensive and likes to push people away. Most see her as just an adrenaline junkie and party animal, but her friends don't believe the act, no matter how hard Kallin tries to convince them. She doesn't want people to waste time on a lost cause. She's extremely flirty and seems over confident, until people start to ask about her as a person. Her friends are her only link to reality, and she'd do anything for them. Kallin absolutely refuses to talk about her father, or listen to the doctors when they taunt her. She also suffers from intense nightmares.
Family:
Jeffery Allan Wright- Father (Alive)
Lynn Stacey Wright- Mother (Deceased)
Reasons for Admission:
Alexithymia
Claimed behavioral disorder
Self Destructiveness
Pathological lying
Drug Abuse
History/Biography:
Kallin was born in Chicago and lived there until she was four with her mom and dad. Her dad's career really took off and he was beginning to hit gold with some of his clients (he's an NBA Agent), so they moved to LA. Her mother at the time was really depressed, and when Kal was six, her mother killed herself. Her dad was at work and Kallin was the one to find her. Ever since then, something inside her dad broke. He blamed Kallin whole-heartedly for the death of his wife, and he abused Kal for the first time right after the funeral. After that, her dad hired a nanny to watch Kal while he worked, always firing them in a couple of months so they wouldn't be suspicious of the abuse. Kallin grew up learning to avoid him while he was home and especially if he was drunk. When she was thirteen, they moved again. This time they lived in Tampa, and Kallin was old enough that her father didn't bother with a nanny. From the age of eight, Kal played basketball and skateboarded. While her dad said that music and skateboarding was a waste of time, he encouraged the basketball. She found that if she did well, he wouldn't be as angry at her. Pretty soon, he would send her off to basketball camps and traveling teams, and Kal knew she'd be safe for at least a little while. Since her dad always acted with fake calm until he suddenly lashed out and would beat Kallin, she never really understood emotions or social cues. Kal learned to fake some of them, but she couldn't understand the feelings she felt or that others felt, and what they mean. This terrifies her and she prefers to ignore emotions.

When she was a sophomore, Kallin was the starting point guard for the Tampa Lions. She took her team all the way to the state championship game, but they lost in the second quarter by seven points. Kal had fouled out in the second quarter of that game, and her dad was furious. Immediately after the medals were passed out and Kallin had both her second place medal and the MVP award she was given around her neck, she was trembling. She could see her dad on the sidelines, his face red with fury and disappointment. Her coach at the time told her she did good and it was alright, they played their best. He didn't realize that Kallin wasn't shaking from just losing the game, but from fear. Before she could open her mouth to respond to her coach, her dad grabbed her by the arm of her warm up jacket and yanked her behind him all the way to the car. The car ride was silent and Kallin leaned as far against the door as possible, trying to put distance between her and her fuming father. When they arrived home, Kallin endured the worst night of her life. She'd broken two ribs, her right arm, and suffered a concussion. The next day, her father drove her to the emergency room saying that she got beat up from some skater punks she hung out with. And her father being the rich, powerful man that he is, had the doctors and nurses nodding in agreement.

They moved again less than a month later, and Kallin arrived in Coldwater County. Her dad had heard things about the new law, and at first he was nervous that Kal would be forced into the center because of her rebellious nature and expose him. Jeffery Wright demanded to take a tour, and he hit it off with the doctors immediately. He began to discuss how he wanted to ensure that the facility would "benefit" Kallin in case she had to be admitted. He further explained how he was "at a loss" with what to do with her, and her "need to pathologically lie" whenever she'd get into fights. Pretending to feel shame, he even told the head doctor that Kal once blamed him for abuse and it tore him to pieces to think his daughter felt "just so troubled that she can't even admit she has a problem to her own father." With the assurance that Kallin's admission into the Rehabilitation would probably help him hide the beatings he gave her, Jeffery slid the doctor two court side seats to the next home basketball game in the nearby city.

Kallin didn't know about her father's sabotage. She was walking around town one day when she heard a girl screaming. Running towards the sound, Kal found the girl down a dark alley being thrown into a wall by a hooded guy. As soon as Kallin saw the glint of the knife, she tackled the guy to the ground. The girl screamed louder, drawing attention as she held onto the little baggy in her hand. The guy kept shouting at Kal as he tried to stab her, saying something about "payment" and "good business." Kallin slammed his head into the concrete, feeling the cold blade sink itself into her side. As he dug deeper into her side, Kallin continued to punch his face until she felt him go limp. She was covered in blood and felt her body turning cold and numb. Falling backwards onto her back, Kal couldn't see the girl anywhere. Soon, sirens were approaching and Kallin passed out before they arrived.

She woke up in Coldwater County Rehabilitation Center with a burning in her side and surrounded by an unfamiliar room. Kallin was told that she had put the guy into a coma, and she was being blamed that it was a drug deal gone wrong. A nurse told her she was "so lucky to have a father who kept you out of jail" since Kallin was now in the center as a mandatory court sentencing. The doctors had a long list of reasons, to which Kal didn't know how they obtained. Her father came in once, acting with mock concern until the doors closed and he threatened that if she ever tried to expose him for who he really was, then Kallin could expect to be tossed into federal prison. He would make it happen. That was his last promise.
Other Information: