---
---
---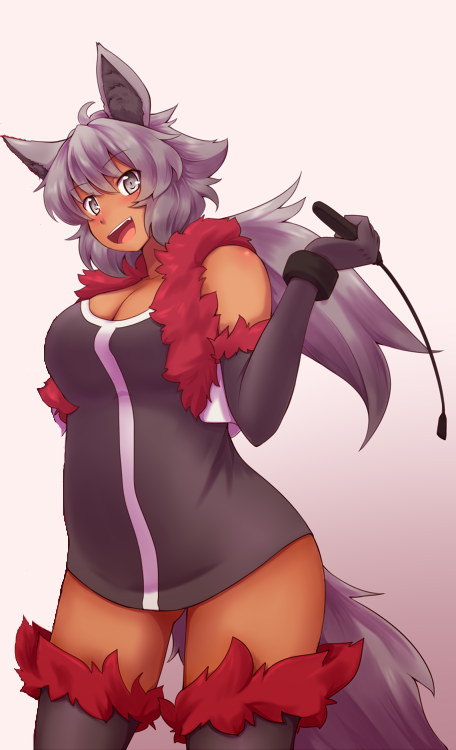 An open and rather free being, the demon spirit is one of vibrantly... overflowing sexuality. She makes no efforts to hide her own horniness and often uses hume males to satiate her own boredom, disposing of them without much sympathy when she has received some form of satisfaction. It's a good thing she can't catch STI's. She is feisty, energetic, and curious; in a lot of ways, the minx could be viewed as a more childish rendition of her "Mistress". She adores playing games, tricks that can range from harmless to downright malicious, depending on what the situation calls for. Her take on morals is very different than beings that exist on the material plane, and what she judges to be "wrong" is best comparable to an unnatural extreme on the regular moral scale. As a demon, chaos is encouraged and looked fondly upon, and the qualities that she enjoys in another--while negative to other beings--are ultimately what will determine how attached to someone she can become.

In fact, oft are the times that she will think material beings are just too soft. On her plane of existence, disobedience is met with the strictest form of punishment--though one must recall that extra-planer beings are essentially immortal, which is why they can withstand harsher and crueler degrees of existence. But she has no concept of the difference and compares life-styles. It often takes her a lot longer to catch on to the obvious and her perception is already wonky to start with as she has trouble differentiating planer standards from one another. She can even confuse herself when she is speaking and when this happens, she'll quickly try to change topics or find a way to validate her claims... which often ends horribly.

She has a tendency to nip at someone's hair, a habit she has a penchant for employing should she be in the vicinity to do so. Hair is her gnawing object and she likes the smell different hair types produce. (Which explains why she likes to wrap herself in the furs of her own tail and roll around.) She can border on invasive sometimes as her regards for personal boundaries are barely worth noting. She likes to sniff others, gain their scent--she will claim it makes it easier for when she needs to go hunting. For her, material beings all carry different types of scents--not just physical ones but their souls also have a certain "allure" that she can pick up on. However, despite the sharpness of her senses, from the way she carries herself, it is easy to wonder if her mind is really just as sharp. Her intelligence can seem a little... lacking. Her fits of bravado really don't do much to alleviate this doubt either. But her... well, no other word for it, dumb behavior can be endearing--sure she's not the brightest bulb but that doesn't seem to bother her. She smiles more often than not.

Most of the time, she comes across as brash and loud without any concern to what she leaves in her wake. She has an adventurous mentality and a lot of the time, her impulsive actions are led by the need to feel a thrill and to experience something new. She's not very good at being a demon, but then again, no one really taught her how to be a good one!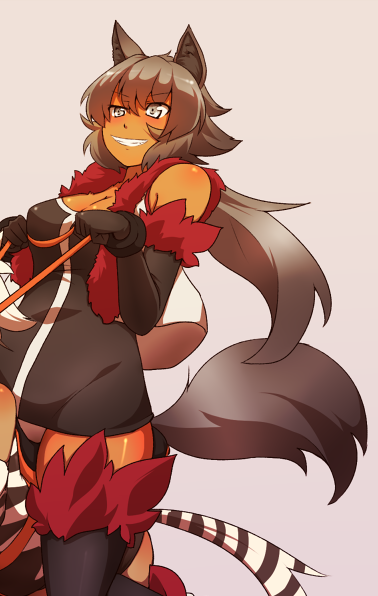 She falls on the lower echelon on the demon hierarchy, but try not to be fooled by this standard. Despite the fact that her powers have been scaled down, she is still a threat in her own right. Her powers stem from mental magic.

I - Psychokinesis
Able to manipulate energy to her liking, the demon is able to form raw mana into physical force. Damage is dependent on how much energy she is accumulated into a singular area but she can release it in whatever form she chooses. Given that it is mentally formed, she can choose to keep the actual attack invisible, relying upon pure energy to do the rest when it collides with her target. This power relies upon her own mental state in order to be effective and can be taxing on her as it requires the type of concentration she rarely gives to any situation. But if incited, she will pour all of her willpower into creating some truly spectacular things, as energy really has no form so she can give it whatever shape she pleases.

She favors the idea of a bubbling scythe--as when this particular brand of magic is given a form, it tends to alternate between light and dark matter vying to have physical shape. The scythe is much bigger than she, at a length of about 9' (For comparison, she stands at 5'11") and the sonic vibrations from swinging the weapon are enough to topple a tree if done correctly.

II - Psychoportation
If she has a sense of what she's moving, the demon can use her mental magic to transport objects, sometimes even people, to different locations. The success of this type of magic is limited to the specificity of what she knows she wants to do. Provided she has a very clear starting and end point, it is not overly difficult to move matter from one place to another. With a bit more effort, she can even transport things between planes--but only her own extra-planer realm and the plane she is residing on. She has to know what the destination is going to be, otherwise, whatever she's attempting to transport will be lost in an odd sort of limbo and she wouldn't really know how to go about getting it back...

On the other end of this, there is the possibility that something that is shifting through the planes might actually (accidentally) slip through time. The reason for this is that time might not be translated the same way between planes and if that's the case, the object might accelerate or decelerate through time in order to compensate for the shift in degrees. When that happens, whatever she was teleporting is absolutely lost to the whims of the universe. She likes to shrug it off as an unfortunate side effect but then again, she's never the one paying the consequences for her actions.

III - Passive Affiliations
She takes on two forms when on the material plane. Her first is more of a spiritual entity, appearing translucent and barely there. This form is more akin to the animal her demon form takes after, a fox. She likes to appear as a kit, she feels it represents her more than an adult fox form would. When she is in this more spiritual rendition of herself, she likes to float around her Mistress' side, hovering above the shoulder or the head. Her other form is actually tangible and towers over the witch by a good foot or so.


All extra-planer beings take penalties for being on the material plane considering that they are beings of pure magic. Her mana takes extreme hits for residing on this particular plane, which is why she must remain close to her Mistress at all times. She feeds off the flow that the witch produces, which gives her an origin point to associate herself with. Which is ultimately how she manages to remain on the material plane without fizzing out, as if she distances herself from the witch, her mana can disperse and leak outwards. This would force her back to her own plane of existence till she was summoned once more. This reliance is one that she's smart enough to try and cover up so others don't abuse it.

She also must commune with her higher deities in order to keep receiving power. Because she has no natural mana source on the material plane, she is reliant upon rigorous prayer, ironically enough, to her demonic overlords to continue allowing her to receive her magics. She must slip into meditation for 2 hours every single day and once she has fallen into this trance, she cannot be disturbed or taken out of it until the process is complete. Her eyes will glaze over and she will appear to go into a fit of paralysis while she is in this state. In a way, her soul is crossing over back to her extra-planer realm to restore itself and there is an invisible link that ties her body on the material plane to her soul that is floating about on her home one. If this link is broken (which is possible if she is attacked by astral beings), then she could possibly die or be forced back to her plane of existence--unable to be summoned until her mana restores itself.

And, of course, her place on the social scale. She isn't the most respected, prized, or worshiped of the demons. Not by a long shot. That being said, she is often coaxed and coerced into doing things for her higher-up's, and even tricked into their plans without realizing it. Other demons know that she isn't really all that smart and like to manipulate her into doing their bidding. And she still hasn't caught on to it.