**This is still a work in progress, but if all this stuff is okay, let me know and I'll start adding more pictures and formatting. It would just be a pain to have it completed and then end up having to change all of the formatting/picture locations because what I have here doesn't work.**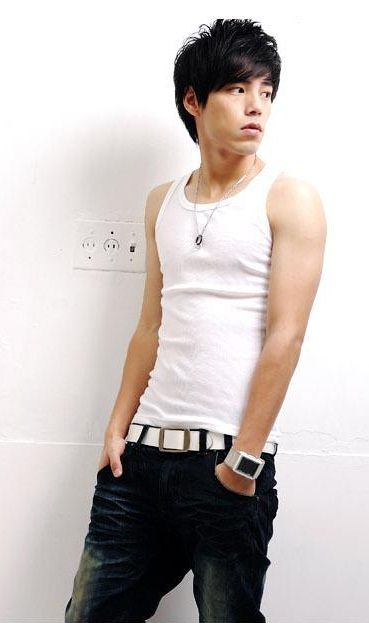 Name:
"...Mmnh? My...name?"
Jae-Hwa Kwon
Nickname(s):
"...You... wanna know what people call me?"
People call him J. He doesn't mind. He doesn't like being called by his last name, though.
Age:
"...Oh. Yeah... I'm not all that young anymore."
32
Gender:
"...?
Male
Power Level: 5
Power: Future Sight
Power Function: Jae-Hwa's Future Sight occurs while he's asleep. Since the future isn't a straight line and is influenced by actions, the future changes very often. If asked to predict the future, he can give a generalized answer (what seems to be the most likely thing that will happen) or a specific answer (based on what choices the asker makes). He can see distant events that are bound to happen, however, he always sees the WHOLE future-- he never starts from whatever point he wants. He always starts at exactly the moment he falls asleep and goes until he views the very last thing that occurs-- then he wakes up or goes into a dreamless sleep.
Jae-Hwa's future sight takes into account things he doesn't know, so he often has knowledge of things he shouldn't. But he can't see the past, meaning that even though he knows these things and they affect the future, he can't view past events in his sleep. He also cannot recall his forgotten knowledge unless he's brought to something that jogs his memory. For example, he "knows" about the criminals who commit crimes, but he cannot recall them without seeing them in a specific way. For example, if a man stabbed another person to death, just seeing this man doesn't jog Jae-Hwa's memory. Seeing this person with a knife would jog it enough that he would recall the man doing stabbing something. Seeing this person with a knife with a substance like blood on it or a substance like blood around would help him recall that the man stabbed something that was alive. Visiting the scene of the crime will jog his memory, but not enough that it would be of help to anyone unless he say the culprit at the scene of the crime with a knife and blood. In other words, using him to solve crimes wouldn't work all that well and his powers of recollection as they relate to his future sight are incredibly weak. However, he sometimes recalls with great clarity things in the future by just looking at someone. It isn't often.
He's constantly falling asleep, but he's not narcoleptic. His power manifests by constantly reevaluating the future whenever a major decision (i.e. one that changes Jae-Hwa's personal world or the world at large) is made. Jae-Hwa can GET tired, but he isn't always tired. However, since it's tiring to watch the entire future of the world from beginning to end every time this occurs, Jae-Hwa will often fall asleep after he's viewed the future. He can stall this by focusing very hard on an activity. Also, he can be woken pretty easily if he's just asleep. He can watch the future as many times as he wants.
If he is concentrating on something in the timeline, it's impossible to wake him up. It takes about ten hours for him to view the future completely. Though he can be awakened from his viewing, he cannot wake himself up-- He knows he's viewing the future and that he's asleep, but he's powerless to wake himself. Someone else has to wake him.
---
---
Appearance:
"...I don't have a mirror on me...Well...You can tell from looking at me, right...?"
Eye color: Gray.
Hair color/length/texture: Black, short, thick and unmanagable
Complexion: Fair skinned
Height: 5' 11''
Any other features?: He doesn't have any tattooes or piercings. However, he does have old scars on his arms and legs.
clothes:
Personality:
"...That's...not a question you ask someone. I think... someone else could describe me better than me."
Jae-Hwa is cheerful and kind, but subdued. Often times he comes across as dismal. He seems to have a severe case of narcolepsy. He's unable to stay awake for a full day and so he doesn't live like normal people do. He takes a long time to answer people when they speak to him. When he's awake, his speech is delayed. He lives in the Chapel in the Woods and pretty much makes his living cleaning and providing services there. When he does leave his home, people often remind him of where he's going or what he's doing. Forgetful and clumsy, Jae-Hwa is known for falling asleep in the park-- or right in the middle of a conversation. If he has something to focus his attention on, he'll stay awake.
He's quiet and pensive when he's awake and often speaks in a sleepy voice. He's usually right on the brink of falling asleep, so his expression is pretty blank. He doesn't emote well, but he does voice his feelings and opinions well. Jae-Hwa does know about the goings on around town despite his near constant sleeping. He usually smokes an electronic cigarette with a very bright blue light at the end, but in order to be polite, he won't smoke while people are talking to him. There are times when people cannot wake him when he sleeps.
---
---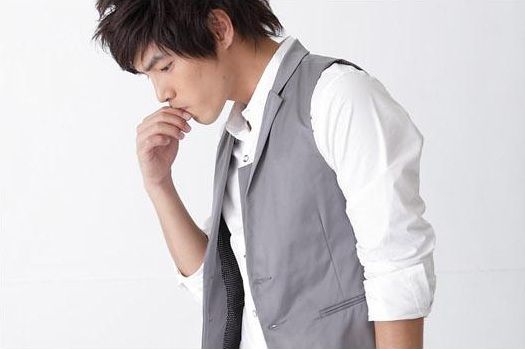 Positive traits:
"...Good things about me, huh...? Well, I suppose there's a few...?"
-Amicable: He's good at talking to anyone and is pretty friendly.
-Welcoming: He'll take anyone under his wing if they need a place to go, no questions asked.
-Attentive (to others): He pays attention to things that people tell him.
-Easy to rouse: He sleeps all the time, but he'll wake up if someone bangs on his door or shakes him.
Negative traits:
"...Bad things...? Hmm. Do you have all day? I don't. Let's not talk about this."
-Forgetful: He doesn't remember what he's doing most of the time, especially if he's just fallen asleep.
-Sleepy: His "narcolepsy" makes it near impossible for him to do things normally.
-Clumsy: Jae-Hwa trips over himself pretty often. He drops things when he starts falling asleep and so on. Despite this, he is pretty good at cooking.
-Not good with time: Jae-Hwa never knows what day it is. He also has no use for year or time-- if you ask him to do something and then get back to you, he might not get back to you for days at a time.
Habits:
"...People tell me I do some things a lot. I need routine. Routine's nice. Normal, even."
-To keep himself awake, he smokes an electronic cigarette. The light at the end captures his attention and keeps him awake. It won't work for an entire day, but it's usually enough to get him to and from places or finish cleaning.
-He sometimes focuses very hard on objects. The object doesn't matter, but it's a way for him to remember things.
-He tends to observe people's faces for longer periods than what's considered normal.
-He plays chess well. He has a board with an ongoing game on it, and he'll play by himself on it. He has another board so that he can play with other people.
Hobbies:
"...I have a few. When I'm not doing things, I usually just fall asleep so... got to have something to focus on."
-Chess. He plays by himself a lot.
-Sleeping. It's more of a thing he does.
-Cleaning. It's his job.
-Botany. He grows plants in a garden outside of his house.
-Cooking. It forces him to focus his mind. He can stay awake when he cooks.
Fears:
"...Yeah, I'm afraid of a lot of things... you'd be too. I'm pretty sure I know how I'll die. Maybe."
-Fires: He's afraid he might burn his house down and die.
-Not waking up: Jae-Hwa is afraid he'll fall asleep and never reawaken.
-Driving/Roads/Cars: Jae-Hwa is afraid he'll fall asleep at the wheel or in the road. So, he's not a fan of cars, driving, or crossing roads.
-Responsibility for children: Jae-Hwa likes children, but doesn't see himself as a "good parent" type. He will take care of them, but he doesn't like doing it.
-Waking up somewhere he doesn't recall: Jae-Hwa "knows" everything, but waking up in places he doesn't recall-- like a room he's never been in while he's awake, terrifies him. He would know if he was going to die or if something bad was going to happen to him, but it's still not something he enjoys experiencing.
Weaknesses:
"...I'm not comfortable with telling people the specific things that I can't do. You know, because then they'll just use it on me."
-He doesn't have control of his ability. If multiple "big events" occur, he probably won't be able to hold off his viewing of the future.
-He can't recall everything he sees. If he's asked for something specific, he can focus on that part of the future. But since he's viewing the entire future and yet still getting up and wandering are, most of it passes him by in flashes. He "knows" everything, but also knows nothing.
-He can't hold a regular job and doesn't have a lot of money. The sleeping thing pretty much only allows him to have one job-- being a caretaker for the Church in the Woods' grounds. He can't do much else because he'll fall asleep while working. His job isn't paid too much, so he's not rolling in dough.
-He often forgets his actions. Jae-Hwa spends a very long time contemplating other people's actions and barely ever spends anytime thinking about his own. He doesn't have that much of an effect on the future that he can discern, so he doesn't remember much about the things he does. For example, he might recall leaving his house, but he won't recall why he did. He needs to have his memory jogged-- this is usually done by inspecting the items he's got on his person. If he's holding nothing, he'll likely just think he was sleepwalking and go back home.
Likes:
"...I hear people in town joke that I must love sleeping... I'm not sure how funny I find that."
-Chess
-Puzzles, mysteries, or anything that requires intense focus
-Plants
-Good food
-Comfortable places to sleep
-Smoking
-Cats
-Other people
-Being helpful
Dislikes:
"...The worst thing is waking up somewhere new. And fire. Most other things are okay. Except for this stuff, I suppose."
-Alcohol
-Dogs
-Fire
-Cars/Roads/Driving/Taking the bus
-Hospitals/Clinics
-Fishing
-Writing
-Waking up somewhere strange
History: Jae-Hwa used to live in town, but his dislike of cars made him move to the Chapel in the Woods. The job there also solidified his move. He never finished high school-- he didn't see a future where he got a normal job, so he just left after his freshman year. He used to take medicine for his "narcolepsy", but it made him have waking terrors where he could see only terrible futures by looking at people. He always picks up his medicine, but he never uses it. Everyone in town is aware of his sleeping issue.