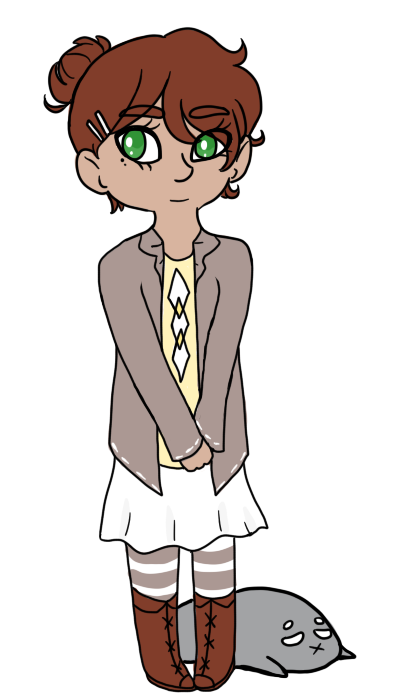 Name: Josephine Pierce
Age: 19
Sex: Female
Orientation: Asexual Panromantic
Class: Natural
Job: None for now
Balance: 50 Boons
Inventory: Guide Bean, several rocks, fidget ring, loose change
Favorites: Eats anything, even if it's completely bizarre/ Doesn't know colors/Dogs
Likes: Guide Bean, weird flavor combinations, trivia, objects to fidget with
Dislikes: Falling, being photographed, lies, loud, sudden noises
Short Bio: Despite being blind, Josephine marches forward with her head held high with the help of a small squishy creature named Guide Bean. She has the occasional fall, but she just gets right back up, working hard at whatever task she's assigned herself, sometimes to the point of stubbornness and refusing help. She speaks her mind, often without meaning to, saying whatever comes into her head without a thought. This could mean blurting an opinion, or prattling on about things nobody cares to hear. She gets attached to inanimate objects easily, giving them names and keeping them with her. Getting attached to a person is an entirely different ball game, she will defend anyone she holds dear to the end, no matter what.
Background: Y'know. A family. She had one. They got her a Guide Bean.
GUIDE BEAN:
A small creature that spends most of its time on Josephine's shoulders, motioning her in the right direction.
It possesses human-level intelligence, but is not able to speak. If it was able to speak, it would sound exactly like Morgan Freeman.
It is also very durable and not easily injured, though it is susceptible to enough pressure, and can be harmed through manners not involving damage. Its movement capabilities are very limited on its own too, and is transported mainly by being carried.