∞
R A E • N Y O K A
∞
"I wanna feel the metamorphosis and cleansing I've endured within"
Empty Bottles
46 & 2
---
Name:
Rae Nyoka
Nickname:
Snake: Snakes slither, unseen within the shadows, stalking and silently observing their prey.
Age:
17
Gender:
Male
Orientation:
Rae has never been romantically inclined nor has he ever truly sought after someone body and soul.
Talent:
Psychoanalysis and manipulation. He prides himself in his adamant ability to sit still for hours on end simply observing, soaking up information and then being able to put that new found knowledge to use.
Appearance:
Rae's eyes, undoubtedly his most alluring features, are swirls of intense gold and earthy hues shrouded by veils of long, skyward arching lashes of a pitching black. They are tranquil pools reflecting the colours of the surrounding forest, splattered by molten gold, and rarely is there a ripple or loss of composure. Snake's eyes are unconventional not only for their colouring, but also for their expressions; his are collected and for the most part impassive, whereas the average human's thoughts are easily read and deciphered through theirs. His orbs are also sharp and attentive, soaking up information that would typically go unnoted by the untrained eye.
His unruly mop of hair lay in ragged layers about his ashen face, their tendrils tickling the back of his neck and jaw. These thick locks of shadowy hair are styled in an unruly, partially slicked back manner that allows him better access to the views around. However, on occasion dark vines of midnight shades and hues break free from their light restraints, branching downwards, twisting and twining messily to shroud his sharp gaze from sight.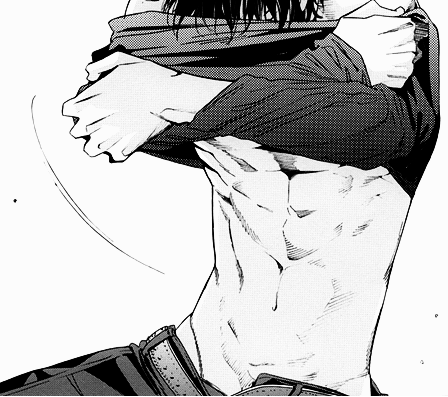 When his hair is properly styled, Rae's fair skin and enticing bone structure is set on display. His skin's pale peach pigmentation and near flawless complexion gives hint to all his time in the shadows. It's lack of marring and blemishes would remind one of the smooth ceramic unique to that of porcelain dolls. His bone structure contrasts starkly with his seemingly soft complexion as it virtually cries male. Snake boasts a jawline ostensibly carved from stone and practically begs those of artistic nature to sketch it down. His nose is a predominate feature, but not overbearing; it descends at a sharp, sloping angle and resides at the center of his face. Below his nose resides a pair of surprisingly soft, rose-tinted lips that are either set in a stoic line or sinful smirk. These partially full lips act as a gateway to the cavern more formally addressed as his 'mouth'.
Within this dark, heated cavern lays a talented, pierced muscle. It is formidable in the ways of stringing fables and endearing tales together and laced with an intoxicating baritone and the skill of deceiving silver. Along with a devilish tongue, Rae is equipped with a tantalizing physique.
Standing at approximately 6'2", Snake is blessed with the ability to loom over the majority of this planet's residents. His tall frame is wrought with carefully toned and chiseled muscles that allow for heavy lifting to be completed without strain and great distances to be covered with ease. His abdominal muscles have been chiseled with the upmost care, leaving his core to resemble a carved valley of ridged slopes and dipping canals. His strengthened arms are attached to his lithe frame by broad shoulders that meld into handsomely molded collarbones and then into a beautifully corded neck. Adorning his neck is a simple, sketched inking of 'DG'.
Personality:
Rae has made his home within the shadows and prefers to slink through unknown fissures or slither around in a large detour rather than clash with crowds and confrontation. He resides within the crevasses of life, carefully listening and observing the general populous' behaviors and habits. He takes pleasure in analyzing and predicting life's character's actions much like one would a character in a novel or film. Snake rarely involves himself in the drama that surrounds the teenage life like the constant din that swamps the subway passenger, but there is the rare occasion that he feels obligated to interfere; to spice up the unfolding plot lines.
Snake has a very low tolerance for humans directly communicating with him and absolutely abhors it when one even remotely breaches his personal vicinity. The slightest of contact will result in a scathing glare that pins the soul with a heart retching fire but, unfortunately do to his reputation, or rather his lack thereof, will more than likely go unnoticed. The only exception to his personal space issues is if he is the one to initiate the confrontation. He has no qualms leaning in close, lips but a hair's breadth apart, enticing orbs never once wavering in the intense staring contest he had engaged simply for the raw enjoyment of watching his chosen prey squirm.
His general demeanor is that of calm and collectivism. At first glance he would not appear to be one to dive blindly into violence and though this is typically true, there has been occasion when something has thrown him off guard or he had felt so inwardly unnerved that he had lived true the animal his nickname had been coined from's nature; unpredictable and dangerous.
Snake wields his tongue as his favored weapon; throwing others off with his bullet like wit and extensive knowledge.
However, when his words fail him or he feels threatened, Rae will rely upon is well-earned strength to pull him through. Despite his strength, Snake's fighting style is based on evading rather than attacking. He prefers slick, unpredictable movements that leave opponents in states of momentary confusion and uncertainty as it requires less energy and serves as great entertainment.
Bio:
-Under construction: important-
Likes:
∞
Staying out of the public eye:
Snake loves his solitude almost as much as the life giving fluid pumping through his veins.
∞
Humans:
He feels each individual is unique and interesting in their own, unconventional way.
∞
Trust:
Trust is huge. If Rae does not feel he can trust someone, they will more than likely be kicked to the curb. Snake also enjoys trust because he has found it is easy to acquire in the majority of humans, which in turn means they can be easily manipulated to his will.
∞
Coffee:
His preference is black; no crème or sugar added to stifle the taste of the espresso.
∞
Observations:
Snake thrives on his capability to observe and collect data. It allows him to sit still for hours on end simply absorbing all that happens around him and learn.
∞
Felines:
He is drawn to their lithe and sleek bodies and admires their ability to agilely maneuver within the shadows.
∞
Soft Music
He seems to have an affinity for the voices of softer spoken instrumental and the melodic whispers of the female artist.
Dislikes:
∞
Crowds:
Though he will deny it with his very core, Rae is extremely claustrophobic.
∞
Routines:
He prefers to keep himself on his toes and tends to mix up his schedule if he begins to feel too comfortable.
∞
Overly acidic citruses:
Pineapple and grapefruit are at the top of this list. If consumed, they leave his mouth burning and raw.
∞
Impenetrable people:
Rae enjoys a challenge, but he will be beyond put off if he can't weasel his way into someone's life or decode their thought process.
Other:
∞
Cigarettes:
Rae smokes cigarettes rather frequently and relishes in the space the smoke births after chasing away the presence of most humans.
∞
Ink:
Aside from the tattoo on his neck, Snake has two others. One is a simple inking of an infinity '∞' symbol on his left ring finger, and the other a small, yet intricately designed Celtic knot sketched in behind his right ear.
∞
Piercings:
embedded at the center of his tongue is a single silver stud. Rae has developed a terrible habit of clinking this ring against the insides of his teeth
∞
Glasses:
In his free time Snake is an adamant reader and when enjoying a book he dons a pair of simple reading glasses.
∞
Addictions:
He had long ago succumbed to the need of physical activity and would willingly admit he has formed an addiction to exercise; especially running.