---
---
32 || Heterosexual || King of Air
---
Standing at about five feet, five inches, Amon is a young, athletically built individual. His brown hair reaches down to the base of his neck and is left rather unruly; his matching brown eyes shine with constant optimism and enthusiasm. He is in very good shape, tone with lean muscles due to his daily workouts and martial arts training, along with a light tan from being outside as much as he is. He tends to wear light, loose clothing with only a few decorations as he prefers to be unencumbered, the only heavy thing he carries with him is the red and gold staff that he uses for training purposes.
---
---
Most obvious is Amon's ability to utilize his element of air, however he tends to use it in a much more subtle fashion. While he is more than capable of creating very powerful gusts of wind and could even create massive storms if he wanted to, he detests using his power in such a blatant manner because of how draining it is on him physically. He has two primary techniques that he uses his magic for, the first is utilizing it for offence by firing off quick, powerful bursts of air at his opponents. He uses this to strike from afar if need be, but he primarily uses it to augment his strikes. When punching, kicking, and striking in general he will add to their impact by firing off these bursts of air, even using them to increase their reach if need be. The other use is much more defensive, again using the wind to help augment his normal capabilities. He rarely ever creates barriers of air, only doing so to deflect ranged attacks; rather he uses the wind to help him parry, deflect, and block attacks from his opponents. He uses the wind to help push and guide his opponents attacks away from his body, combining the winds with his martial training to help defend himself.

He has other uses for the magic which are far less subtle, from being able to run at high speeds by eliminating the drag of the air around him to being able to fly by using continuous gusts of air to keep him aloft. He is also fairly clever when it comes to using his control over the air, devising different solutions to problems by utilizing the air around him or sometimes even the air located within something if need be.

His other notable skill is his skill in the martial arts, something that he practices every day to keep sharp and focused. His style of fighting is around keeping in tight to his opponent and utilizing quick, rapid strikes. He also makes heavy use of counter-attacks, defending himself and attacking his opponent at the same time. He is well versed in grappling as well, which he uses to trap limbs to expose weak points, as well as using throws, trips and sweeps; he also uses his magic to help him when it comes to throwing or knocking his opponent off balance, using the wind to help guide his opponent where he needs them to fall. His style is focused on conservation of energy, as in conserving one's own energy so as not to tire themselves out. It is about out lasting your opponent so that they begin to make mistakes from exhaustion that can be exploited. Despite the fact that he carries a heavy, metal staff around he never actually uses it for combat. For him it's simply just an exercising tool that he carries around.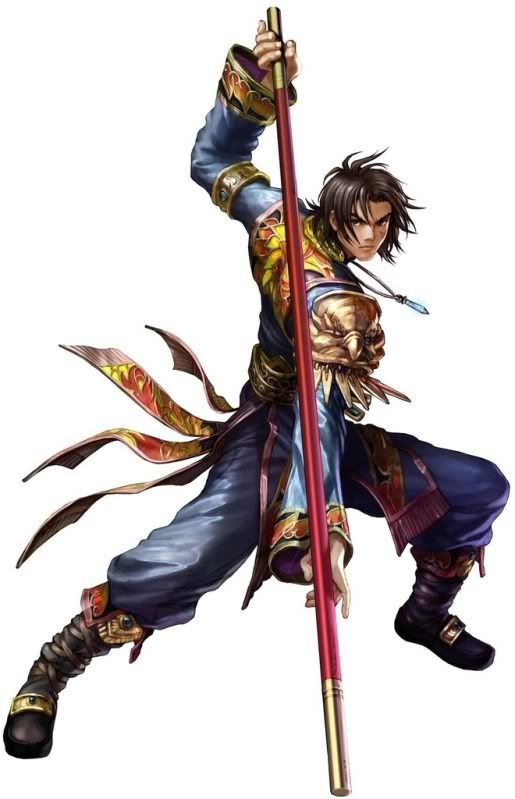 ---
As disciplined as he is in his training, he is anything but a hard worker when it comes to administration work and running the kingdom. To him it is dull, time consuming, and since he has other people he can have do the work for him (many of whom are better at it than he is) he chooses to have a council to run the kingdom. These are people he appoints, and though he still has the last say in all decisions, his lack of interest in the material and the process just means that he smiles and nods during most council meetings. He'd rather spend his time outside, training or even just enjoying whatever the weather may be at the time.

He is also guilty of being somewhat idealistic, always training to perfect his techniques, but most important for him is to help everyone he can and to see that they all live equally and happily. Laws and decisions on such matters are the only ones he genuinely gives any attention to. He will do whatever he can as a person to help others, even placing himself at risk if it means protecting those who cannot protect themselves. This idealism also means that he's willing to give any and all a chance to prove themselves a good person, even if he knows that there is little to no chance of it. Sometimes it takes a serious scolding to convince him that someone is beyond being helped.

Lastly, despite his martial training and love of sparring, he is anything but a killer. In fact, he genuinely despises getting into a real fight; choosing to try and talk a person out of violence if need be. If attacked, he will take a very defensive stance, using his magic and training to simply protect himself. He may trip the opponent or throw them to the side, hoping they will eventually quit out of frustration or that he can talk them out of fighting; he will only resort to physically attacking them if he believes there is no other option. Killing someone is something that he abhors doing, only doing so as a very last resort. Even when he does feel he was justified in killing a person, all the cheer and enthusiasm he is known for will be replaced by sorrow as he laments the action.
---
---
Most people know of Amon's obsessive training, if one is not sure where he is most know to simply find either the training grounds of the local place or somewhere quiet and peaceful. He never actually uses the staff for combat, rather it is just a heavy metal rod that he uses as a weight for his exercises. Sometimes he'll use it as a makeshift workout device, such as a chin up bar or using it to practice his balance. His protectors would know full well just how much the king does not enjoy the administrative work and how he struggles to actually give his attention to the matter. Another thing well known of him is how much he loves learning any new style of martial art, regardless of what its style may be. Hell, if he likes it enough he may even adapt his style to suit some of the new techniques he has learned. His protectors would also know the he is not of royal blood.

Amon is also very well known for being adamant about, as he refers to it, "Independence from Magic." What this means is that he believes that reliance on magic is foolish and quite honestly very dangerous. It worries him to see people are sometimes so reliant on magic that they have trouble performing a task without the help of it, and he is not afraid to speak about this issue. This philosophy of magic use is why he's so focused on being fit and well trained in the martial arts, so that he can survive without the need for magic.
There really is not much that Amon keeps secret, about the only thing he doesn't tell most people was his past relationship with the daughter of the previous King of Air. His protectors know of this but he prefers to keep it from other people.
---
Amon is, for the lack of a better term, happy. He is always optimistic and enthusiastic about something (excluding his kingly duties), and is always excited to meet and talk with people. He loves exploring and going to new places, regardless of how dangerous it may be. As said, he is almost always happy with a smile on his face, hoping to infect people with the cheerfulness he always feels. When not training, he enjoys chatting with people regardless of who they may be. He has a lot of trouble sitting still, always wanting to be out and about doing something.

It's difficult to wipe the smile off of Amon's face, as generally he is difficult to make angry or sad. He is also difficult to embarrass, as he is more than happy to laugh at himself. He is never afraid to make mistakes, as he is plenty aware that practice is what makes perfection and as such is always willing to try something new and exciting.

The only time this joy and cheerfulness fades away is when he has been forced to kill somebody. It is at this point that he tends to shut down, becoming quiet and inactive as he sulks somewhere he can be alone. It can take a varying amount of time for him to finally come out of his melancholy, which afterwards he returns back to his usual happy self.
Amon was born into a family of farmers, who lived within a somewhat dangerous area. It was located a ways away from any nearby cities, so it never received very much protection and so had a large bandit problem. Living on a farm meant that Amon was growing up doing hard labor, everyday having to wake up in the mornings and working until late in the evening to make sure they would have enough to survive the year. The neighbors were all the contact that Amon ever really had, and it was a very tight knit community considering they had to rely upon one another, primarily for protection. Amon had his first dealing with a bandit attack when he was nine years of age, where he witnessed one of his brothers be killed while defending the small village. It would not be the first bandit attack either, and over the years Amon would begin dedicating what time he had off to train for dealing with the bandits.

It was not until the age of fifteen, during one of these attacks, that Amon even learned that he could use air magic without needing the sacrifices, and it was during an attack when he had to face an air magic user that was leading the particular group of bandits. This particular fight was rather nasty, as several of the farmers had been killed and it was until Amon finally snapped that his abilities were revealed, allowing him to counter the magic of the mage they were facing. After learning of this, life did not change much for Amon as he was often far too busy to properly learn how to utilize his magical abilities. He would fit some practice with it into his martial arts training, but he came to learn that for the most part his magic was not very useful for helping in farming work. It still required long hours of manual labor, and the most his magic could do to help was to create a cooling breeze. The only time it really proved useful was creating a small storm to provide some rainfall during a dry spell.

It was actually during another bandit raid that he was discovered by the Air King, who had been roaming the land in search of someone to replace him as King. The King had been lucky to have had a number of children, however he was not fortunate in that none of them could control air magic without the need of sacrifices. So the king traveled the land, incognito so as not to draw too much attention, when he stumbled upon the village that was being attacked. The King and his retinue quickly joined in to help fend off the bandits, and it was here that he discovered Amon's ability. Amon was seventeen by this point, and with some convincing (mostly the King promising to keep this area, and ones like it, better protected from raiders) he agreed to become the protege of the king and to eventually replace him.

Needless to say, Amon had some trouble adjusting to life within a palace. He had never once had the ability to simply do nothing if he so desired and it made him very anxious to just sit around. So he choose to spend all that free time improving his martial abilities, as well as to better perfect his magic abilities. He became quick friends with one of the King's daughters, who choose to train alongside the former farmboy as often as she could. It wasn't long before the two became more than just friends, mostly on part of the daughter considering Amon was quite oblivious to how she felt towards him and even his own feelings for her. This relationship continued for a few years and Amon couldn't be any happier with the life he was living. However a visit back to his old home would crush much of that happiness.

It seemed that, even with the added protection the King had promised, the bandit attacks only grew more vicious. So when Amon had chosen to visit his biological family, he and the daughter, along with several guards, found the village to be under attack by a fairly large group. In particular was the leader who turned out to be the magic user Amon had defeated long ago. The battle was rather vicious, with a fair amount of casualties on both sides, but eventually the bandits were driven back. Among the dead however was the daughter, who had fallen when she had chosen to fight the magic user alongside Amon. It was quite a crushing blow to the King and his family, and especially to Amon as well. Especially because his family had been killed in the fighting as well leaving him with no more members of his own biological family.

Amon was left depressed for about a year, a period in which he spent most of his time simply sulking within his room. Fortunately he was able to pull himself out of his melancholy, now with a new resolve and purpose to his life. It was in this year that he finally decided that he would only fight, and especially kill, only as a last resort. He had seen too much blood shed in his life and he was determined to stop as many deaths as he could; after two more years the King of Air finally passed away, giving the crown, and most importantly the orb, over to Amon so that he could rule the land as the new King; thus the twenty-three year old began his new life as the King of Air. Nine years later he is still going strong and it still sticking to his values that he had made after his family and only lover had died.

Three years ago, Amon had found himself caught in a struggle he had not fully prepared himself for. One of the Kings of the Elements was killed in an accident by the hand of a Prince from another land, Reimrand. Though their first meeting had been rocky, as Amon's first introduction to him came after several battle with Valrien's brother, the Air King eventually warmed up tom him as he learned of the old pact between the lands of Reimrand and Dhaemar.

Eventually Amon would find himself journeying to Reimrand to help Valrien end the terror that was his brother, and after an arduous struggle, they finally put the crazed man down. Afterwards, Amon willingly returned the Orb of air to its rightful place and returned to his kingdom in Iveir, to help stabilize the restless kingdom and also to help establish peaceful connections with the young Prince.
---
---