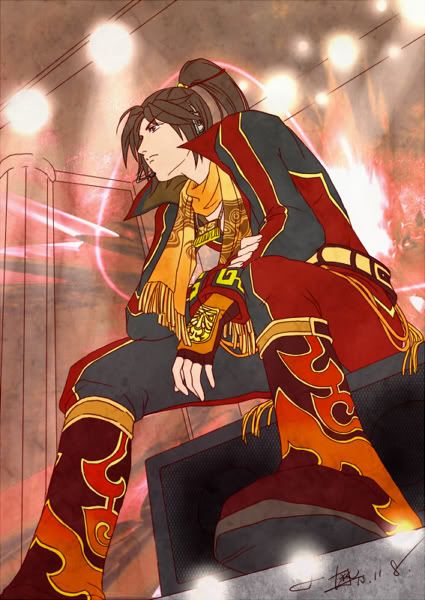 ---
---
21 || Bi-sexual || Guard (And Bestest buddy!) of Prince Valrien
---
Lithe, athletic, and a little lanky, this 5' 8" fella weighs in at one-hundred and forty pounds. He has little body fat on his form, and so though he may not actually have much for muscles, the taunt nature of his skin can give off the impression of being muscular. Regardless, he is built much more for speed and dexterity, his preferred tools for handling a scrap, or a get away if need be. His long, brown hair comes down to his mid-back, however he always keeps it up in a high ponytail, using a small metal band with a metal pin placed through the locks of hair.
---
---
He is a decent person in a fight, able to utilize his agility to out maneuver his opponents and strike at vulnerable points. He prefers to slip around his opponents attacks, always staying in close so that he can strike back without having to move into his opponent. Like wise, he makes great use of his good balance and dexterity to weave all around his opponent or to grab hold of them and strike them as needed.

While some may not consider it a talent, he is quite the heavy drinker. Give him any drink and he'll chug it down, enjoying the burn and then the buzz right afterwards. There is no drink too strong for the young man. Strangely, and he attributes it to his heavy drinking, he is not bothered as much by poisons and other toxins. They seem to pass through his system very rapidly, and he can usually get back up to his feet and rolling quicker than what most would expect.

Lastly, and his other strange quirk, is that when he is reduced to a drunken state, though his judgment may become significantly worse, it has the opposite effect on his fighting ability. While in a drunken stupor, he becomes an extremely skilled hand-to-hand fighter, weaving through multiple attacks to strike at his opponents at unorthodox angles or in odd ways. It also has the tendency to throw his opponents off, as he will stumble about, off-balance and confused, then suddenly become the most difficult opponent to simply get a hold of.
Though booze may give him strange fighting abilities, it does not improve him anywhere else. He is not a violent or moody drunk, but he is still tipsy, possibly obnoxious, and a poor judge of situations when he is intoxicated. He is already rather rough when it comes to being polite and acting like any noble or formal person might. It is only made worse when he's drank himself silly. He's best left in a tavern, to drink with people there and to mingle with them. Assuming of course he does not manage to get himself into a fight by instigating a scuffle with some other drunk.

When not drunk, he is decent in a fight, but he is no master fighter. He can hold his own for a bit against more skilled opponents, but inevitably he will find himself being broken down and beaten. Without the drink in his system, he is no match for a true master of combat.

He is also not very adept at using his element beyond basic attacks. He simply utilizes blasts of fire from his punches and kicks, maybe a flame breath if he feels up to it. He has learned to use bursts of fire to act as a shield, but regardless it is not his best talent. Especially when drunk, it is best not to let him use his ability to manipulate fire, as only bad things can come from it.
---
---
---
All there is to say about Harlan is that he is a fun drunk, laughing, joking, and generally being an obnoxious fella. He loves to drink and loves to drink with friends even more. Secondly, being a very close friend of Prince Valrien would clearly indicate that Harlan is also a Reimrandian.
The thing about being a loud drunk is that it is very hard to keep anything a secret about yourself.
---
there is no other way to put it. There is not a mean bone in this man's body. Sure he may tease and proud, but he never wishes ill will of anybody, even those he gets into fights with at a tavern. He is just looking to have fun and pass that fun and enjoyment onto others. Granted, when drunk others may not view the things he finds to be fun as enjoyable, but Harlan just likes to think that clearly they too need to get drunk and view the world from his point.

Despite his fun loving nature, he can get serious when it comes to helping Valrien. He is a true and loyal friend to The Prince, and would give any and everything to help him. That does include his own well being when he decides to prod at the young prince, especially regarding when Valrien is finally gonna go all the way with the fine, white haired ex-protector of the Earth Kingdom.
---
---