---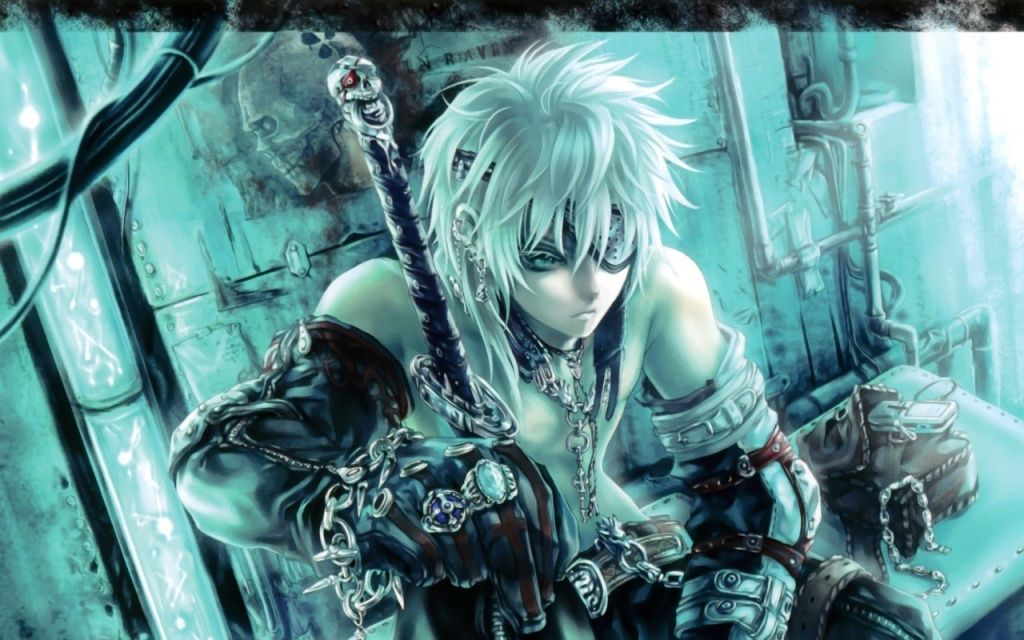 ---
---
23 || Bi-Sexual || Protector for Air King
---


Kanan is five feet seven inches at full height, his white hair is quite long, coming down to brush his shoulders and is somewhat un-kept looking. He wears a lot of metal on his body which he uses for his sacrifices. Mostly they are necklaces adorning his throat, rings on his fingers, ear piercings, a couple of bracelets that look like they could be used as weaponry, and chains around his hips and sometimes hanging down at his thighs. He prefers a pair of black leather gloves that reach up to his shoulders as armor, thick leather pants tucked into tall black boots and a simple white leather jerkin that is tight across his body and cut open in the front in a long 'V' shape that exposes his well toned, pale white, skin. Across his left eye is an eye patch made of black leather with a silver piece of metal over the top of it.


---
---
---
---


Kanan has control over the air. His favored abilities are those that revolve around throwing gusts of wind at his enemies. He can also use those gusts of wind to either propel himself or to slow himself down should he be falling from extreme heights. Of his many abilities, Kanan favors the following: the easiest to command are his 'wind blades'. These take very minimal sacrifices to engage and require the use of his broadsword. Usually he sacrifices a few of his necklaces or rings to gain the power to engage his wind blades, and with a few slashes in thin air with his large weapon, the wind blades activate. It is almost instantaneous when he uses this ability. His second favored ability with the air is to turn it into a turbulent storm. This takes far more sacrifices to do and though the amount of metal he wears on his body could be enough to power the skill, he would much rather sacrifice something larger, say a couple of good sized vases -a statue even- to gain the power needed. With this storm, Kanan can create a barrier between himself and his adversary, protecting those inside as well. However, the barrier does not last very long, and what he mostly uses it for is to throw back his enemy.

In addition, Kanan is a proficient swords man. He wields a large broadsword with a kind of ease that put some men to shame. He prefers close quarters fighting with the weapon, using its weight to help with his attacks and allowing the weapon to do what it's best at: devastate.

Because of his past and training, Kanan also has the innate ability to 'read the wind'. He can tell who is around him most times and he can also tell if there is hostile intent, usually when someone is about to unleash magic at him or someone he considers an ally. This ability is a constant, and thus Kanan will constantly be seen sacrificing his many bodily decors randomly throughout the day. The good thing to this ability is that it takes very little energy, and thus very little sacrifice is needed to keep it going.




Kanan's weaknesses aren't many, but they are detrimental to his being a good protector. First and foremost. He must always have a sacrifice. Throughout the day, he will continually be sacrificing his many jewels and trinkets on his person in order to keep up his ability to read the wind. It has become so second nature to him that if he were unable to perform the ability, Kanan would turn into a confused mess. It would almost seem like he couldn't see properly without it. The biggest problem that he'll run into is running out of his sacrifices, thus he does whatever he can to continually be stocked up with the little trinkets, including going and buying more.

His sword is his only weapon. He doesn't know anything else. Should he be rendered without his weapon, Kanan will have a very difficult time in fighting anything or anyone that he's up against. In such cases, Kanan would resort to using his more powerful wind spells. Unfortunately such an act would deplete him of almost all of the energy he'd have been storing, as well as the sacrifices he carries with him at all times.

Kanan has only trained himself to produce gusts of wind as projectiles at his enemies. Mostly in the form of cutting through them with the very powerful and fast wind blades, or to throw them with the gusts. Otherwise, he has no real imagination with his element and thus lacks in countering if someone manages to get through either his blades or his gusts. Protecting himself with his element is out of the question as he's not quite figured out how to create a barrier of such caliber. In those cases, he relies on his sword.

Finally, being a wielder of the air element, he's naturally weak to the other three elements, only able to do so much with his gusts of wind. Fires he can usually put out, water he may be able to sway if he's put enough energy into it and earthen attacks would depend on what's being used against him.


---


It is obvious that Kanan isn't much of a talker and that he is very old fashioned in how he thinks and does things. He's overly conscious of how he treats his King, giving him the utmost respect. It would also be known that, despite his stony looks, he can give other expressions when the right things are done. Mostly, if one wishes to see surprise or embarrassment, present him with something adorable (kittens for some reason will easily do this). In addition, it would be known that Kanan is not from Iveir. In fact he hails from a different continent halfway across the world.




In all actuality, there is very little that one would not know about Kanan. He does not talk about his past, so it thus it would not be known that his lover betrayed him and that he is still overly conscious about it. Kanan does not talk about how he got to Iveir either, so none would know that he'd been picked up by a passing fisherman's boat when he'd been left out at sea after the ship he'd been on had sunk. Finally, it would not be known as to why he has an eye patch covering his eye. Even he fears the implications should the patch ever be removed. Only his King and close protector know of these things.


---


Kanan is quiet, and seemingly cold when one first approaches him. It's definitely not true, though, it's just his appearance and the way he carries himself. Something that has been ingrained into his very bones and soul, if you would. He isn't very social and doesn't know how to act very well around others, though he wishes he could do better. Kanan tries to engage in conversation but often times falls short of such things. He doesn't know what it means to have a friend, or to have someone that would not betray you. However, he does wish to be someone that can be relied on and be considered a friend to someone else.

He will listen, and most times that's all he will do as he's often unable to offer anything else. He is a military child and knows only fighting and war. Kanan is very knowledgeable when it comes to a fight and planning out strategies. It would be very rare to find him stumped in such a situation. However, that doesn't mean his plans always go how he expects them, even he is aware of such things and will be sure to say as such. If you wish to get him to talk a lot, it will most likely be about fighting and what to do about such things when going up against an enemy.

Though he serves the King of Air, he will voice his opinion to him if he feels it is of utmost importance. Otherwise, he will never speak out of turn with his King around, nor will he speak directly to them unless asked to. Kanan is very formal when it comes to Royalty, almost stiff even. His immediate response to Royalty walking into a room is to drop to one knee with his fist against the floor and the other hand over the top of the other leg with his head bowed. He doesn't care what others might think of this, and even considers others disrespectful for not showing their fealty to their King, though he will never voice this out loud.

Kanan can take a lot on his shoulders, sometimes without even realizing it. Even if he did know, he won't complain or try to pass it off to someone else. They would have to wrestle with him for the responsibilities, or to even help him. It is another thing that has been ingrained into him since childhood. Kanan is very protective over the people around him, often putting himself head on into danger without a second thought. He will do anything to protect the new life that he's found.





Kanan is not from the continent where the four Kings rule over the elements. He comes from across the seas. A place that is ridden with war, famine, disease, death…the list goes on. His world is torn from the seams, falling apart and always will be. He was born from blood, and lived with blood on his hands. His mother died from giving birth, with no medicine and no one to help her, she was unable to live through the birthing process.

He doesn't know her face, nor that of his father's as he was found as a baby and taken in by mercenaries. This particular group of mercenaries specialized in children soldiers, training them as early as five or six years of age. Kanan held his first weapon when he was five, fought and killed his first soldier when he was seven, and lived in nothing but fighting. At first, he was terrified, afraid of everything, but as he trained and the more he dirtied his hands, the farther away from emotions and thinking he fell. By the time he was twelve, Kanan was nothing but a killing machine. It was also during that time that he encountered his first run in with a very powerful mage. Though he doesn't remember much of the encounter due to the injury given to him, he does know that the reason for his eye patch is very important. Something was done to his eye, and he fears taking the patch off less he wishes to invoke some kind of powerful magic that is not his own.

He became one of the mercenary's best child soldiers. He knew everything there was to know about warfare just by watching, learning and doing it himself. He would be sent on scouting missions, infiltration, spying, and assassinations. There was nothing that Kanan didn't do during his days with the mercenaries on his home soil. As Kanan grew older, he found himself growing steadily closer to one of his teammates, a child soldier just like himself. He and the other boy had trained together and done many things together. Eventually, Kanan and his friend –as he considered him back then- started something more than a friendship and Kanan felt something he'd never felt before. It took some time to realize afterwards that he had been in love with the other boy, but it had always been one sided.

During one mission, when Kanan was 19, he and his lover had to infiltrate a ship that was headed to another part of their continent to deliver supplies for the soldiers that the mercenaries were fighting against. They got on board easily enough and the mission was underway very smoothly. However, what Kanan didn't know was that the people he worked for had begun to deem him as 'too dangerous', especially with his budding relationship. At the time, Kanan was confused as to why they did what they did, but he's come to the conclusion that the mercenaries were afraid of his regaining his own consciousness, regaining 'feeling' again. They feared that if Kanan had done so, he might have realized the truth behind the constant fighting and gone against them.

The ship he was on was set to be destroyed before it reached land, and he and his lover had already planned an escape route to get back to land. However, as Kanan had let loose his torrent of air magic to rip apart the ship, his lover had run a blade into his back. Startled, confused and utterly horrified at what happened, Kanan couldn't even find the strength to get himself off the sinking vessel. With his lovers' last parting words, Kanan was forever haunted. He quickly fell back into his state of nothingness, the place where he'd been before meeting his lover.

Kanan thought for sure his life was over as he floated with the rubble of the ship in the open sea. He thought he was going to bleed out in the water, or be eaten by something larger. However, his fighting instinct had taken over and he unconsciously sought life. Drifting in and out of consciousness, he floated across the small sea between continents and ended up being pulled aboard a fishing ship at one point. He doesn't remember much of the incident, but when he woke again and was lucid enough, he found himself in a room, bandaged up.

There he was confronted by a man of old age, the King of the continent he found himself on. It was recounted that he had been dragged aboard a fishing ship belonging to the King, and brought back as soon as possible. Kanan, ashamed at having been found in such a state, didn't answer, only looked down. The King then said to him that to repay the debt of having his life saved, he would serve the King and his heir as their protector. Kanan agreed without complaint, and thus started his life as a protector.


---