Day Class Student:
Name: Valentine Le Blank
Age: 18 years old
Gender: Male
Appearance: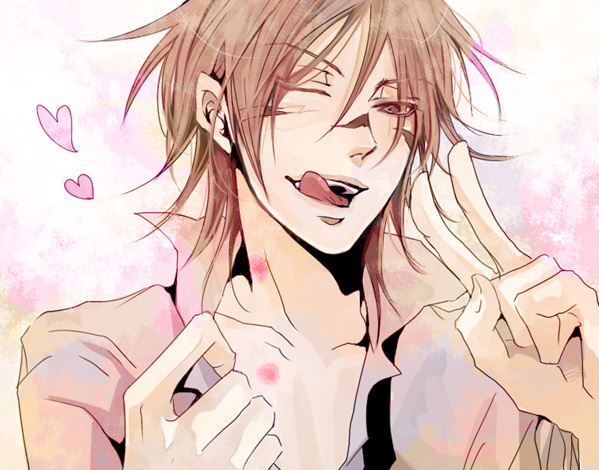 Fears: Hurting someone innocent, his uncle, heights
Hobbies: Listening to Jazz music, Fighting, Practicing martial arts, and Napping
Student: Day
Background: Valentine was the only child born to his mom who passed away after giving birth to him. His father a young and party kind of guy made no effort in trying to raise him. So he was given to his mother's sister who gladly took the boy in with no hesitations mainly cause she couldn't have children on her own. Her husband didn't like kids one bit even though Valentine was a very good child and rarely caused a problem. But to his uncle he was nuisance and got in his way continuously even when he was in his room. Every week his uncle abused him physically by beating him up and told him to say he fell at the playground or some bullies did it. Fearful he did as he was told and never said another word to his loving aunt about it.
Then one day in middle school some guy ganged up on Valentine and proceeded to actually beat him up. However after years and years of abuse and anger building inside of him it boiled over. Valentine ended up beating up the whole group of guys out of pure rage, but then he realized not only did he beat up the bullies also a random kid in his class. When he was sent to the principles along with a call from his aunt and uncle he finally confessed the abuse his uncle had done. In a fit of anger his uncle grabbed the principles name plank and hit him across the face. Valentine now has that scar across his face as well as other scars through out his body. His uncle was jailed and his aunt divorced him, but he swore he would get back at him. Since then its plaque his mind and he becomes uneasy at times.
How did you come to Fullshire Academy?: His aunt sent him.
Relationship Status: Single
Personality: Valentine is a hyper kind of guy half of the time the other half of time he's so lazy its impossible to make him move. Which makes him complicated to read, but the truth is he has to be into something for him to be hyper. Otherwise he can be lazy as ever, he's also a little bit passive as in insults and other harsh comments don't bother him. This is usually foreshadow cause most people like to pick fights with him just cause no body has ever beaten him. So most people believes he's violent which is not the case he's more or less calm and relaxed half of the time. When ever you do make him mad and you're fighting him don't expect to come back out with at least a single broken bone.
Classes:
Homeroom: Mr. Dismuke
1st Period: Biology
2nd Period: Math
3rd Period: Lunch
4th Period: Jazz
5th Period: History
6th Period: English/Language Arts