Name:
"Don't ask me why, of all the interesting names in the world my parents pick a freaking color. It's not like I can control it." Violet Marie Fairbanks

Nickname:
"Unless you know me, you don't give me a nickname. I'll leave it at that." She really doesn't mind nicknames. That is, if you know her. You may call her one of three things. Violet, her name, Vi, a short version of her name, or Skip. Skip is the name some people started giving her because of the way she's always moving, or "skipping" town. She's never been in one place for more than two months and because of this, she doesn't mind the nickname. Prefers it actually. When it comes to pet names like babe, baby, or sweetheart, there is nothing that drives her more crazy.

Gender:
"Ouch babe, that hurt. I'm definitely female. Wanna check?" Female
Age:
"Old enough to know better, young enough not to care." Eighteen years-old
Weapon:
"Psh. The one thing my father actually

did

do right was make sure there were plenty of weapons in the house." Violet can use pretty much anything handed to her as a weapon though she prefers a small hand gun and a dagger, a stapler works just as well. Typically she carries her gun, knife, and a baseball bat, but should any or all of the three go missing, let's just say she's resourceful.
Other:
As for body art, Violet is very creative. Her hair has been every color under the sun, though now it's her natural blonde, but she does have multicolored tips to it that she likes a lot. It's a look she thinks she'll keep for a while. Also, she has a tattoo on her left shoulder of three little birds in flight. Finally, when it comes to piercings, she has her belly button pierced as well as her right ear pierced quite a few times. The other ear holds on the traditional one piercing.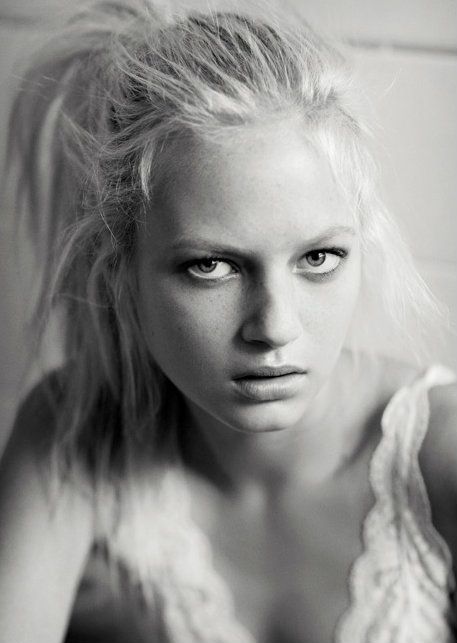 Personality:
"Rules, I prefer to see them as... guidelines." If one thing can be said about Violet Fairbanks it's that she doesn't like being pushed around. Her entire life she's been smacked about and told she wasn't good enough, but she never goes down without a fight. She's 124 pounds of wild child. She never really had a childhood, forcing her to become an adult at a young age. She's only eighteen years old and already she's had to face adult problems and act as a mother to her younger sister. Her choices may not have been the best, but she'll do anything she has to if she thinks it's in the best interest of her and her sister.
Making a good first impression is nearly impossible for her. Upon first seeing her, one normally tags her as the kind of person you don't want to fuck with. The way she walks, talks, stands, and looks all factor into the way people take her. Nearly every word that comes out of her mouth drips with sarcasm, making her come across as rude. Not many have the time or patience to deal with her since she is so stubborn, narrow-minded, and sarcastic, so she tends to just stick to the little duo of her and her sister. It's hard for Violet to trust another person, as well as open up to anyone. She's spent her whole life building up a protective shell around her feelings and doesn't intend to let anyone crack it anytime soon.
When it comes to rules, Violet does her best to abide by them. Okay maybe not her best, but she does try. That counts for something right? Rules don't really phase her. If there's a law or a rule that keeps her from getting what she wants, she has no problem in breaking it. Rules are tedious. They keep good people from having and doing things they need. If her and her sister are starving, she'll steal without blinking. She's stolen a million things and there is no rule she wouldn't break to ensure the survival of her sister. That doesn't make her a hero though for she's far from perfect. Of course Violet tries her best to do right by everyone, but who doesn't like a little rule-bending fun every now and then? Violet is also very impulsive, meaning she acts on whim. A lot of times this can be an asset, but typically it's a problem. She can't seem to keep herself out of trouble and her tendency to act without thinking doesn't help this at all.
In all, Violet Fairbanks may not be an angel, but she makes up for it in strength and loyalty.

History:
"Fine. I'll tell you every tragic little detail, but remember, when it's over, and you just stare at me in horror, you asked for it." Violet Fairbanks didn't get so tough because she's had life handed to her. No, ever since she could even think about stealing, she's had to take what she wanted. Vi was the accident baby that nobody wanted. To her mother, Violet's father was nothing but a handful of cash in a cheap hotel room and walked out of her life the minute she was born, dumping her on a pathetic man who could barely care for himself let alone a child. John Fairbanks, Vi's father, tried desperately to get rid of the little girl he didn't want, but had no luck. Instead, he took her with him wherever he went, traveling from city to city always in search of a new job or a better casino. The only things her father taught her were how to steal and con. The two of them never spent more then a month in one city, and she was forced to either relive the same hurt of losing her friends every time, or push people away and avoid it all together.
Her father was a thief and a conman, hoplessly addicted to drugs and alcohol. When he did manage to con money out of someone, he always spent it in some alley on his latest addiction. What's worse, is that John brought his seven year-old-daughter along on these trips, wanting her to "pick up tips" or something like that. It had nothing to do with not wanting to leave her unnatended. He'd done it a million times. Even left her at a concert once, passed out under her chair. It was lucky that she'd stayed there and the cleaning-commitee had found her instead of some kidnapper. Though, now she guessed she might have been better off if a kiddnapper had snatched her. Teaching her everything he knew about lying, and cons, John began to write Vi into his little plays in which he destroyed peoples lives, took their money, and fled. She was a natural and he was delighted. One night, when she was fourteen and living in Vegas at the time, John had sent her out to pick up his drugs. He equipped her with a roll of cash probably half the price of what his dealer wanted. It was a test. To see if she could pull it off. Screw him. She'd thought, not caring about his silly little test. She should just pocket the money and tell him she'd been robbed. But she went anyway. And it turns out, she wasn't as good as her father had thought and the dealer was furious. He ripped the money from her hands, and swung at her. He beat her violently, and probably would have killed her had sirens and blue and red flashing lights not scattered them. None of them were caught, but Vi had been beaten within an inch of her life and needed medical help. It took her and her father over a year to pay off the bills that even moving couldn't get rid of. All the while, he blamed her for her stupidity. To make matters worse, Violet wasn't the only daughter John had had. No, Violet also had a little sister she was forced to protect and play mother to. Vi's childhood was completely ripped from her, and she may have never had it easy, bu she's taken it as she has everything else in her life- with her fists swinging.
Monster - Paramore
You were my conscience, so solid, now you're like water
And we started drowning, not like we'd sink any further
But I let my heart go, it's somewhere down at the bottom
But I'll get a new one and come back for the hope that you've stolen

I'll stop the whole world, I'll stop the whole world
From turning into a monster and eating us alive
Don't you ever wonder how we survive?
Well now that you're gone, the world is ours

I'm only human, I've got a skeleton in me
But I'm not the villain, despite what you're always preaching.
Call me a traitor, I'm just collecting your victims
And they're getting stronger
I hear them calling.

I'll stop the whole world, I'll stop the whole world
From turning into a monster, and eating us alive
Don't you ever wonder how we survive?
Well now that you're gone, the world is ours

Well you find your strength in solution
But I liked the tension
And not always knowing the answers
But you're gonna lose it, you're gonna lose it

I'll stop the whole world, I'll stop the whole world
From turning into a monster, and eating us alive
Don't you ever wonder how we survive?
Well now that you're gone, the world...

I'll stop the whole world, I'll stop the whole world
From turning into a monster, eating us alive
Don't you ever wonder how we survive?
Now that you're gone, the world is ours.