---
❝If this is what it takes to keep a roof over my head and food in my stomach, I'm willing to deal with anything. I don't care what the risks are.❞
---
---
The Inside
| Nickname(s) |

Winny, Gwen


| Gender |

Female


| Age |

17
| Face Claim |

Sena


| Spot/Role |

Servant 5
---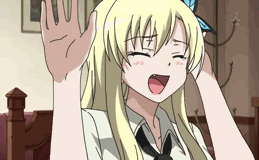 ---
| Likes |
* Cooking
* Singing
* Thunderstorms
* Gardening
* Cats
* Fruity gum
* Coffee
* Video Games
| Dislikes |
* The Dark
* Spiders
* Dusting
* Messing up Chores
* Getting Yelled At
* Sleeping
* Snow
* Dogs
---
---
| Personality |
Gwen, on the surface, is an airhead, your typical blonde. She's perfectly content to let people believe this about her; she tries not to say anything that will further upset anyone. Naturally, however, Gwen is a very happy person and she loves to make other people smile. She's rather dramatic, but she prides herself on being polite and well mannered, especially when Master Alistair invites guests over. She's grown used to his distant behavior, and tries her hardest not to upset him, but she's a rather clingy person, and occasionally will just reach out and hug him. She knows he doesn't appreciate the affection, but since becoming his servant, she's never really gotten used to the absence of her parents.
---
---
| Bio |
Raised by her parents, Shawn and Erica Winston, Gwendolyn was a relatively happy child. Though she was an only child, her parents did their best to raise her and nurture her. Gwen never officially went to school, for a brief period of time she studied text books and even went to a night school for almost a month, but the most schooling she received was from her parents who taught her the basics of cleaning and cooking and tending for a house. They knew that one day, they would have to give Gwen up, and tried their hardest to prepare her for that moment. Nearly everyday, they told her they loved her very much and showered her with hugs and kisses. They were, all in all, a tight knit, happy family. When she was ten, she and her parents split ways and she became Alistair's servant. She's been with him for nine faithful years.
---
| Other |
Before she left to become a servant, Gwen's parents gave her butterfly hair clips and hair ties. It's rare to see her without them, but she doesn't mention them and refuses to take them off for any reason other than showering and sleeping, during which times she keeps them nearby.
---
---