---
❝Why are you so nice to me?❞
---
---
The Inside
| Nickname(s) |

"Hana" or "Nako"


| Gender |

Female


| Age |

17
| Face Claim |

Mirai Kuriyama


| Master/Sevant Relationship |

Like, Hate, No Feelings Whatsoever, Love, or Newly met?
Like/Love

How long have you known your Master/Servant?
Not very long, a few months.


| Spot/Role |

Servant #5
---
---
| Likes |
*Reading
*Playing Piano
*Alistair
*Tea
| Dislikes |
*Being alone in the dark
*Herself
*Meat
*Coffee
---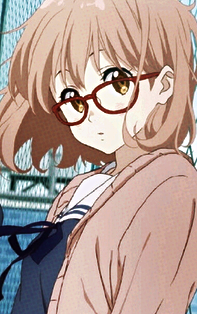 ---
| Personality |
Hanako tends to keep to herself most of the time. She is quiet, shy, and rarely speaks her mind. She has very low self-esteem and no self-worth. There is not one thing she likes about herself. Despite this, she is very kind and caring for others. She does what she is told and tries to always smile, at least for Alistair. It is very rare to see her smile, but when she does, it's enough to melt your heart.
---
---
| Bio |
Hanako grew as an only child in a very poor family. When she was 4, her father left, leaving her mother alone with her. Hanako's mother tried her best to take care of her and pay the bills, but it wasn't working well. Hanako's mother worked a minimum wage job that was going nowhere fast. Eventually, they lost their home and were forced to live on the streets for a while. Eventually, Hanako's mother found a man who took them into his home. She thought, at first, the man would change their lives for the better. Unfortunately, this was not so.
For years, the two of them were forced into servitude for the man. The man used Hanako's mother's feelings against her. She loved him, so she would do anything for him, no matter how demeaning it was. The man's friends would often make fun of Hanako's mother and her because of their lack of money. He even went so far as to stand the two of them up ad parties and throw tomatoes and other rotten foods at them as they stood, unmoving. He would even whip them if they did not obey his orders. Their life was horrible, and it was about to get worse.
Hanako was 10 and one tragic day, during a party, the people decided to change things up. So the man and his friends decided to throw stones instead. Being a good mother, Hanako's mom stood in front of her daughter, protecting her from the blows of the rocks. When they had finished their throwing, Hanako's mother had suffered too many hits. Coughing up blood and bleeding from all over her body, the woman collapsed dead on the ground. Hanako was immediately thrown out of the home and into an orphanage.
She went to school like a normal student, but lived in a rundown orphanage. Thinking her life couldn't get worse, she was wrong. Because of her glasses and personality, she was viciously teased and taunted at school. Somehow, the kids found out about her dead mother and threw that into their tormenting mix. Hanako hated herself. She was never shown kindness except from what her mother had shown her. She grew up like this for several years, until she turned 17.
She eventually met a young man by the name of Alistair. Immediately, she was smitten. She would never admit this willingly, however, for who could ever love a girl like her? She was nothing. She was a loser, she didn't think of herself as pretty, and she was alone. However, the opportunity to serve him arose itself and she accepted. Despite her past in serving, she had nothing else to live for. Hanako was hopeful that, perhaps, it would be better with him. He would be different. Maybe...
---
---
| Other |
N/A
---
---