---
---
" Only those who treasure the starry sky are worth to own it. "
【

The Beginning : One Ok Rock

】



【 Dialogue :

#3D93DA

: Thought :

#90c7e3

】



【 Face Claim : Reisi Munataka | K Project 】
---
" Know yourself, know your enemies. A thousand battle, a thousand victory. "
---
◤
◥
FULL NAME
Delphinis
Meaning : Constellation
NICKNAMES
None
AGE
29
GENDER
Male
ORIENTATION
Biromantic Demisexual
ETHNICITY
Ourániosian
◣
◢
---
" What are rightfully belonged to me, I will win them all back. "
---
◤
◥
HAIR / EYES
Dark Blue | Violet
HEIGHT / WEIGHT
185cm | 70kg
COMPLEXION
Fair
GENERAL APPEARANCE
As a King, Delphinis has to make sure that he must always look just like one in the eye of his people. He is tall man with a muscular build, thanks to his usual working-out and sword practicing everyday. His hairstyle is somewhat messy with some of the bangs hung over his face and some stuck out to the right side of his face. Delphinis has a fair complexion and is usually seen wearing frameless, rectangular-shaped glasses, something he would remark as his trademark.

In terms of attire, Delphinis's usual outfit is the imperial uniform of a King, though it's still versatile enough to allow him to move freely in combat. He wears a high collared, long-sleeved dark blue trench coat left unzipped from the waist down; around it, there is a black belt with a gold-colored buckle strapping the two pieces of clothing together. Underneath his intricate coat, Delphinis wears a white shirt with an upturned collar, dark blue pants, and knee-high black boots with silver metal frames. He always carries his saber his waist, so that he can be ready to engage in any surprising situations.
◣
◢
---
" They asked for a righteous king, I will give them the exact king they wanted. "
---
◤
◥
◇ Devoted ◇ Justicial ◇ Analytical ◇ Charismatic ◇ Calculative ◇
Bearing the burden of the crown, Delphinis is well-aware that his only mission in life is to give it his all for the people of the Cosmos, or more specifically, the people of Ouránios. Throughout his life, he has never seized to work tirelessly for the welfare of his people, those he adorns just as much as his flesh and blood. For their sake, he will go for any length, so that they can always prosper and live harmoniously.

Delphinis has a strong sense of justice, he believes that all mistreatment and wrongdoing must be vanquished. It is because of this sense that had sparked up his opposition against the Queen, whom he believed to have taken away all of what is supposed to be shared between them, as it might as well be the very thing that had plunged miseries on their people. Following his own ideals, Delphinis will not hesitate to wage war, to once again restore the long-lasting order that had kept Cosmos in balance.

As a King, Delphinis's mind is as sharp as his sword. He's the kind of person who seemed to know what to do in just any situation and rarely had he ever made a wrong step. Delphinis emits an aura of a strong and willful ruler who can captivated the heart of his citizens and gaining him many precious allies and comrades. Deep down inside, Delphinis even more sophisticated. No one, not even his subordinates, could figure out whatever calculations and plannings he's thinking of all the time. He will not let his opponents to gain the upper hand and will do whatever it takes so that he can take a step closer to his goal.
◣
◢
---
" Always be ready to wage war for what you believe. "
---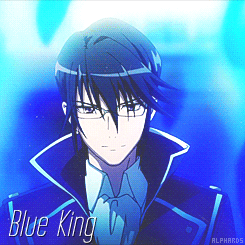 ◤
◥
◇ Reading : Delphinis enjoys indulging himself in books and the knowledge they offer more than anything.
◇ Meditating : A method to retain the calmness mind that Delphinis had taken up.
◇ Horseback Riding : Riding on his beloved horse and go for a ride is a pleasure indeed.
◇ Ourániosians : They have always be such hardworking and kind people, how could he not like them?
◇ Smoking : With Delphinis, a cigarette or two every day is enough to help him gathering his thought.
◇ Disloyalty : Delphinis will firmly refrain his subordinates should they show just the slightest sign of betrayal.
◇ Unfairness : Everything comes with order and balance and Delphinis dislikes it when people are treated unfairly.
◇ Dishonesty : Delphinis can easily tell whether someone is lying to him or not, so he will not be happy if they're trying to lie to him.
◇ The Queen : Until Delphinis can take back what she had taken away from him, she will remain his greatest enemy.
◇ Tears : Delphinis considers they to be a sign of weakness and no one had ever seen him shedding a tear in his life.
◇ Using People : Delphinis is good at seeing the potentials of his allies and how to use them in a way that is beneficial.
◇ Swordsmanship : Delphinis was raised along with the sword and he masters it just as good as any knights out there.
◇ Eloquence : Giving persuasive speeches is also another talent that Delphinis got up to his sleeves.
◇ Overly Cautious : Delphinis knows that he mustn't place false trust, so he always retain a certain amount of caution.
◇ Unforgiving : Should anyone dare to take any action against Delphinis and his cause, he will show them absolutely no mercy.
◇ Insensitive : Being a King means he had to conceal his own feelings so Delphinis may not understand how others would feel about him.
◣
◢
---
" After all, the only purpose in my life is to bring prosperity to my own people. "
---
◤
◥
The power granted to Delphinis through generations is Aura Manipulation. Aura is the energy that is formed from one's achievement of spiritual power through extreme mental focus and strong emotions. Which means, Delphinis can manipulate energy in various of ways. His ability deals with the energy of their spiritual essence instead of the entire universe. So far, he had mastered three types of aura and he's capable of using more than two types at once.

Green Aura: Also known as Anahata, this aura deals with psychic healing and regeneration of body and soul. By ultilizing this aura, Delphinis is capable of performing healing and restore any organism that had withered and damaged. He can heals both his own and other people's physically and mentally wounds with relatively ease, but there's a limit of how much he can heal the wounded. As such, Delphinis can't heal fatal wounds or reattach lost limbs, for example.

Yellow Aura: Also known as Manipura, this aura deals with self-energy and willpower. Thanks to this aura, Delphinis can control the flow of life-force within him and manifesting them into reality as means of offensive, such as channeling the aura into his saber to strengthen his attack. He also granted strong resistance against abilities that strike on the mentality of a person like telepathy or empathy. However, the more Delphinis utilizes his power, the bigger the strain it will place on both his body and mind and he must take a short break after exerting himself.

Red Aura: Also known as Muladhara, this aura deals with physical nature. Delphinis is able to channel his aura into his body in order to increase his own physical aspects. As it is now, he is able to increase his own strength, speed and dexterity to that of the maximum capabilities of his body condition. The drawback here is that after channeling this aura throughout his body, it will be greatly strained after 15 minutes of utilization and he will require some times to rest in order to carry on fighting.
◣
◢
---
" Raise your sword high, for the cry of war has already begun. "
---
◤
◥
"There are seven words that you, the ruler of this country, have to engrave in your heart until you exhale your last breath."

What could have possibly happened in the life of the youngest, but undoubtedly one of the wisest and most devoted ruler like Delphinis? Had his life before receiving the crown full of hardships and miseries? Whatever it is, Delphinis had already decided it would be the best to left the days that had gone by in his path before sitting on the throne to be a blank in the history of Ouránios.

One thing for sure, during the period of nine years of the sovereignty over Ouránios, Delphinis has never once truly had a peaceful rest. The prosperity of his country had always weighed heavily on his mind. It almost felt as if the only purpose in his life is to serve his kingdom and its citizens. But no matter how hard he had tried, he still couldn't win over the influence that the Queen had placed over the whole Cosmos. Being a mere Pawn, both Delphinis and his people were mistreated and abandoned. If this goes on, Delphinis knows that his word will soon lose its weighs and thus, the order that his ancestors had spent so long to maintain will be nothing more than a distant memory.

There's only one way to set everything right, to reclaim what are rightfully belonged to Delphinis and the Ourániosians.

"...stand up, and fight, for you shall be the one to take back what supposed to be ours."
◣
◢
---
Queen of Stars - Estelle :
"I respect her as one of the most exceptional rulers I've ever known in my life, but she should know better that power does not belong to her alone."
King of Constellation - Delphinis :
"There's not much to say, I'm content with myself as it is now."
Ruler of Aries - Winter Selene Aries XIV :
"An optimistic, yet simple girl. I don't expect her to understand how nothing can stop the footsteps of the era, but I will face her just like anyone on the Queen's side."
Ruler of Taurus - Zenith Taurus :
"What he looks like outside is a facade to hide what is truly lurking from behind. Those insatisable eyes he got, they really sparked up some interests in me."
Ruler of Gemini - Elaine Gemini :
"Though not being able to express herself, I believe she had a lot to say. And I personally enjoys her peacefulness, to be honest."
Ruler of Cancer - Theon Ozias Wystan Cancer :
"He seemed just like the very manifestation of a ruthless tyrant. But perhaps there are more to see than meets the eyes. I shall make good use of this alliance."
Ruler of Leo - Zari Leo :
"A bold and fierce warrior. And being able to rule at ever since a young age is a remarkable fit. I shall see if she's worth my money."
Ruler of Virgo - Amalia Neysa Virgo XXIII :
"Another fine example of a model ruler. Alas, she lacks the courage to face what is coming. But at least, she had made the right choice."
Ruler of Libra - Sebastian Libra :
"Anyone would find it hard to believe such a young and inexperienced boy could handle a whole kingdom. But at least he's wise enough to know what is righteous."
Ruler of Scorpio - Sangreal Amira Defen von Scorpio :
"She had lived perhaps as long as the land itself and thus, have witnessed the rise and fall of civilizations. She's the most respectable person, but her decision to stay quiet can't be called wise."
Ruler of Sagittarius - Ruaomoko Patera :
"From my perspective, he proves himself to be capable enough as a ruler. But if he sided with the Queen, then I have no choice but to face him as well."
Ruler of Capricorn - Faust Capricorn :
"A free-spirited girl whose aura flares like the eternal blaze. I will see her as one of my respectable opponents."
Ruler of Aquarius - Sterling Salvador Aquarius XIV :
"The manifestation of a heart in ice - ruthless and cold. I will ensure that he will not regret his decision."
Ruler of Pisces - Narine 'Hydra' Pisces :
"A man whose tastes seemed to be quite refine. He seems like a loner but he can take care of himself well. Though the way he looks at me is somewhat... questionable."
Personal Bodyguard - Hel Suzaku :
"Her loyalty is not something questionable and she's one of the few I can completely trust."
Queen's Knight - Levir Gaege :
"A man who had sacrificed what was remained of the humanity left in him to dedicate everything for the Queen. I respect him, yet I also pity him."
---
◤
◥
cs by StarlightPrincess
inspired by The_Queen , ઽ૮૨Α
modified by Chrian Blaire
filled by Chrian Blaire
◣
◢
---