---
---
❝
I more or less subscribe to incompatibilism. That's to say the notion of free will is incompatible with the cause and effect nature of the universe. As such I don't believe people truly 'deserve' to suffer regardless of how vile their crimes, because ultimately they're a helpless link like any other in the chain of cause and effect.

Though... that doesn't stifle the vengeful instinct entirely.
❞
---
---

╳
╳
╳
╳
╳
╳
╳
╳
NICKNAMES

|

|

'Rhyne', 'Nary', and the like.



ALIAS

|

|

Narine is a personal name. It would be extremely insulting to address him as such unless one was well acquainted with the prince. His official, 'public use' title is 'Hydra'.



HYDRA

|

|

Narine has had a royal name since his coming of age ceremony fifteen years ago. Hydra sounds fierce, but it in all actuality it was likely bestowed upon him in honor of his exponential intelligence and eccentricity.
---
╳
╳
╳
╳
╳
╳
╳
ROLE

|

|

Prince of Pisces, who else?





GENDER

|

|

Male. Most definitely male.





SEXUALITY

|

|

Sapiosexual. The prince is literally physically attracted to intelligence. Screw appearances, if you're smart as hell Hydra is gonna wanna jump your bones ASAP.





AGE

|

|

Mid to late twenties.





SIDE

|

|

Officially 'neutral', but very inclined toward Her Highness.

╳
╳
╳
╳
╳
╳
╳
╳
╳
╳
╳
╳
╳
HEIGHT




Six foot two.

WEIGHT




~170 lbs.

BUILD




Medium.

HAIR COLOR




Black brown.

EYE COLOR




Redwood.

THEME SONG




Que Sera.

FACECLAIM




Kassim.






TATTOOS

|

|

The traditional Pisces tattoo is rather well known for its intricacy of detail and vibrancy of color. All iterations of it feature water, fish, and painted hues of aqua and sea green. Beyond that, however, each inking is unique as the people being marked upon. What makes this legendary tattoo so singular is that while the first inking is received at the age of twelve at the coming of age ceremony, the tattoo is expanded upon every year thereafter. The anniversary of the ceremony is met with a full day of intermittent needle sessions and and vow taking. The pain (which, as it so happens, is supremely excruciating) and permanence of the tattoo symbolizes sincerity towards the oaths of state.

Hydra's personal tattoo began at the very lowest point on his back, and gushed upwards from there over the years. It features snapping turtles and painted snakes over a backdrop of curling, foamy river waves. Recently, the waves have grown fiercer, almost seeming to branch off as it creeps up his shoulder blades and around his hips. At some point, it may receive a semblance to the Hydra of his royal name, but who knows?
---
▼ ▼ ▼ ▼ ▼ ▼ ▼ ▼ ▼ ▼ ▼ ▼ ▼ ▼ ▼ ▼ ▼ ▼ ▼ ▼ ▼ ▼ ▼ ▼ ▼ ▼ ▼ ▼ ▼ ▼ ▼ ▼ ▼ ▼ ▼ ▼ ▼ ▼ ▼ ▼ ▼ ▼ ▼ ▼ ▼ ▼ ▼ ▼ ▼ ▼ ▼ ▼ ▼ ▼
---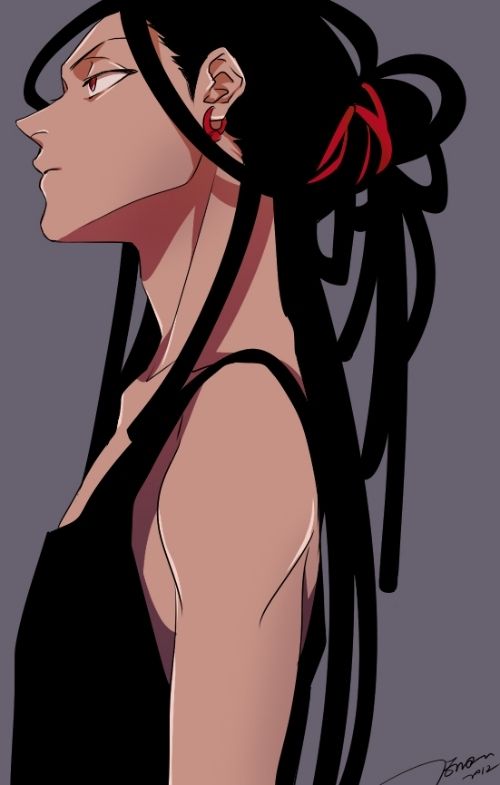 ╳
╳
╳
╳
RECLUSIVE

|

|

INTELLECTUAL

|

|

ECCENTRIC

┉┉┉┉┉┉┉┉┉┉┉┉┉┉┉┉┉┉┉┉┉┉┉┉┉┉┉┉
❖
┉┉
LONER
|
|
The thing to take into supreme accordance, is that Hydra does not enjoy the company of others. He acts on his own, when he chooses. Often ignoring the advice of his council to initiate law or projects, the prince is clearly not much of a team player. While his logic is sound and decisions almost always playing out well, it is this habit of his that is Narine's true failure as a leader.

Though he cares very much for those within his circle, Hydra seems to lack the proper social skills to interact familiarly with acquaintances. This, combined with his stoic face, gives him an aura of standoffishness.
THINKER
|
|
An understatement, really. It's like Narine's body lives, breathes, and sustains itself on acquired knowledge alone. The thing with the prince is that it is not enough for him to just lurk in some cave somewhere spending his life pouring over dusty tomes (especially considering he burns through books as quickly as he can turn the pages); he has a drive to go out into the world and discover all these things for himself.

Speaking of himself, Narine happens to find "himself" to be terribly uninteresting. He'd much rather go tromping knee deep in swamp muck on a week long expedition to locate some rumored new tuber, than sit around on his derriere mulling over nothing. He thinks over and studies everything under the sun, except for Narine Pisces. The prince lacks a sense of introspection, operating off of instinct and curiosity.
WEIRDO
|
|
Hydra's thought process is this ever shifting matrix of questions and pursuits. It's no surprise that a machine which devours information at such an alarming rate will result in some sort of byproduct or waste material. Waste material in the form of touching every pillar he happens to slouch past, counting strawberry seeds at dinner, and the like. These odd sort habits can pile up and give off an impression obsessive neurosis.
FANBOY
|
|
The things Hydra elects to care about, well, are things he reaaaally cares about. And by care about I mean obsess over, because it's not like the prince has feelings, or anything. Someone needs to take his pocket protector because really, the man is a filthy, filthy nerd and that's all there is to say about that. Upon scientific discoveries or breakthroughs in long running algorithms the prince will literally shriek with happiness and jump around all over the place.
---
▼ ▼ ▼ ▼ ▼ ▼ ▼ ▼ ▼ ▼ ▼ ▼ ▼ ▼ ▼ ▼ ▼ ▼ ▼ ▼ ▼ ▼ ▼ ▼ ▼ ▼ ▼ ▼ ▼ ▼ ▼ ▼ ▼ ▼ ▼ ▼ ▼ ▼ ▼ ▼ ▼ ▼ ▼ ▼ ▼ ▼ ▼ ▼ ▼ ▼ ▼ ▼ ▼ ▼
---

The poor prince of Pisces may be a complete and total socially adverse hermit, but interestingly enough his relationships with other people are favored over almost all other things. His friends, his cousin, his crushes. Narine is incredibly sensitive towards potential conflict among them, and is only able to maintain a state of relative calm if the waters are peaceful. The only thing that might perhaps trump his love for those within his circle would be his devotion and adoration towards his murderous swamp and the kind people who inhabit it. Truly, Hydra is the #1 fan of Pisces. Is that conceited? He doesn't think so.

All the sentimental garbage aside, the nerd obviously needs a certain measure of alone time to function, no matter how close to others he may be. He loves the dusty smell of old tomes, the dim half-light given by candles while the rest of the world is doused in darkness. Narine also possesses a taste for bitter foods such as coffee, dark chocolate, and nettles (though he is certain to love any food, no matter how burnt or objectively disgusting, that had been prepared especially for him). Hydra isn't very fond of mammals, but thinks spiders are gorgeous, frogs are fascinating, and snakes are adorable chubby noodles. Don't even get him started on turtles.
---

"We are human. I like to think we have evolved to behave thusly."

|

|

Crudeness in all forms is a giant turn-off for the cultured, shrewd-eyed genius. Using strength to protect those who cannot protect themselves is one thing, but initiating violence? Carrying through with gory, bloody displays of what, dominance? Smearing others with hateful words, and foul language? What are you trying to accomplish here? Such acts of barbarity are disgusting, anybody who pretends otherwise is fooling themselves. Speaking of fools, while Hydra will never ever condemn a person for simply not knowing any better, the willfully ignorant receive no such forgiveness. Idiots, hateful idiots, are the absolute worst.

While tobacco holds a strong social standing in his culture (men of high standing will share cigars over papers, feasts will involve exchanging of smoke, and so on), the death of a friend has produced an ungodly hate for the burning of the plant. An addiction is what it is, and Narine is doing everything in his power to shake it. Though currently three months clean, the habit is... difficult... to be rid of entirely. Do not smoke near him. Dislikes being dragged into social situations against his will, even if it's for his own good. Ultra sweet, sugary foods give him a toothache.
---
▼ ▼ ▼ ▼ ▼ ▼ ▼ ▼ ▼ ▼ ▼ ▼ ▼ ▼ ▼ ▼ ▼ ▼ ▼ ▼ ▼ ▼ ▼ ▼ ▼ ▼ ▼ ▼ ▼ ▼ ▼ ▼ ▼ ▼ ▼ ▼ ▼ ▼ ▼ ▼ ▼ ▼ ▼ ▼ ▼ ▼ ▼ ▼ ▼ ▼ ▼ ▼ ▼ ▼
---

╳
╳
╳
╳
╳
╳
╳
╳
╳
╳
╳
╳
╳
READING |

|

While page-flipping is about as dull as watching paint dry (Narine has no love for reading), he supposes he spends enough time at it while free to be considered a "hobby". Personally, he considers all the research necessary to form the basis for his own hypotheses and experimentation. The words of the men and women who have written their findings and knowledge on paper are not to be dismissed, and overall the practice is very valuable.
EXPEDITIONS |

|

Adventuring! Experimenting! Observing! These activities are where the prince's passions lay, not holed up reading in some dark corner of his estate. Hydra is almost never caught without his beloved close cut leather thigh-high muck boots and waterproof trench jacket combo. When the work is light, you can guarantee he will be pulling a vanishing act for at least a few days.
MITUNA |

|

Ah, Mituna. His two-and-a-half year old cousin, his darling, his angel, his heiress. Narine has never been so fascinated, never so besotted. The girl is an adorable, constantly roving, mud splattered menace... and is worshiped by the prince of this country. In his own quiet way. The introvert will visit her whenever allowed. Playing games, asking questions (she is so intelligent!), taking her out for walks. Unfortunately, some love can be too much love, and Narine's permissiveness towards all her behaviors has left him in the permanent sidekick/carpet/manservant category. The princess-to-be (already) thinks he is boring and, while tolerates/takes advantage of his presence, is overall very disdainful of the older prince.
DATING |

|

Despite a head full of whirring data and a resting bitch face, the prince of Pisces is surprisingly a diehard romantic. The man doesn't play games and wears his heart on his sleeve; if he likes you, you will know. Dating has become a, uhhh, hobby of his ever since receiving a tentative fiance (a nice girl, daughter of nobility) from his advisers. Everyone agrees he should have one at this age (even Hydra), the issue is that she's, well, an idiot. Narine has nothing against her, but there is a mutual agreement between them, and within the council, that their relationship will only hold if the prince fails to find someone of his own.
---
▼ ▼ ▼ ▼ ▼ ▼ ▼ ▼ ▼ ▼ ▼ ▼ ▼ ▼ ▼ ▼ ▼ ▼ ▼ ▼ ▼ ▼ ▼ ▼ ▼ ▼ ▼ ▼ ▼ ▼ ▼ ▼ ▼ ▼ ▼ ▼ ▼ ▼ ▼ ▼ ▼ ▼ ▼ ▼ ▼ ▼ ▼ ▼ ▼ ▼ ▼ ▼ ▼ ▼
---
╳
╳
╳
╳
╳
╳
╳
╳
╳
╳
╳
╳
╳
╳

⌦
T I M E
⌧
M A N I P U L A T I O N
⌫

THE GIST

|

|

Time manipulation in this sense isn't some grand, complete control of the time continuum. Hydra is just a man, after all, and Time is... a beast. The first rule is that time cannot be reversed, nor skipped. Time will always continue to go forward; it may only be slowed down, or sped up. When the prince uses his power, his eyes light up to a glowing gold and will only get brighter and paler with the more effort he is exuding. Embossed over his irises are a pair of ticking clocks, and the hands slow down or speed up accordingly to the pace of time in the area.
┉┉┉┉┉┉┉┉┉┉┉┉┉┉┉┉┉┉┉┉┉┉┉┉┉┉┉┉
❖
┉┉┉
LEFT EYE

|

|

The left eye reflects 'PERSONAL TIME'. It doesn't affect the physical world, but rather the rate at which Hydra's mind works. He can either accelerate or decelerate his thinking processes. While his body continues at the same time as the rest of the world, it is simply his personal perception that is affected. Enhancing his already towering intellect in such a way would be incredibly advantageous... if not for the fact that the power is purely controlled by his subconscious. It will kick in, either in fast time or slow motion, based on his own deepest internal wishes/instinctively triggered situations.
RIGHT EYE

|

|

The right eye reflects 'GENERAL TIME', affecting the flow of time that runs through his surroundings. It cannot alter his own body, only speed up or slow down that of those around him. As you'd imagine, this ability is much more far reaching and takes much more of a toll on his body. On one hand, Hydra can activate this at will, but on the other the slower/faster he pushes his surroundings the more painful it will be for him in the future.

Rarely does it seem like he has an ability to alter time, rather, to others it will appear like his ability is to alter his speed in some way. All they see is a man moving fast, much faster than humanly possible, but in reality they are the ones moving slow. Brief and careful use of this power won't hurt anyone in the long run, but long drawn out fights are something that Hydra would rather avoid altogether. His final trump card in any life or death situation or otherwise extremely tight spot is to 'STOP TIME'. Or, at least, slow it down to the point of appearing frozen. Regardless, the effect is the same, and the cost of implementing it is enormous.

Basically, Narine's body becomes a wrench in the cogs and gears of time. Any wrench would shatter under such pressure, and it's no different case for his eyes and internal organs. TEN SECONDS. Ten seconds of enduring insane amounts of strain is the longest amount of time the prince is able to endure without potentially loosing his eye- or his life.

---
▼ ▼ ▼ ▼ ▼ ▼ ▼ ▼ ▼ ▼ ▼ ▼ ▼ ▼ ▼ ▼ ▼ ▼ ▼ ▼ ▼ ▼ ▼ ▼ ▼ ▼ ▼ ▼ ▼ ▼ ▼ ▼ ▼ ▼ ▼ ▼ ▼ ▼ ▼ ▼ ▼ ▼ ▼ ▼ ▼ ▼ ▼ ▼ ▼ ▼ ▼ ▼ ▼ ▼
---
╳
╳
╳
╳
╳
╳
╳
╳
╳
╳
╳
╳
SPEED |

|

If I were to sum up the generality of Hydra's strengths under one quality, it would be speed. Physically, of course, he's fast. Very fast. Reflexes and response times are even quicker. Beyond that, though, the prince's mind is always whirring a hundred miles a minute. He can process information, completely dissect a problem or the deeper meaning behind a person's sentence in seconds or instantaneously. Though in Narine's case, even if he reaches some sort of understanding of another person, the likelihood he has the social skills to actually do something with the knowledge is slim. When responding to issues regarding his homeland, however, the reaction time is almost brutally swift and supremely decisive. Hydra makes his choice. Then acts upon it.
WALKING ENCYCLOPEDIA |

|

The prince of Pisces is a champion speed reader. A book will be devoured whole, no matter how wordy or lengthy, in the mere amount of time it takes to flip through the pages. Considering Hydra hunts tomes of all sorts down like a man possessed, it's understandable he has accumulated quite the internal directory of knowledge. Most of the items retained are completely useless, of course, but Narine happens to take particular pride in his catalog of the wild and rare swamp-specific flora. It would take actual doctors, dye-makers, and poison dealers to use these plants to their full capacity, but the prince is willing to assist them in any way he can.
PHYSICAL PROWESS |

|

This is listed as a 'talent' simply because Hydra was born with a very good and gracious connection to his body, which I suppose is worth mentioning. He is naturally very athletic, and is capable of gaining (or regaining) muscle tone at almost unfair rates. It seems as though the prince could run forever without getting winded. His head is in the clouds, but somehow still attached enough to command razor sharp reflexes and a faultless sense of balance.
MONSTER SLAYER |

|

There are whispers of many great and terrible creatures nesting in the swamps of Pisces. Those who spread these rumors, these ghost and horror stories, have no idea how true the tales really are. Hydra's domain is an indisputably dangerous one, only made livable for humans with uneasy pacts of respect between civilization and nature. The things that thrive in the murk cannot be reasoned with once their rage has been incited, and it has always been the honor and responsibility of the standing sovereign to take executive action in such cases. The closest thing Pisces has to a military would be the armed force used to restrain the malevolent and inhuman forces that stir within their own home. Personally managing these wars against nature require not only a high level of personal combat prowess and experience, but tactical ability paired with intensive knowledge of the land itself.

You could consider Hydra skilled at this.
---
▼ ▼ ▼ ▼ ▼ ▼ ▼ ▼ ▼ ▼ ▼ ▼ ▼ ▼ ▼ ▼ ▼ ▼ ▼ ▼ ▼ ▼ ▼ ▼ ▼ ▼ ▼ ▼ ▼ ▼ ▼ ▼ ▼ ▼ ▼ ▼ ▼ ▼ ▼ ▼ ▼ ▼ ▼ ▼ ▼ ▼ ▼ ▼ ▼ ▼ ▼ ▼ ▼ ▼
---

╳
╳
╳
╳
╳
╳
╳
╳
╳
HURTING OTHERS

|

|

Either by accident or by force. I doubt Narine is truly conscious of this landmine of a fear lurking just under the surface.
BEING HORRIBLY MAIMED

|

|

Seriously, who wants that!? But, in the prince's case, who has already dealt with this reality once, having his body destroyed a second time would be more than he could bear.
HAIR

|

|

Narine loves his hair, alright? Not only are the long locks a status symbol, but one that he's spend his entire life growing out. The thought of something happening to it fills him with terror.
DROPPING YOUR STUPID BABY

|

|

Dropped Mituna once. Never again. Do not trust Narine with your squishy infants and their dentable heads. It gives him intense anxiety.
SOCIAL SUBTLETIES

|

|

Narine knows full well charisma isn't his strong suit. When shoved into artful, meticulously planned social situations the prince's mind blanks, and he freezes up. When the delicate parties are going on, you can expect to see Narine as farrrr away as possible.
LARGE INTELLIGENT ANIMALS

|

|

Intelligent animals and monsters have the cleverness to figure things out, but lack a human sense of decency. You cannot truly communicate with them, nor can you reason with them. Both beautiful and terrifying.
BECOMING HATED

|

|

Being disliked or smeared by enemies or strangers is one thing. Not enjoyable, but acceptable. But becoming hated by his family? His lovers? His allies? His closest friends? No. No no no, that cannot happen.
MITUNA DYING

|

|

Or falling. Or getting a papercut. Bullied. Anything, really. Her older brother's death was Narine's fault, and he'd rather die himself than let any harm come to this child.
ROYALLY IMPORTANT MEETINGS

|

|

The only social events that Hydra dreads worse than baby showers and weddings are any scheduled appointments to meet with foreign royalty. Seriously. He'd much rather send the charismatic courtiers and trained ambassadors to deal with this sort of thing.
---
▼ ▼ ▼ ▼ ▼ ▼ ▼ ▼ ▼ ▼ ▼ ▼ ▼ ▼ ▼ ▼ ▼ ▼ ▼ ▼ ▼ ▼ ▼ ▼ ▼ ▼ ▼ ▼ ▼ ▼ ▼ ▼ ▼ ▼ ▼ ▼ ▼ ▼ ▼ ▼ ▼ ▼ ▼ ▼ ▼ ▼ ▼ ▼ ▼ ▼ ▼ ▼ ▼ ▼
---

╳
╳
╳
╳
╳
╳
╳
╳
╳
PROSTHETIC LEG |

|

Yeah, the prince of Pisces is missing his right leg, who knew? One normally wouldn't be able to tell unless they tore off his pants and actually checked. A sleek metal prosthetic leg with visible joints, mirroring the left in shape exactly. Fully functional, connected to Hydra's nervous system by some arcane sort of magic. While the thing isn't normally a hindrance and has even been known to be a help (a fully powered kick from this thing could crack stone), the fake leg is certainly its own sort of weakness. The thing is a constant drain on Narine's energy, for starters. As a result the prince is often lethargic and mellow; I would compare the symptoms with that of a man with chronic low blood pressure.

When the prince becomes seriously injured or is trying to recuperate from illness, keeping the leg in slows the healing process significantly since the body is forced to divide its resources between healing and the upkeep the fake limb (which results in the difficult decision of wheelchair or slow healing). The leg only takes a specified amount of energy per day, and doing fancy things with it (ie things a normal leg wouldn't be able to do) increases the energy expenditure and can leave Narine with, well... a deactivated normal fake leg. Until the limb recharges from the excessive use, a cane is required to move around properly.
OVERLY SENSITIVE |

|

Now, it's not as though a mean word or sneer will send Hydra running off crying. He may be very stoic, but criticisms and insults have an odd way of lodging themselves in the tucked away corners of his heart and just... building up. The prince doesn't have that thick of skin, it's very difficult for him to shake off negativity (especially if several people are repeating the same nasty thing over and over). It certainly takes its toll on his morale and mental health after a time.
WOUND UP |

|

Constantly. On. Edge. Even through his haze of lethargy and calculating daydreams, you can see it in the glint of his eye, in the set of his mouth. Hydra sits too straight when he's supposed to be relaxing, is looking over his shoulder when he's supposed to be surrounded by friends. The man sleeps like a cat, and the muscles in back are a wasteland of twisted knots and sore places. He worries himself and obsesses over every little thing, and never takes a goddamn break. It's like he doesn't even know how to.
PACIFIST |

|

With a civil war on the horizon, this might be Narine's biggest weakness yet. His pacifistic beliefs are as deeply rooted as the scars entrenched in his right thigh; Hydra would happily die to go through with them. But then the line starts to blur. Would he let others die to honor his moral qualms against violence? Right in front of him? Even if Narine turns out to be capable of striking down someone to protect someone else, what kind of mental dissonance or guilt will that create inside of him? It's not going to be pretty.
---
▼ ▼ ▼ ▼ ▼ ▼ ▼ ▼ ▼ ▼ ▼ ▼ ▼ ▼ ▼ ▼ ▼ ▼ ▼ ▼ ▼ ▼ ▼ ▼ ▼ ▼ ▼ ▼ ▼ ▼ ▼ ▼ ▼ ▼ ▼ ▼ ▼ ▼ ▼ ▼ ▼ ▼ ▼ ▼ ▼ ▼ ▼ ▼ ▼ ▼ ▼ ▼ ▼ ▼
---
ESTELLE DELPHINIS WINTER JASPER ELAINE THEON ZARI AMALIA SEBASTIAN SANGREAL RUAOMOKO FAUST STERLING NARINE ESTELLE DELPHINIS WINTER JASPER ELAINE THEON ZARI AMALIA SEBASTIAN SANGREAL RUAOMOKO FAUST STERLING NARINE ESTELLE DELPHINIS WINTER JASPER ELAINE THEON ZARI AMALIA SEBASTIAN SANGREAL RUAOMOKO FAUST STERLING NARINE ESTELLE DELPHINIS WINTER JASPER ELAINE THEON ZARI AMALIA SEBASTIAN SANGREAL RUAOMOKO FAUST STERLING NARINE ESTELLE DELPHINIS WINTER JASPER ELAINE THEON ZARI AMALIA SEBASTIAN SANGREAL RUAOMOKO FAUST STERLING NARINE ESTELLE DELPHINIS WINTER JASPER ELAINE THEON ZARI AMALIA SEBASTIAN SANGREAL RUAOMOKO FAUST STERLING NARINE ESTELLE DELPHINIS WINTER JASPER ELAINE THEON ZARI AMALIA SEBASTIAN SANGREAL RUAOMOKO FAUST STERLING NARINE ESTELLE DELPHINIS WINTER JASPER ELAINE THEON ZARI AMALIA SEBASTIAN...
---
**BASICALLY done, these opinions are about the gist of it, but still editing and rephrasing things**
---
〈
〉
---
"An untouchable queen. I could not respect Her Majesty more. She's fascinating."
Though the sentiment is rather hard to explain, the feelings Hydra harbors for Estelle are similar to any a historical society might have for their monarch; filial adoration. He is extremely devoted, on an instinctual level. Perhaps the loyalty is ingrained from Pisces precedent, but regardless. It's difficult to see the human being when you're blinded by class and position. Though Hydra has met her in person, he truly has a hard time interacting with Her Majesty normally.
---
〈
〉
---
"Quite frankly? A hunk."
Like with the queen, Hydra is similarly doused in blind loyalty towards His Majesty. Unlike Estelle, much of his devotion stems from Delphinis' character. Perhaps it's be because the King's position is less glorified, perhaps it's due to his personal qualities. Regardless, Hydra finds something about this man deeply inspiring and worthy of respect, to the point of verging into celebrity crush territory. It was a bitter, bitter disappointment to see his liege declare civil war, and the thought of potentially siding against the king fills Narine's mouth with a sour taste.
---
〈
〉
---
"Out of curiosity, I agreed to attend her coronation. That... was a mistake."
...in that Hydra the amphibian basically shriveled up and died upon encountering the brutal desert of Aries. He was not in the best of humor when meeting the princess, and was especially displeased to see that she had not been given time to grow before inheriting the crown. Though there was an awful lot of bluster over the eeriness of the princess' blood-based powers, Winter seems almost startlingly sweet in comparison to the norm of nobility. Hydra is not particularly perturbed by the girl.
---
〈
〉
---
"Well, he's not stupid."
Jasper of Taurus is very skilled at fooling others into dismissing him for his luxurious and hedonistic ways. Narine knows appearances don't always match reality, but can't help to find himself shrinking back in distaste from the man's flashy glamour. He can't help it, it's like a spotlight follows Taurus wherever he goes. A blatant part-goer. Their countries may have diplomatic dealings, but Hydra would simply be a fish out of water if called upon to interact with the prince in person. Not his cup of coffee.
---
〈
〉
---
"I don't understand her. We get along well, but the princess makes me nervous."
The lady of the forest is far too old for Hydra to interact with comfortably, her life experience and self assurance completely outclasses him in social situations. She's... confusing. Many layered and unpredictable. Every interaction between the two of them has consisted of Hydra helplessly following along with her smooth guidance of the, ahem, conversation (as one sided as it may be indoors). Additionally, he can't shake his disapproval of the Gemini tradition of "taming" wild animals. Though the two of them get along, only the most cunning and socially adept of diplomats are sent to discuss trade agreements with this woman.
---
〈
〉
---
"I don't hate him. He's fine the way he is."
Theon may be crude, but not the brand of crude that is particularly off putting or repulsive to Hydra. He's not, well, he's not a barbarian. The prince of Cancer gives off an impression of being a very devil-may-care individual and Narine can't fault him for this. It's a quality that Hydra would have liked to have for himself... to be honest there are many things about the pirate lord that could be considered enviable. Like, for instance, the admiration of darling Mituna. Siggggh. But, in any case, Hydra really is not cut out for long term exposure to such an abrasive individual.
---
〈
〉
---
"Anyone who writes her off as all-brawn-no-brains is a fool. Or, more accurately, a fool with an expiration date."
Leo is the bright antithesis to the passive murk of Pisces, and Hydra would be lying if he said he wasn't severely off put by the warlike ways of the mercenary culture. He doesn't like it. His people don't like it. Zari as an individual, however, has won Hydra's respect as a skilled tactician and as a woman who has demolished many barriers put in place for by her society. They may not be friends, but he can't bring himself to hate her.
---
〈
〉
---
"I worry about her. Endlessly."
Childhood friends brought together by Eden and Andromeda, the previous rulers of their respective countries. The two of them only meet during festival times, but the awkward pair get along well away from oppressive social expectations. Hydra finds himself very at ease around the young lady- a rare thing for him. He's aware of the troubles shadowing Amalia, and it's in his nature to fuss and flounder over his small friend in whatever way he can. However, there is a real possibility that the two of them may end up on opposite sides in the coming conflict and the stress of it is scraping years off of his lifespan.
---
〈
〉
---
"I've yet to meet him. The prince has my pity."
In a normal world, Hydra would have already arranged a meeting between himself and the new leader of one of his biggest trading partners. He might have had an inclination to take the prince under his wing, if Libra so desired it. But with the war throwing the countries into chaos Hydra is only familiar with Sebastian through rumor alone. He can't imagine what it must be like to be saddled with the responsibility of the throne in such dark times.
---
〈
〉
---
"You don't understand. This is a
very
long time to be alive."
The Holy Lady has been very obviously blessed by the gods; this much is indisputable. A living treasure. Prince Narine is quite simply awestruck by the scope of her life experience and depth of the lady's maturity. Foolish, it would be so foolish to presume one could speak with a person like this on equal terms. That one could possibly have anything worth saying that the Desert Rose has not heard countless times over. A pillar of Cosmos, Princess Sangreal is undoubtedly one of the most respected figures on the continent. Hydra's opinion is certainly no exception to the consensus.
---
〈
〉
---
"Sophisticated. Regal. Intuitively, I believe this man to be very dependable."
To Hydra, Lord Ruaomoko is the picture perfect image of a noble and gallant leader. He is honored to share the coast with such a man, and is pleased whenever an opportunity for them to meet in person reveals itself. It is incredibly tragic that such a loss should befall the loyal and dedicated prince so early into the conflict. Of course, Lord Ruaomoko will not be the only individual left grieving by the time the bloodbath is done washing over them. His Highness Delphinis had better understand the implications of his war.
---
〈
〉
---
"Worst person here. Very mean to me. I don't know how we keep running into one another."
Narine jumps on every potential opportunity to pester the princess of Capricorn, practically giddy with happiness in the event his plans actually play out successfully. Faust is a very close friend of the stonefaced prince; he can scarcely contain himself in her presence. An unlikely pair that has bonded over a shared border and a historically good relationship between their two countries. She's so smart! And cool! And, uhh... kinda blunt when she wishes to be. But it doesn't matter; Hydra has committed himself to sticking with the princess through thick and thin. Honestly, he wouldn't mind it even if she called him by his personal name, were it not for the fact that doing so would imply they had some more intimate or romantic layer to their relationship.
---
〈
〉
---
"Amalia has always been dear to Sterling. It'd be stupid for me to take his choice personally."
Contentions between their two countries make it... difficult to become close to Sterling. Not for a lack of trying; the two rulers have met on a handful of occasions, many of them for lengthier trips or events. These scattered interactions have been enough to foster a quiet, closely held sort of quasi-friendship/attraction(??) for the painfully clever prince. However, Sterling's violent nature is off putting and the fragile relationship strung across Aquarius and Pisces complicate things. And now, with the war... Narine doesn't know what to think. Things could potentially get very bad between them very fast. It's a mess.
---
〈
〉
---
"I have more important things to be thinking about. Don't waste my time."
I suppose this would be a good place to mention that Hydra's sensitivity doesn't come from a place of insecurity or self doubt. He doesn't hate himself, but doesn't think particularly much of himself either. Hydra's personal views of himself are very rational and realistic; intentionally inflating his ego or downplaying his abilities would be completely unproductive.
---
▼ ▼ ▼ ▼ ▼ ▼ ▼ ▼ ▼ ▼ ▼ ▼ ▼ ▼ ▼ ▼ ▼ ▼ ▼ ▼ ▼ ▼ ▼ ▼ ▼ ▼ ▼ ▼ ▼ ▼ ▼ ▼ ▼ ▼ ▼ ▼ ▼ ▼ ▼ ▼ ▼ ▼ ▼ ▼ ▼ ▼ ▼ ▼ ▼ ▼ ▼ ▼ ▼ ▼
---
Code: Select all

[hr][/hr][left][img]http://dummyimage.com/100x20/000/000[/img]
[img]http://i.imgur.com/YxHR36f.jpg[/img]
[img]http://dummyimage.com/100x490/000/000[/img][/left][right][img]http://dummyimage.com/3x1242/000/fff[/img][/right]
[size=110][[/size] [color=#4d1900]LOCATION[/color] |[color=#B10B23]|[/color] [i]LOCATION HERE[/i] [size=110]][/size] [color=transparent]X[/color][size=110][[/size] [color=black]➢[/color] [i][color=#686270]'thinking, thinking, thinking.'[/i][/color][color=transparent]X[/color] [color=black]➢[/color] [i][color=#B10B23]'reluctantly speaking.'[/i][/color] [size=110]][/size]

[left][img]http://i.imgur.com/Q6RsfVU.jpg[/img][img]http://flont.veer.com/flontpng.aspx?text=Narine%20Pisces&size=76&maxWidth=540&fontId=21920&lineheight=115&backcolor=01FFFFFF&color=FFacacac&wrap=false&tracking=0[/img][/left]




[font=calibri]POST HERE[/font]
[center][img]http://www.casiistephan.com/wp-content/uploads/2015/04/icon_divider3.png[/img][/center][hr][/hr]
---
---