[img]NAMEDFSF[/img]
---
---
"Do not make the mistake of thinking that we have entered battle prepared to die. We fight that we may live. 'Defending the world' is nothing more than a grand excuse. We fight to protect one another, to protect you, and to protect countless others even if I call for a price."
---


[font=book]

[img]INSERT%20IMAGE%20OR%20GIF%20URL%20HERE[/img]
♦ Theme Songs ♦ (Optional, but fun to have.)
Normal ~ [url=link to song]NAME - ARTIST[/url]
Fighting ~ [url=link to song]NAME - ARTIST[/url]
Emotional ~ [url=link to song]NAME - ARTIST][/url]



---
Ⅰ Full Name: Ⅰ
Teruko Himura

Ⅱ Age: Ⅱ
21

Ⅲ Gender: Ⅲ
Female

Ⅳ Sexuality: Ⅳ
Bisexual

Ⅴ Hometown: Ⅴ
A tiny farming village

Ⅵ Aspect: Ⅵ
Determination and resolve, Teruko will do anything to complete her mission or goal and is unbending with her beliefs and morals. She will even strike down her own subordinates if its absolutely necessary.

Ⅶ Face Claim: Ⅶ
Soifon - Bleach

Ⅷ Role: Ⅷ
Chosen Human 6


---

Ⅰ Hair Color: Ⅰ
Black hair with a midnight blue tone

Ⅱ Eye Color: Ⅱ
A sterling gray which turn storming gray when shes angry

Ⅲ Skin Tone: Ⅲ
A fair ivory color

Ⅳ Height: Ⅳ
5'5

Ⅴ Occupation: Ⅴ
Mercenary

Ⅵ Soul Blade: Ⅵ



Blades on her hands and right foot, they peek out on command and could slice flesh. The ones on her hands are able to project with wires from her gauntlet gloves and with her trained movements, she is able to move the wires that attach to these blades by will. But its incredible difficult since the wires dispense far, so its close to comparing to a long arm one attached.

Ⅶ Secondary Weapon:Ⅶ
Wires - Depending on the situation, she has several wires according to thickness. Some are incredible thin where only one could see if its seen in light, or one very thick that can be used to attach to her blades. The thiner the wire, the sharper. She could use this for long distance or just security of her surrounding areas like a spider.

Ⅷ Blade Magic: Ⅷ
As its first step, Teru stabs her enemy with blade. In addition to creating a rather deep wound, the attack leaves a butterfly-shaped stamp on the victim's body. Spreading from the center of the wound this stamp becomes the target of Teru second attack. If struck in the same spot that was hit the first time, the person will inevitably slow depending on the body part she hits. When the ability takes effect, a larger crest quickly spreads out from the two smaller ones, completely destroying the victim's limb or body part. The crests are maintained by Teru's will, and are impossible to remove unless she wills it; This ability is caused by a venom that the blade secretes. When it enters the target's body, it spreads throughout their body in a matter of minutes, if not seconds, destroying it without a trace. The effect of the poison takes slightly longer to work for those who have enhanced will and blade power.

Ⅸ Non-Combat Skills: Ⅸ
➣ Acrobatics - With her flexible body, Teru is capable of flips and odd body twist in mid battle. Its very useful when coordinating with her brother and wires along with dodging swipes and thrust.

➣ High Physic mainly revolved speed - Being a mercenary she learned the basics of speed and strength, going further than a normal human. Though despite her strength, her main skill focuses on her speed that could be fast that she'll disappear in a blink, however her stamina is the best.

➣ Camping/Survival Skills - Always traveling, Teru learns to survive off little food, or just to hunt. Shes a useful camping partner to take along when one wants to survive raging bears or sneaky thieves.
---
---
~ The Hidden Facts ~
Ⅰ Personality: Ⅰ

♡ Mature ♡ Clever ♡ Determined ♡ Loyal ♡ Independent ♡


Teru is staunchly loyal, firm, and unbending in her beliefs. She is a hard worker and takes a strong moral stance — she particularly believes in following orders but only if its a higher up, her client, or someone she respects personally. She is generally reserved and truly not arrogant in any manner, though she is not above mocking/joking around with her opponents or smirking while in combat. She will not hesitate in the slightest to strike down even her allies if they stand in her way. She chooses to ignore all her allies, believing that personal struggle builds character. Itll be rare to even see her help an ally with their mistakes unless she sees that her help will do some good otherwise, she believes its the adventure of one that one must take care of.

Teru is a person of incredible resolve, not hesitating to do whatever it takes to complete a mission and defeat her enemy. Very rarely will she show signs of desperation or emotion on the battlefield, except when it concerns her brother and loved ones. And despite her cold demeanor, she has displayed a certain level of faith towards her allies. Sometimes this faith seems to be not there due to that the fact that sometimes she manipulates people often without their knowledge, like a spider with its strings. Sometimes it for the better good or for her own bidding, which is usually the case being a mercenary.

As a villager, or as a child, she was more soft and this side could be seen among her closest of allies or friends- usually her brother. Its rare but its still there, since she was unable to grow properly to be thoroughly mature, instead her child side still remains within her. She will grow childishly stubborn, and flustered when times arent serious, sometimes she will tease or sometimes she will be kind- totally out of character it seems. But basically her new character, her new face, was developed to protect herself, her friends and her believes of being a mercenary. [MORE TBA]
---
---
Ⅱ The Reason Why: Ⅱ
To have all the money she desires to stop the killing.

Ⅲ Biography Ⅲ
(Your characters past up until this point in time. If your character has already received their Soul Blade then please include the dire event that led up to and their eventual obtaining of said weapon as well as the effect it had on their lives. Two decently sized paragraphs... even more than this, however, is once again appreciated.)
---
---
~ The Others ~
♥ Love Interest: ♥
No, being a mercenery she never stops, not for anyone. And being the cold person she is, she doesnt feel the need for love for it will only bring her down and she'll consume him eventually. (not literally mind you)
✦ Characters Opinion of Other Characters: ✦
(Give a quote from your character discussing the other characters from their perspective. The knowledge you write down here is taken out of context as most of the characters in this RP have probably never met before. In other words this is just for fun really as well as giving a better understanding of a characters personality based on their opinions of others.)
-Chosen 1:
-Chosen 2:
-Chosen 3:
-Chosen 4:
-Chosen 5:
-Chosen 6:
-Pre-Awakened 1:
-Pre-Awakened 2:
-Pre-Awakened 3:
-Human 1:
-Human 2:
-Human 3:
"My brother is a fool and a clown, someone I should have cut down ages ago, but I havent.. maybe its due to my odd love for him, have I grown soft again?"
✛ Extra Bits: ✛
Other - (Anything about your character that doesn't fit into the above categories? List it here.)
Dialogue
&
Thought
Color - (Put the HTML color code for your characters speech and personal thoughts here.)
Portrayed By - Check Mate
---
---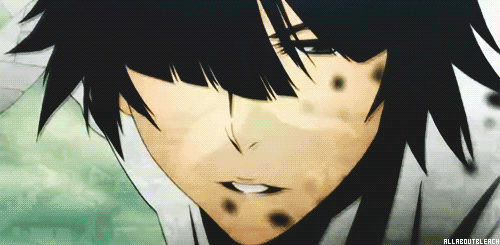 "I have never liked the idea of allied groups, I feel that for training purposes, a measure of antagonism between superior and subordinate is essential."