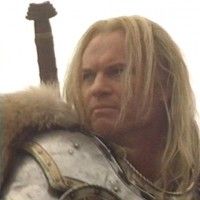 Name:
Baldr Ulfheimr
Age:
43
Appearance:
The Ulfheimr clan are known for their size and build and Baldr is no exception; standing at 6'5, he is an immovable object on the battlefield and often uses his dominating size and booming voice to intimidate others.
Build:
Baldr is very tall and heavily built.
Personality:
Strong minded and a fearsome warrior his clan once controlled the vast majority of the Fyrkat mountains until Ulfar took control of the Leiknir clan and pushed his clans borders back. Since then it has been his main goal in life to rid the mountains of the Leiknir in any way possible, even resorting to tactics less favoured by the honourable Fyrkat.
This drive has driven him to the point of insanity, caring less and less for his daily duties and focus much of his time plotting alone or with his advisers in the hope of finally removing his enemies.
Where they live:
Fyrkat
What/who they are:
Baldr is the Chieftain of the Ulfheimr clan.
History:
Baldr inherited his leadership the same as all of the other chieftains only he was taking control of the then most powerful clan, easily dominating the surrounding clans. Over his reign no matter how hard he tried or strong his defences the Leiknir clan spread relentlessly into their lands driving Baldr to focus all of his assaults on the Leiknir clan and focussing less and less on his other duties.
His determination increased to the point he took to less honourable methods of war, sending assassins and even inviting the Leiknir heirs under a flag of truce to their graves. This small victory sent Baldr into such a boastful disposition he led a full scale attack against the Leiknir intending to break Ulfar and his teenaged child.
This confidence proved unwarranted when the Ulfheimr were crushed at the hands of Ulfar and his enraged daughter. The land lost to the counterattack led Baldr to begrudgingly retreat back into his fortress and plot once again for Ulfar's demise.
Skills:
Skilled with many different forms of weaponry.
Is well versed with less savoury types.
Other: