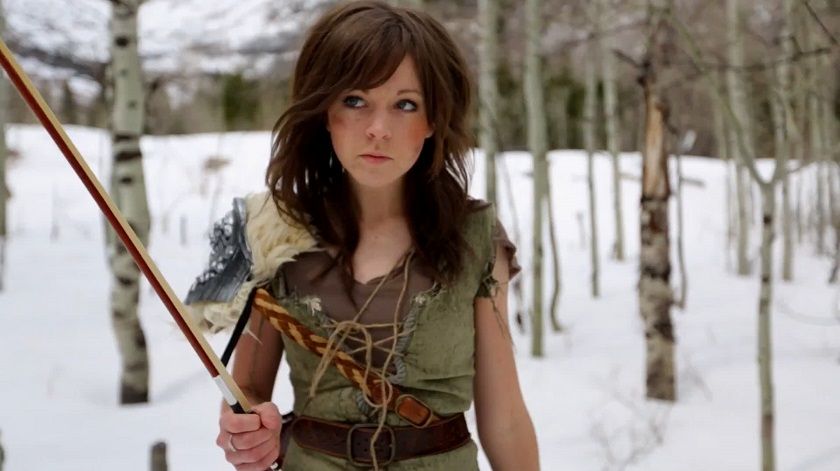 Name:
Tyra Leiknir
Pronunciation:
Tier-ah Like-near
Age:
19
Appearance:
Tyra is around 5'9 with a slim build although she's known for her dexterity and great speed over her brute strength. Her skin is the typical light tan that comes from living in the cold mountains and her hair is an unkempt brown.
Build:
Tyra's thin frame is made strong and fast by her lean muscles.
Personality:
Although Tyra is very inquisitive by nature her past experiences have left her distrustful of those from outside the clan having very low opinions of anyone not born a Leiknir. Tyra is a model Fyrkat warrior, fighting fearlessly and without remorse however she is less wise than her father and is known for her brash and foolhardy behaviour which often ends badly for her in battle and otherwise.
Although she shares her father's wish to see the Leiknir clan unite the other clans and reform the kingdom but then she wishes to turn her eyes further south to attack the Celtic lands and beyond to form the first Fyrkat Empire.
Where they live:
Fyrkat Mountains
What/ who they are:
Heir to the Leiknir clan
History:
Born as the third child to Ulfar Leiknir, Tyra - like all children of Fyrkat – has been bred for war and been well taught in warfare and weapon skills since a very young age, receiving her first sword at the age of seven.
Tyra's training continued through her childhood, becoming particularly skilled with both axes and swords. She spent many days training with her two older brothers whom she was very close too, spending many days in the mountains hunting or generally getting themselves into mischief.
In a talk of alliance with the Ulfheimr, Tyra's two brothers were sent under a flag of truce to meet with Baldr to discuss terms. They were ambushed by the traitorous chieftain and cut down, leaving Tyra as the next in line to rule the Leiknir. Tyra marched into her first battle at the young age of fifteen to avenge her brothers, during which Tyra earned her fearsome reputation as a skilled warrior slaughtering many in her attempt to find the enemy chieftain.
As time progressed Tyra became an incredibly ferocious fighter known for tearing through enemy lines and cutting down all those in her path. Now she stands as one of the Leiknir's greatest Generals, often bringing victory from the jaws of defeat.
Skills:
A skilled fighter in many various weapons,
Highly dextrous,
Incredibly fast,
Escape artist,
Knowledgeable in the survival arts required for living in the mountains.
Other:
Tyra, although strong minded and ferocious on the outside, inwardly blames herself for her brothers demise and often spends days at a time in the mountains preparing herself for the day she can kill Baldr and avenge her brothers.
Tyra's sword is named Sigr which means Victory.