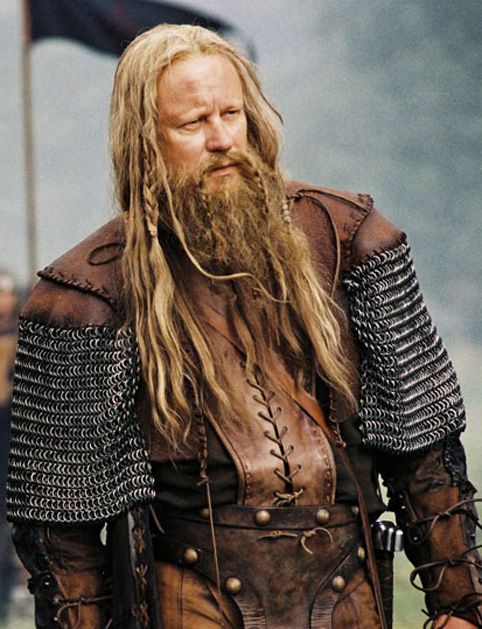 Name:
Ulfar Leiknir
Age:
46
Appearance:
Ulfar is around 6'4 with a well-built frame; his skin is the typical light tan of a Fyrkat warrior who spends his days in the mountain sun, his beard and hair are kept long and decorated with braiding, a common practice in Fyrkat.
Build:
Ulfar is tall and well built,
Personality:
Ulfar is both wise and calculating, he is known for heavy drinking and his physical prowess. He is known for his incredible leadership, inspiring great things in his soldiers, male and female. He has given his people well stocked supplies and excellently protected hopes, not to mention having brought Leiknir from the verge of extinction. His greatest downfall however is that he has spent so much of his life focussed on reuniting Fyrkat that he has lost focus on the outside lands, having little knowledge of the extremely different lifestyles outside of Fyrkat.
Where they live:
Chieftain in the Fyrkat Mountains.
What/who they are:
Ulfar is the chief of the Leiknir clan.
History:
Leadership of the Leiknir clan passed to Ulfar when he was just seventeen when his father was slain defending their village from a raid by another clan. The whole village was burnt to the ground and many lay dead in the streets. Driven to rage by this attack Ulfar rallied together all of the survivors strong enough to hold a sword and lead an attack against the rival clan, with Ulfar's cunning tactics the raid ended in victory and the Leiknir clan rode home with resources and gold aplenty. From here Ulfar began his campaign, slowly rebuilding the Leiknir clan from a tiny speck on the map to a force to be reckoned with.
Skills:
Highly skilled warrior whether with swords, axes, bows, crossbows, spears or maces.
He is well learned in the art of tactics.
Ulfar can handle a LOT of alcohol.
Other: