---
---
Name: Arya Stark

Age: 11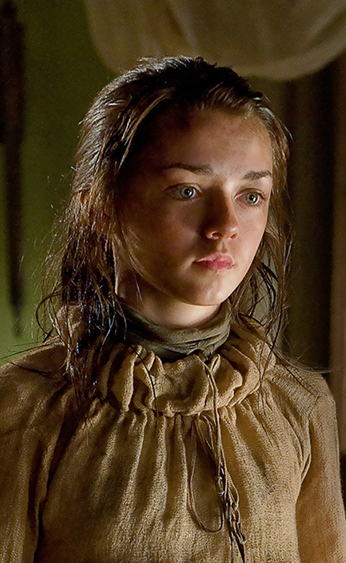 Appearance & Build: Arya's appearance is more Stark than Tully, with a long face, grey eyes, and brown hair. She is skinny and athletic. Yet despite her otherwise plain features there is an indistinguishable charm to this rambunctious girl. Her face always seems to tell of a secret plot only she knows about and her attitude displays that at times she feels like she is more intelligent than all the adults in the room. Her defining feature is her mischievous grin that she flashes so often before she get's into some sort of trouble.




Personality: Arya is a spirited girl interested in fighting and exploration.She has a quick and curious mind and a pragmatic outlook. While often prone to getting carried away in her rebellious pursuits she loves her family dearly and doesn't mean to cause them grief. Arya is merely a free spirit, and wild at heart. The concepts of being a proper lady abhor her, much to chagrin of her older sister Sansa who enjoys the more traditional pursuits of a noblewoman. The difference between the two sisters is a key piece of Arya's personality as she goes out of her way to prove how different but equally as important she is as Sansa.


Where they live: The North, Castle Black.

What/ who they are: Arya is the youngest daughter of Lord Eddard Stark and Lady Catelyn Tully-Stark.


---
---


Arya Stark, second daughter to Lord Eddard Stark and Lady Catelyn Tully-Stark. Arya is wild natured, rambunctious, boisterous, loud and fiercely independent. A rebel at heart, the last thing in the whole world Arya wants is to be a proper lady like her sister Sansa. Arya wants to fight like her brothers and ride a horse and shoot a bow and play with her dire wolf Nymeria. She idolizes powerful warrior women like the ancient female Targaryens who rode into battle atop mighty dragons.




She is close with all her siblings except her sister but has a special connection with her two cousins Jon and Clara Stark. Jon never treated her like a child and in fact has taken to teaching her how to use a sword. Clara is a special case because she is not so different from her sister Sansa. The difference is that Clara never treated her like she was being foolish for wanting to be herself. She respects Clara and enjoys when Clara and her can cut loose and do something dangerous together. She has often told her she wishes Clara was her sister and not Sansa.







Skills:

- Stealth- Arya is incredibly quiet and gifted at sneaking in and out of places without anyone every hearing her. She often pretends shes a mouse or better yet, a ghost.

- Acrobatic- She is and has always been very light on her feet and able to avoid harm should it come her way.

- Quick thinking- While not always coming up with the right course of action Arya is rarely befuddled for a way to handle something.

- Swordsmanship- While not a warrior in any sense of the word she has been learning little bits of sword fighting from her brother and cousin.

- Archery- Arya is a skilled archer.

Other:
[/center]