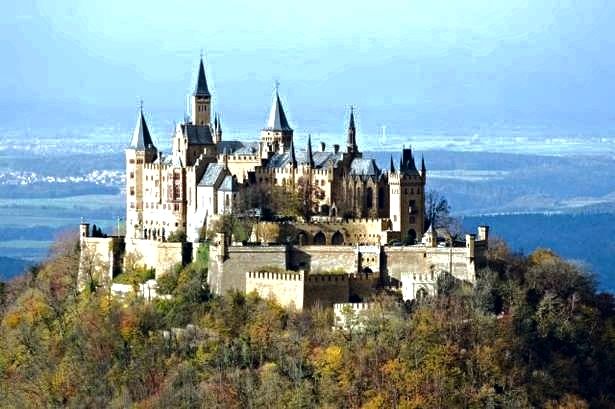 We are back in Ancient times. Empires vied for power, support, and longevity. Battles blaze as leaders across the world take up arms to expand their nations into the territories of their neighbors. Where does your sword lie in this unforgiving world? These are new Kingdoms and territories. Battles can be started, hearts can be broken, Kingdoms may fall. Go Crazy! Create a kingdom, a royal family, a knighthood, merchants etc.
~ Feel Free to create a kingdom in a space on the map that lacks a current kingdom or join one of the already started countries. Please use the original map as a reference.
~ You have free design on your characters and they are entirely up to you, you may be a monarch of a country ruling from a throne room, a member of the nobility, a slave, a merchant or even a rogue.
~ Any Character can be made, be creative and keep in mind of the time period. These are medieval (ancient) times so no modern technology and automatic weapons.
~ Feel free to add some supernatural or magic. Oracles, gypsies, etc. It makes things interesting.
~ You can be up to as many characters as you want. Just make sure that you can handle all of them.
The World Map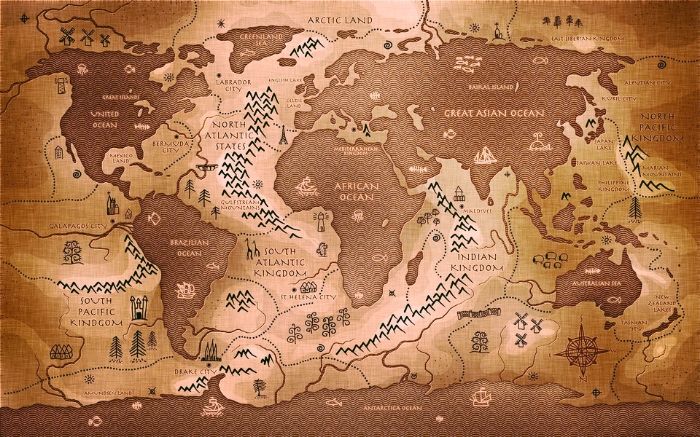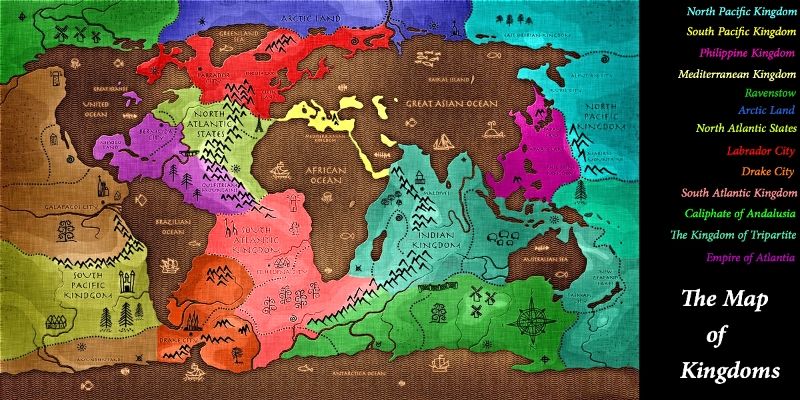 Character Sheet
Code: Select all

[i]Name:

Age:

Appearance:

Build: (Slim, Skinny, Fat, Stocky, etc…)

Personality: : (It is advised you create a flaw for your character and nation to offset the good qualities and create new plotlines to follow)

Where they live:

What/ who they are:

History:

Skills:

Other:[/i][/center]
1. God-modding is unacceptable, if you do it I being the almighty god with strike your character down where they stand and they will be dead. No no if ands or buts about it.

2. Anime pictures will not be accepted. Real images only!

3. Please take the sex scenes to PM (If you wish).

4. No character limit, so no need to reserve characters.

5. Although there is no character limit it is advised that you do not to make more characters than you can handle. If at some point you become overwhelmed we could always come up with some crazy fun way to kill them off.

6. Swearing is fine but let's not over do it.

7. Waging wars and battles are going to happen in this rp. If you get hurt in battle you meant not die but if you get injured act like your injured.

8. Please stick to the character sheet but don't be afraid to spice it up and add to it. If you want to added so extra details and stuff feel free.

9. Be respectful. What happens in the IC stays in the IC. No one wants drama in OOC. At least I don't.

10. No one line posts! If I wanted one liners I would have created this rp in Free Roleplay section. One liner's to me don't really advance the story. So try to at least type a paragraph or two. Am not looking for novels. If you need help with ideas, bring it up in the OOC and we can all together come up with something.

11. I am a fan of a lot tv shows that takes place in medieval eras. If you want to make a character based around your favorite character or something like that is fine. Just spice it up and twist things around and make the character your own. (Personally I love Daenerys so fair warning look out for dragons)

12. Real life can be unexpected and hectic at times. I get it am in college so trust me I know. I would like it if everyone could post daily but I understand that they may not happen. So just be dedicated and post as often as you can. Dedication and activeness is how role-plays stay alive. I want this to live and strive and be almighty and powerful =D .
Taking place in...
Arcs are bundles of posts that you can organize on your own. They're useful for telling a story that might span long periods of time or space.
There are no arcs in this roleplay.
There are no quests in this roleplay.
Here's the current leaderboard.
There are no groups in this roleplay!
Welcome home, Promethean. Here, you can manage your universe.
Arcs are bundles of posts from any location, allowing you to easily capture sub-plots which might be spread out across multiple locations.
You can create Quests with various rewards, encouraging your players to engage with specific plot lines.
Settings are the backdrop for the characters in your universe, giving meaning and context to their existence. By creating a number of well-written locations, you can organize your universe into areas and regions.
Navigation
While not required, locations can be organized onto a map. More information soon!
There are no groups in this roleplay!
By creating Collectibles, you can reward your players with unique items that accentuate their character sheets.
Once an Item has been created, it can be spawned in the IC using /spawn Item Name (case-sensitive, as usual) — this can be followed with /take Item Name to retrieve the item into the current character's inventory.
Give your Universe life by adding a Mob, which are auto-replenishing NPCs your players can interact with. Useful for some quick hack-and-slash fun!
Mobs can be automated spawns, like rats and bats, or full-on NPCs complete with conversation menus. Use them to enhance your player experience!
Current Mobs
No mobs have been created yet.
Locations where Mobs and Items might appear.
You can schedule events for your players to create notifications and schedule times for everyone to plan around.
Add and remove other people from your Universe.
Orphanage
By marking a character as abandoned, you can offer them to your players as pre-made character sheets.
"The fruit of silence is tranquillity."
The Forge
Use your INK to craft new artifacts in Crowns, Empires & Swords. Once created, Items cannot be changed, but they can be bought and sold in the marketplace.
Notable Items
No items have been created yet!
The Market
Buy, sell, and even craft your own items in this universe.
Market Data

Market conditions are unknown. Use caution when trading.

Quick Buy (Items Most Recently Listed for Sale)
None
Discussions
Topics

Replies
Views

Last post
Most recent OOC posts in Crowns, Empires & Swords
There have been no posts in the OOC topic for this roleplay!