---
Name: Robyn Sheva

Age: 24

Appearance: Known for her beauty, Robyn Sheva is a subtly curvy dark skinned woman, with long wavy dark hair, deep brown-black eyes and a dangerous smile. She is often seen in loose men's clothes when relaxing with her crew but during a Raid, she is dressed in an black and crimson red long coat, sleek black boots, a black corset,tight black trousers,a blood red top and a black tri-cornered hat with red stitching.

Build: Tall and Curvy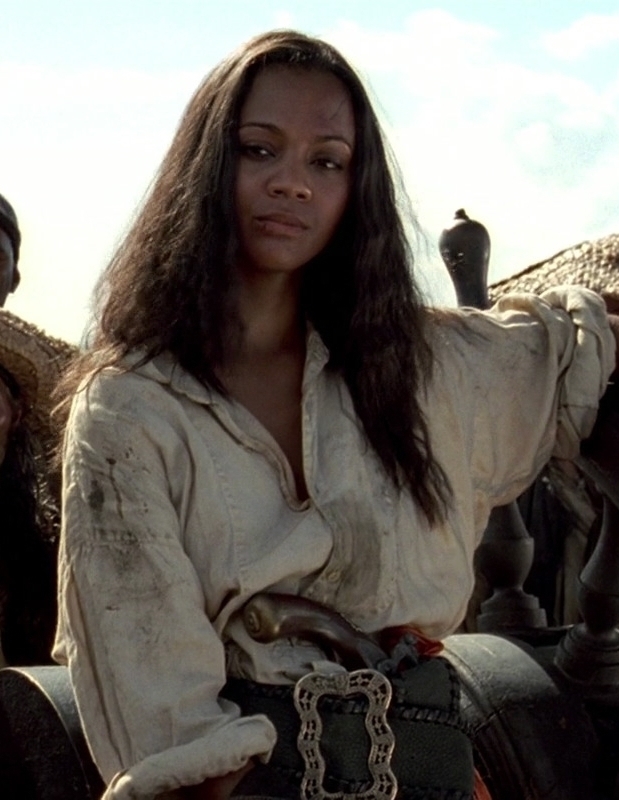 [i]Ruthless as she is beautiful...
Personality
Robyn is a ruthless piratess, she has been known to cut men down for simply looking at her incorrectly. She hates being viewed as merely a woman and does whatever she can to make sure the world knows it. She is known as the Crimson Lady, as rumor has it that she's killed a man and bathed in his blood.
Loyalty is important to her and she finds it hard to trust anyone, she doesn't even trust her crewman, save her her first mate -Insert Name Here-.
She reads people like a book and can -for the most part- predict their next move. She is a skilled liar and can seduce a man with a simple bat of an eyelash.
She has a smart mouth and is ill tempered, and has been known to shoot a man simply for the dislike of his face.
Where they live:[center]
The Harbinger
Upon Sight, Death is Eminent...
Robyn's ship. It holds 400 crew men, two floors, 100 cannon's 50 on each floor and 25 on each side.
However, originally, She was born in South Pacific, in King's Landing, the slums of the great nation.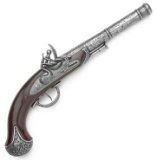 Only seen by dead men...
Rumor has it that, this gun is invisible as no one has ever seen it fired. No one living. Robyn has a dead eye and her bullets never misses it's mark.
What/ who they are: She is the Captain of the Crimson Pirate Crew.
History:
Victim of Circumstances...
Robyn was born orphan as her mother died during childbirth and her father some time before that. To survive, Robyn became a thief. She wasn't a very skilled thief as a small child as she was caught and beat more times then she could count. This landed her in many fights and left her hungry for days. She'd learned her street smarts early as she could convince some people to give her food or water or clothes during the winter. There was but one man to ever show her kindess, he would give her food when he could but it didn't last as when she was 9 years old, she stole from a slave trader and as 'payment' she was taken and sold as a slave.
A Dancer's Nightmare...
Robyn was sold to a brothel owner in Britannia where she lived, cleaned and cooked. It was when she was 13, that she'd grown into her looks and was forced into becoming a 'dancer.' The Mistress taught her to dance and to seduce men out of every dime they had.
It was there she'd learned how to become a premium liar and how to read expressions. As there were plenty of times, she'd be requested at parties and had needed those skills. She'd became a skilled theif and stole from the partons to save for her freedom.
It was when she was 15 years old, that she'd been requested as a escort for a nobleman. He was kind and gentle while she was at the brothel but immediately after they were alone, he attacked her. She wasn't a whore like most, she was simple a dancer, she wasn't old enough to be requested for that. She'd tried to explain that to the nobleman but he just slapped her and told her she was his. He kept her prisoner, locked to the wall of his basement for months for his pleasure. This torture drove her mad.
At one point, He'd freed her chains to abuse her but left his dagger at his hip as he attacked her. She skillfully stole his dagger and slit his throat while he was on top of her. She walked out of his home, in the middle of the night, stotic, drenched in his blood, like a ghost. It was how she earned the name the Crimson Lady.
She'd made her way back to the brothel and the Mistress -whom she'd learn to love and trust like a mother- was livid. She told Robyn she was bad for business and that she was a waste of time. Robyn was pass the point of sanity at the time so in her stotic state, she stabbed the woman with no emotion on her face. After the woman fell at her feet, she felt free finally. She enjoyed taking the life of people who hurt her...so she didn't and wouldn't stop there.
Hell hath no fury...
It took two years for Robyn to find the slave trader that sent her there. She'd used all of the skills she'd learned and managed to become a master theif, a premium liar and a skilled seductress. Those skills alone kept her alive while she looked for the man. At 17, she finally found him. He'd been still running the same game and she watched as he kidnapped childern and sold them to the highest bidder as he'd done to her. She'd followed him for days until finally she followed him home. She found that he'd slaves himself. Plenty of them, locked up in his house. Some where her age or older. She waited until he slept. She climbed on top of him and when he woke up she reminded him who she was. He didn't remember her at all. With a knife to his throat, he claimed it wasn't personal.Her last words to him before she slit his throat was "This
is
personal..."
The Bright Side...
After that, Robyn became a vagabond. She had no real destination other than to survive. she'd stuck around her home in the South Pacific as a skilled con woman. It was there she met a ailing old pirate. She'd been in the process of conning him when he stopped her with a bullet to her shoulder. When she passed out from the pain. He took her to to his hideaway and dressed her wound. When she awoke, He was impressed by her abilities to read people but she needed to be able to predict a person's movements. She then asked him why he'd shot her he simple stated "I wanted see if you could see it coming, You didn't..."
Oceans deep...
It was then, the old pirate taught her everything he knew and she soaked it up like a sponge. He taught her how to use a gun, and she became a skilled marksmen. He taught her how to navigate the seven sea on his ship the Harbinger and she became a skilled Captain. For a while, she felt happy...that is until he died. She was devastated by this and her world grew dark. She felt that it wasn't fair, that she deserved some peace after all of the crap she'd been through but it didn't make a difference. She went back to thieving only more publicly. She took the Harbinger, gathered a crew and became a piratess. Taking from the world's happiness as she couldn't keep hers.
Skills:
Manipulation
Swordplay
Gun slinging
Observant
Fearlessness
Other:[/i][/center]