G I L D A N || L O D E S
"Don't you know, hunger turns men into beasts."
♪♪♪
---
---
P H Y S I C A L I T Y
---
---
Appearance
Hair:
Dark brown. In a mess of loose curls. Longer on top and cropped shorter on the sides.
Facial Hair:
Scruff, mostly.
Eyes:
Startlingly pale-blue.
Build:
Rather muscular for someone who's used to living on little.
Skin Tone:
Pale
Height:
5'9"
Weight:
160lbs
Voice:
His accent is quite
breathy and floaty
. Low and grumbly. Seductive, in others. It's always teetering on the edge of insult. With his honeyed words, and sing-song tones, there lies the faintest remnant of a barbaric accent.
Handed:
Right-handed
Scar Tissue:
Various scars run along his spine, ranging from smaller stripes to obvious stab wounds. There's one particularly large scar that stretches across his collarbone and ends just under his jawline. While they're generally covered, Gil has several scars on the underside of his forearms and wrists.
Body Markings:
Perhaps most telling of his Wildland descent are his tattoos.
Large segments
of his shoulders, pectoral muscles, and arms have black-filled designs that tip down past his elbows on both sides. There's one thick line that travels down his spine, as well. It means something specific, but it isn't likely he'd tell you.
Name
Gildan Lodes
Nickname(s)
Gil, Lodes.
Titles
On the streets, there's whispers of the, "Rat King" and "the Bleeder."
To the King's trying to trample on his neck… he's simply, "The Lion's Thorn."
Friends tend to call him Gil, or Lodes. He minds neither.
Of course, he's earned unflattering monikers, such as "Bastard of the Alleys," and the "Mutt of Korrigan."
Ethnicity
½ Free Folk and ½ Serket
Nationality
Free Folk
Visual Age
20-30
Factual Age
29
Gender
Male
Sexual Orientation
Bisexual
---
---
M E N T A L I T Y
---
---
"How far am I willing to go? As far as I need to."
Personality
When devil's are too busy to hear their worshiper's calls, and death's a bit much to call upon… there's the Bleeder. He's the shadows playing across the walls, and the monster's that they become. A midnight strangler. A pseudo-robin hood that kills the rich for the sake of the poor. A nightmare, a hazy figure in the distance. His reputation spans across Korrigan, as well as the Free Folk: for very different reasons. Accursed, afflicted, damned. Monikers given to the people's man-made monster. Wherever he goes—blood is sure to follow. That's what they say, at least. But those are
just
stories, right? In any case, he's certainly a thorn in the King's arse.
A charming manipulator. A seductive, insatiable snake. Gregarious in his laughter, and a solid stone when need be. There's many,
many
onion layers there to peel away. Some layers are harder to swallow. He's a shark of a man—all bite. Words are empty things, meant for soothing minds and loosening tongues. He's a man of action and lets his do the talking for him. He doesn't operate in half-measures. Tying up loose ends is a necessity. Gil doesn't like drawing himself lines, restrictions, limitations of any kind. He's a jokester. Sometimes, it looks like he's just putting on a show; glib, eccentric and showy. But he's proven time and time again that there's consequences when he's not taken seriously.
Impulsive? No. His speech might come off as thoughtless, offhanded things, but Gil plans for the future, constantly. He sees the big picture. He behaves as if the world is a chess board. Strategy and ruthlessness are key pieces, moved with precision. This doesn't mean he's oblivious to improvement. No one took over a city by themselves. Over the years spent on Korrigan's streets, under the King's boots, he's acquired quite a following and maintains his open-door policy. Everyone's opinions are useful and valid. His table is
their
table. Everything he owns belongs to them, as well. His desires align with theirs. For everything he appears to be, he genuinely cares for the people he leads.
Aggressive, confident and governed by a persistence that knows no bounds. It's a stark contrast to his lackadaisical attitude; his proneness to boredom and hedonistic tendencies. He's somewhat inclined to violence, in any flavor. He's apt to say that it runs in his veins: being of the Free Folk and all. But it might just be an excuse, because he's not really sure why his blood boils when swords are pulled. His appetites are clamorous, insatiable things. For people, for power, for getting
more
of whatever he wants at the moment. Morality has never been a strong suit. Besides, he understands that it's composed of grays: not black and white. Gil has never professed to being a "good man" but he's willing to dirty his hands when no one else will.
Quirk(s)
◎
Liar liar, pants on fire—
Gil's an awful liar. His poker face is a swarm of grins. There's always a tell if someone knows where to look. Whether it's tugging on his earlobe, or scratching the back of his neck. Laughing when he's caught in a lie. To avoid all this, he's as raw and blunt as can be. Better to get panties in a twist than have to explain himself.
◎
Bandaged—
Unless Gil's in the middle of changing them, he always,
always
wears bandages wrapped around his forearms and wrists. He dislikes when they're held. Toyed with. Touched at all. Though he's always inclined to let things go if he's in a place where touching is welcome: say, a brothel. Or back-alley liaisons.
◎
Envy the dancers—
While Gil's never had the chance to attend any of the King's glorious balls, he's heard enough about them to be… intrigued. Dresses? Uniforms? Dancing across glistening marble? He wants to see it more than he lets on and has taken painstaking measures to appear at one of them. Someday.
Moral Alignment
Chaotic Neutral
Motivation
"Birds of a feather flock together, and so will pigs and swine; rats and mice will have their choice, and so will I have mine."
It's something Gil's always remembered. A cheeky nursery rhyme he'd heard on Korrigan's streets when it was taken from them and given to iron-fisted rulers who didn't care if they starved in the streets. With his uncle's mercenaries gone from his side, and the Free Folk a distant memory in his mind's eye, Gil supposes his motivations lie with the people who've been left to rot in the streets. Their wants have become
his
wants. However, he'd be lying if he said he wasn't swayed by the ensuing chaos he'd have to wield in their favor.
Fears
What's worse than irrelevance? Gil's fear of simply fading away from people's memories is conflicting to say the least. It drives the question as to why he's doing things in the first place. Is it for the greater good of the people? Or is he afraid that his name, his legacy, his sense of self will disappear as soon as he's succeeded in taking Korrigan back. Without the identity he's built: who is he? Just another street-rat scrambling for scraps.
Even though he hasn't seen them in years, Gil fears meeting his family again. Whether it's his uncle, or his mother and father, there's still a permeating feeling of shame riddled through his bones. He's long made peace with the fact that he isn't welcome in either of their worlds… but seeing them again, he's not sure he could take it.
Accidentally harming someone he hadn't intended to.
Likes
Comfort foods— like hearty stews and freshly baked breads. Dribbling cuts of meat? He's over the moon. Nights spent on the streets in his youth have altered the way he sees food. Even though his circumstances are better than they used to be, he eats as if he's never had a good meal in his life.
Animals— For someone perceived as a monster, Gil has a huge heart when it comes to animals. Specifically dogs and cats, as they're plentiful in the back-alleys. Hungry-eyed and mangy. He shares whatever he has… which is saying a lot considering he loves food in equal measure. They're quiet companions; never judging.
Intimacy— whether it's rough-housing between friends, or something a little more sensual, Gil expresses himself by touch and prefers that others do the same. His preference for personal space: zero. Knocking elbows, kissing stranger's, slapping backs or tugging on collars feels natural. So, he doesn't adjust his behaviors.
Feistiness— it's in Gil's nature to be a little aggressive, a little pushy. When someone responds in kind? He likes it. Whether it's a slap in the face, or someone showing some spirit and courage, it's sure to get his attention.
Singing— Gil's rather fond of music in all of it's flavours. So, he loiters in taverns, listening to bard's sing tales of grandeur. His voice isn't too bad either.
Dislikes
Self-righteousness— if something could make his eyes roll harder, it's the prats who tout that their moral standing is above all others. It's hypocritical, stupid, and doesn't fit into the world. Babbling about justice is a hard second.
Boredom & Dullness— Gil's like a tornado, in constant movement. He doesn't like staying in one spot for too long unless there's something interesting happening. So, it's likely that he'll make his own fun (even if it's unwelcome to those around him). He dislikes dull personalities, as well.
Disobedience— For all of his faults, Gil is a patient man. He'll give chances. But once you've crossed the invisible line he's drawn, there needs to be some sort of consequence. A learning edge, he calls it. If not, there'd be chaos.
Half-measures— People who are all talk and no action. People who only do the job and leave it half-done. He hates it.
Strengths
Persuasive— Thanks to being somewhat likable, Gil's learned how to manipulate others while still convincing them it was originally their choice. Whether soothing them with a smile, or a clandestine promise, Gil knows how to get what he wants from others or talk them into doing things his way. If all else fails, he's not adverse to shows of force.
Decisive— What's that saying? Fortune favors the bold. So it does. Gil's not in the habit of hesitating even if the outcome isn't ideal. He's not afraid of dirtying his hands for whatever "greater good" he's envisioned.
Sense of humor— Gil's seen some nasty shit in his life. Y'know, the sort of things that'd make you want to hermit yourself in the hills. It's a part of life, and he's learned to laugh at a lot of it. While his sense of humor tends to the darker side of things, he doesn't take much seriously anymore.
Weaknesses
Unforgiving— While he can let petty actions slide on a personal level, as a leader he doesn't excuse the behavior or actions of those who step out of line. Nor does he forget any wrongs done to his people.
Self-Indulgent— Material objects are of no concern, but there's always one more of something he can be talked into. One more bite. One more drink. One more hour. More, more. Gil never wants to regret not enjoying the pleasures of life as they are offered to him.
Prone to anemia— Everything comes with a price. So do his unusual abilities. It's uses are limited to the amount of blood he spills. If he pushes himself too far, he passes out until his body can recover itself.
Is your character literate? In what languages?
Gil can speak Free Folk, Darini and Serket fluently. Proper sentences? He's likely to use whatever slang he's picked up on his journeys. Words reserved for unsavory folk. Since his environment was filled with mercenaries, rough-robbers, criminals and wildlings, it isn't all that surprising. He's fairly well-read in Darini and Serket, though if you'd ask him to write anything down for you… it's hard to tell if it's illegible chicken-scratch, or if he's actually illiterate.
---
---
C O M B A T || P R O W E S S
---
---
XXX
XXX
"You can run. You can hide. You can pray. You can piss yourself. It won't make much difference."
Rating System
[Perfect] - [Excellent] - [Good] - [Above Average] - [Average] - [Below Average] - [Poor] - [Very Poor]
---
Combativeness
Hand-to-Hand Combat:
[Excellent]
The best fighters are the one's who don't shy away from bloodying their hands. The one's who aren't afraid to go for the throat and squeeze, squeeze,
squeeze
their way to winning their battles. The one's who thrive on some burden of violence shaking their hands into fists, gnashing their teeth like wolves going for a kill. The one's willing to rip and tear and bite. Gil prefers close-quarter combat to any kind of combat. It's intimate, it's up close, it's fair: in a sense. He has a fairly high-tolerance to pain seeing as he frequently bleeds, and it's become a crutch he uses to fight harder. It borders on reckless, but gets the job done if he's not knocked unconscious.
Melee Combat:
[Above Average]
Of course, Gil's not stupid. He carries his blades on him at all times, and he's fairly good at wielding them. They're small enough to wield with finesse, so he uses what techniques he's picked up over the years spent fighting under his uncle's mercenaries. Go for the throat. Go for the eyes. Slice their palms, bellies, collarbones. Cut through tendons. He's never learned how to fence or fight fairly. So, Gil operates strictly through instinct and reaction, leaving himself open to more experienced fighters.
Ranged Combat:
[Poor]
Could Gil shoot someone yards away? Probably not. His aim is laughable at best… and embarrassing when he actually tries. He doesn't own a bow, anyhow, so it isn't likely that he'd need to.
Magic Combat:
[Good]
Magic
always
comes at a price, or so they say. Perhaps, Gil's is a steeper one to pay. In any case, he's on a tightrope walk of barely being able to contain himself, and attacking with ruthless precision. He relies on this far more than he should. It's earned him a black reputation throughout Korrigan.
Mounted Combat:
[Poor]
It's damned hard trying to control his abilities while being tossed around like a sack of potatoes in a saddle. Have you ever tried stabbing someone with short blades while mounted? Neither has he. He prefers having both feet on the ground when he's engaged in any type of physical confrontation. Either that or he'd simply try to trample the person with his horse.
Skills
Temptation & Persuasion
[Good]
— Not everything is carnal in nature, because if Gil's learned anything throughout his travels', it's how people function. Their wants, their needs, their desires. It's an easy thing to promise, but he's a man of his word. His follow-through is what's gained him so many followers in Korrigan. Empty words wouldn't have drawn the gangs together.
No
, he keeps his promises. No matter the cost. Of course, if his body is something desired, he's only too willing to accept the terms.
Strong Stomach
[Excellent]
— Violence, blood and guts have never turned Gil's stomach. Whether it's from his days spent in the hills, or with bawdy mercenaries, he doesn't shy away from the dirtier, darker things in life. If it's part of the process, it's a necessary evil. His regrets are few and far in between.
A friend, indeed
[Above Average]
— His type of cunning comes from watching people. From afar, or up close. His interactions with people are remembered. Filed away for a later date. Even if he's laughing and tossing back goblets of ale, he's always watching. For what? He'd never say. People are peculiar creatures, and there's much to be learned just by paying attention. He's not exactly posing when he offers his help. He's a friend, lover, ally, man-in-arms. People tend to go to him for advice, waggle their tongues about his enemies.
Spells/Powers
Possession
— for brief periods of time, as in seconds, Gil can use blood to control the motor functions of others against their will as if they were a marionette. It works better if he injects them with his own blood; either by manipulating blood from his open wounds, and spraying it in their faces, or touching their open wounds with bloody hands. Spitting works too.
Red Ribbons
— Gil can create, control and otherwise manipulate his own blood into hardened objects capable of doing damage. Whether it's blood tempered into a sharpened state, used to stab and butcher, or something more delicate, like thin ribbons capable of strangulation.
Darts
— Besides ribbons or shard-shapes, Gil's able to mold his blood into darts and shoot them at people. Though it takes far more concentration, and it's more of a work in progress since he's using force, and more blood than he'd like to spill. Better at closer range.
---
---
E Q U I P M E N T
---
---
"What say you that we grab a drink? It's on me."
Items
Someone who doesn't have many roots doesn't really have much to his name. With no home, and no place to stay for longer than a night, Gil's no exception to the rule. He carries a leather satchel with the essentials: a spare of clothes, for the times his are too dirty (or bloody) to wear, a roll of fresh bandages, a coin purse and a length of beads and bones bound to a small hempen rope. Aged and worn over the years. One
last
thing he has to remember his family.
Accessories
None, really.
Weapon(s)
Weapon Name:
Singer
Weapon Type:
Jambiya
Material:
Damascus Steel
Length:
8"
Weight:
3lbs
Weapon Description/Info:
Gil acquired this particular blade when he lived in Serket. There's nothing spectacular about it—standard fare, for those who carry blades in the Wastes. It's flattened horn hilt is mounted with customary brass discs and decorative nail heads. The scabbard is of the tuza type, made of wood clad with leather and decorated on the front with intricate designs in silver, ending in a silver end cap.
Weapon Name:
Bleeder
Weapon Type:
Ceremonial Dagger
Material:
Steel and Bone
Length:
4"
Weight:
1lbs
Weapon Description/Info:
Much smaller than it's brother-blade, Gil uses this primarily to self-inflict wounds. It's small enough to tuck into his sleeves: close at hand. The hilt of the dagger is constructed of heavy sections of gold over an iron core and its scabbard mounts are of solid gold. All the intricately engraved surfaces are set with gems and colored glass finely cut with floral forms. A pretty piece for what it's actually used for.
---
---
B A C K G R O U N D
---
---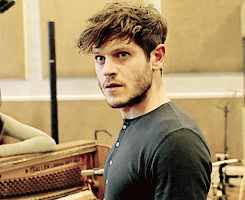 Group Affiliation
The Nameless
Gangs of Korrigan
Marital Status
Single
Relatives
Rhyla
– mother – living
Silos
– father – living
Ramses
– uncle – living
Origin
The Free Lands
Social Rank
Refugee Leader
Occupation
Sellsword / Vigilante
Bio/History
Fear makes the wolf bigger than he is.
The
Wildlands
. The
Free Lands
. The Wastes and the Hills. They all have
one
thing in common. They're unforgiving places to grow up in. It is known. Among the Free Folk, traditions are as important as survival. They live, and die, beside their superstitions; their wariness of magic is not entirely unfounded. Witches and their ilk are said to boast nefarious spirits; bringer's of bad luck and foul fortune. Even
if
the Free Folk are known for their less-than-savoury battle-tactics, savage as they are,
magic
is inherently worse because it's not something they truly understand. It's not something malleable, manageable. They cannot touch it, cannot wield it. The stories passed down by soothsayers and elders alike warn of how magic can twist and bring ruin to their people. Gildan's clan was no different.
Gildan Lodes was born in the tribe lands nestled in the Hills, north of Korrigan. His mother, Rhyla Lodes, was a Serketian woman who's kindness was a refreshing bloom against the contrast of uncivilised brutes at her sides; all teeth and nails and pure instinct. She was a well-known herbalist among them--a respected asset, if not an unusual component. His father, Silo, had been born and raised in the clan. A hunter with a penchant for wandering too far. Seeing as their clan was nomadic in nature, and travelled across the plains for better hunting grounds, it wasn't all that unusual that they'd bumped into each other. Their union was regarded... cautiously, at first, though it was welcomed soon enough. In their culture, women
chose
their partners. Rhyla was free to do as she wished. After she'd fallen pregnant, she decided to live alongside him.
Life in the clan was fairly normal. Gil was an average boy; liked to run and jump and play with sticks. He was kind-hearted like his mother and as troublesome as his father. Running through the woods with the other children was a favoured pass time, as well as learning how to survive; fight, hunt and eat. It was only around his tenth birthday that he began exhibiting strange... abilities. Troubling ones; it raised their suspicions until they were finally confirmed. On one particular occasion in the woods, Gil had been playing with the older boys. A little roughly. Pretending sticks were swords, and they were in battle; one of the boys' had cracked Gil across the face, causing him to bleed. The blood, however, had danced from his temple and wrapped around the boy's neck: strangling. His mother heard the boys' cries and seen her son on the ground. Face scrunched up, angry.
She'd known immediately. Serket was a place of magic. This place was
not
.
Rhyla consulted her husband. Usually, if babes or toddlers presented early signs of magic-use, they'd be abandoned in the woods. Left to the wolves. Or at least given
little
chance to survive, if they did at all. Given to the woods to do as they wished. The whispwoods and Fair Folk were... unusually merciful at times, and would best know what to do with them. She did not think that was best. Instead, she decided to send a bird to her brother in Serket. A plea to take her son with him. To raise him as his own--because he deserved better, it was not his fault. Gil's uncle, Ramses Lodes, responded in kind.
Yes
, he would. They'd meet at the nearest shoreline. He would take him. And so he did. Gil doesn't remember much of their parting. He does, however, remember his mother crying into his hair, and his father pressing a braid of beads into his small hands. A promise, a momento, a bitter farewell.
Ramses Lodes was the leader of the Ironcloaks; a band of Serketian mercenaries that travelled Terradeth's seas, and lands. While they weren't below raiding and pillaging villages, they mainly operated by taking contracts; protected wealthy nobles, and their caravans and squashed their oppositions. For the coin--it was a mantra they lived by. Of course, there was honour among thieves. They became an impromptu family; a home away from home. Ramses raised Gildan as if he were his own; bundling him under black wings. He never had any children of his own, so he was glad to have something of a son aboard his ship. Life was easier with them than it'd been in the Hills, though no less brutal. He'd seen what the world did to its misfits. The poor, the bedraggled, the wretches who'd been left behind. It left a bitter taste in his mouth, and moulded the man he is today.
Nothing good lasts forever.
Lessons often came with their own sets of cuts and bruises; ego included. Ramses right-hand man, Sybil, taught him how to use a blade; daggers and shortswords, mostly. Gil had grown better and better through his teenage years. His anger, however, was explosive, and difficult to control. His uncle would always watch him. Was quick to reprimand him for sloppy movements. For letting his annoyance squander his technique. His footwork. His hand; too low. His face; unprotected. Too slow, too fast. Sometimes, Gil felt like it wasn't enough.
"Again. Again!"
It came as a near constant badgering whenever he fell back on his arse or skinned his knees. One day while they sparred, when they were anchored to a city's pier, with the other crewmembers spending their time at the local brothels or taverns, Sybil knocked Gil onto his back. Bloody-nosed and dripping. It was a reaction. A mistake. He'd snarled up to his feet and bristled. Blood sang in his veins, in his temples; loud as drums. He hadn't seen it rising from the decks. Dribbling off his nose. Forming shards; floating. Hadn't been able to stop it from vibrating and shooting through the man's leathers. Straight through his heart. When his uncle called his name and shook him out of his stupor, it was too late. Sybil died that day. A mistake, a
mistake
. But aboard their ship, mistakes were paid in blood. And it wasn't something his uncle could oblige. He disposed of Sybil's body. Dumped it overboard, and packed up some things for Gil. He couldn't stay any longer. Even then, he'd noted the resentment... the hate... quiet as a mouse, a bitter bloom, shuttered in those blue eyes of his. He supposed now, he couldn't blame him. So, he left through the gates and travelled back to the Northlands. He stopped in Korrigan. It'd been taken from the Free Folk's and given to the Five Kings.
Even then, it'd been bad. People were kicked to the streets; there was never enough to go around. Food was scarce.
They
needed a leader. Someone to fight for them. Someone to
bleed
for them. Gil learned at an early age; a man can have anything if he's willing to sacrifice, and so he did. No one's quite sure what shadows he crawled out from. But he'd been waiting there; always watching. He knocked elbows with his fellow man, and became someone they could count on. He became their monster; fought for their causes, and threw honour to the wayside. There he made friends, allies, acquaintances, as well as enemies. He's the
Lion's Thorn
in the eyes of the Kings.
The Bleeder, The Rat King
. To those he fights for, he's a saviour. He's long since thrown away his aversion to his abilities; blood magic. It's a curse and a gift. The people he fights for are willing to turn a blind eye to his methods. So does he.
If I stop now, nothing changes.