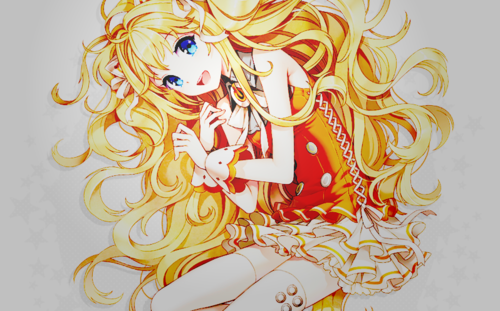 First Name:
Papillion
Last Name:
Blookyn
Nicknames:
"Just call me by me first name, love."
Gender:
Female,
"I believe it's hard to miss."
Age:
Sixteen,
"My parents believe it is time to start looking for a fiance, I think not."
Role:
Noondrim Girl- Chosen,
"Sounds mighty fancey, wouldn't you agree?"
Description:
Standing at a rather short height of 5'6,
Papillion
has an angelic look on every given angle. Her body in thin and petite, the type that catches a gentleman's eye. Her skin has a gentle glow of pink, her hair, as radiant as the sun, falls down in long curls with the color of honey, resembling those of her mother. Her eyes, two large orbs of deep blue, make the oceans jelous. Her features are detailed, her nose straight, pointing towards the sky, and her rose-pink lips are small but full. Her
mark
wraps all around her right side in a beautiful ink-black design. No one has seen it so far, and that's the way she plans to keep it.
Personality:
The girl is a sky of emotions and feelings. So many things portraited at once, it is almost impossible to find her true emotions unless she lets you. Her eyes are usually bright, showing the hapinness and glory everyone wishes to see even though the feelings differ and her mouth always owns that killing smile that parents want their daughter to have while presenting them to a wealthy choice of family. Her body motions are swift and graceful, as if prepared and rehearsed once more than needed. Of course, she is the girl that listens much and speaks when is spoken to. Most of the time, that is. But, it tires her, and at times, she can't help from her dark humor, seducting voice, cold gaze or risky descisions to overpower the emotions that she fakes daily. But well, that's another story, a side that only a few know.
History:
Papillian
was born to a middle-class family. She was given many luxuries most of the town girls didn't get, but her world has always lacked of something. The taste of adventure and risk. All her life, she has gotten herself into more trouble than her parents tell, in fear that her curious past might push the men that are willing to pay good money for her. She was always the one daring people and making them dare her back, sometimes very nasty things you'd rather not hear. In a few, she learned how to manipulate people into doing what she wished them to do, while allowing no one else to find out. You might think she used rude words or hard fists, but no, she learned about a thing called 'Charm', and as natural as breathing, she mastered it. She has done things that are looked down upon a girl in this period of time. Many men she has allowed under her spell, and she is proud to say that she has stolen many kisses and a little bit more. At her fourteenth birthday, the nagging started, "You should start thinking about marrying", "So many wealthy man fancy you", and so on, an endless reminder that her life would soon be controlled by a hideous man, most likely older than her own grandfather. It disgusted her. For the last two years, she has slipped her way out of marriges, the most monstrousious she could ever dream of. But they all had money, and apperantly, that's all that her parents have ever cared about. Never the happiness of her daughter. How charming.
Abilities/Skills:
-Sneaking in and out of trouble
-Making people do whatever she wants them to
-Having an adventurious heart, which means she's always willing to try out new things
-Lying and acting