---
---
---
"

If you can't handle the truth, get out of my face.

"
Alt J - Tessellate
Florence & the Machine - Bedroom Hymns
---
❄
Nickname
❄
He has a lot, though normally he just goes by Seras. Among them are Raphael, Sir Raph, and woah-who's-that-creepy-guy.
❄
Gender
❄
Male.
❄
Age
❄
Seventeen.
❄
Sexuality
❄
Asexual/Heterosexual/????

❄
Love Interest
❄
Rima gives him a lot of conflicting feelings so he pretends she has the plague and proceeds from there.
❄
Spot/ Role
❄
Seras is the quiet type of guy.
❄
Face Claim
❄
Rokudou Mukuro, from KHR.
❄
Appearance Details
❄
Seras, to put it bluntly, is clearly built for the catwalk... and being leggy, slender, and nearly six feet tall is just the start of it. Ridiculously photogenic, his black hair and white skin are of the highest quality. Mere mortals can only stand and gawk at his level of perfection. Seras' face was constructed with elegance and drawn with a careful hand. Evenly proportioned with high cheekbones, tapering jaw, and straight, even teeth. His eyes are obsidian black, framed with long eyelashes. He is decidedly feminine, though the lean muscles underneath his clothing and the angular element to his face convert it into a sort of regal, delicate quality.

However, Seras' godliness has been soiled by his sour personality. His eyes are always narrowed; suspicious and alert. Though he walks soundlessly and with innate grace, Seras' shoulders seem to be slightly hunched at all times. His black hair and white skin have the potential to be exotic and striking, but with all of the black, monochrome patters Seras wears, those features are wasted, coming off as Gothic and cheap. Any punk can dye their hair black, after all. He would blend in easily if it weren't for his cosplay and how damn creepy he is.

No, seriously. The guy doesn't walk, he glides. Always glaring at everything all the time... it's freaking weird. If that wasn't enough, Seras has never been spotted in normal clothing, always clothed in some sort of gothic, macabre cosplay (never wearing any of the more positive or energetic types). Ever.

As beautiful as he is, Seras is just like any other pretty boy when it comes to fights. Though surprisingly strong, he isn't tough in any way, shape, or form. Plus, perfect skin bruises easily and he doesn't exactly have the highest level of stamina. Sure, Seras could try to run, but he certainly wouldn't be able to go very far before collapsing. Then there's that pesky, near-white skin of his. Talk about delicate. The top layers of his epidermis will start frying under even the lightest of UV rays without some sort of protection (clothing, sunscreen; you get the picture). Admittedly, that might be a factor behind his choice of clothing, but still.
---
---
---
---
⌈
Likes/ Loves/ Desires/ Fancys
♥
☑

Cosplay


☑

Reading


☑

Strange people


☑

Quiet
⌈
Dislikes/ Hates/ Detests/ Fears
☠
☒

Fire


☒

Physical activity


☒

Society as a whole


☒

Being touched
The first thing you should know about Seras is that he lurks. Always in the background, always striving to dodge and hide from everything; from questions, to people, to stray beams of sunlight. He doesn't want to get to know you, and no, he isn't interested in sharing anything about himself either. Seras is just fine by himself with his cosplay, thank you very much.

He's trying to get past high school with as little turbulence as possible. No friends, no drama, no harm done. Trouble is, his personality gets in the way of his goals more often than not. You see, Seras hates to conform, or change himself in anyway for stupid reasons. People don't like him? Oh well. He gets in trouble? That's tough. He still won't care, either way.

Seras likes cosplay. It gives him character, dictates how he acts, and leaves the deciding to a costume so he doesn't have to. When Seras is in a costume, he becomes the person who would wear that costume, so to make things easier he typically only wears things that he himself would wear. But still. He likes cosplay, and that sets him a part from the rest of the kids at school. It makes him different, and draws attention to a creature who would be better off living under a rock somewhere far away. Seras hates attention, but his unwillingness to conform forces him under the spotlight of infamy.

So the less tactful people like to come up to Seras, ask him questions. What's with his clothes? Why doesn't he ever like to talk to people? Does he think he's better than everyone else, or something?

Now the thing with Seras is that, as I've said, he won't change himself to fit in. Not his words, not his actions, and certainly not his opinions. Other people see this reluctance to fit in and mistake it for inability. So they swagger up to him, sure of their power in the situation, and how low he is in the social food chain to give themselves confidence. Big mistake.

Seras is a paranoid individual, so whenever someone approaches him he automatically assumes they're there to mock the freaky guy. Though it would seem like he's a cool and apathetic character from an outsiders perspective, Seras' emotions are actually very volatile, and this assumption is more than enough to set them off.
[

❄

]

He's bitter, angry, and brutally honest... which leads to him getting beaten up. A lot, actually.


[

❄

]

On the social scene Seras is just a creepy loser. Any and all positive relationships with him would have to be forged through sheer determination, and won with reluctance and grudging admiration.


[

❄

]

He has an almost comic distaste for anything normal teenagers would like/ take part in.


[

❄

] Seras can be an excellent "actor"... as long as he and whomever he's acting with are in total costume. But note, to him he's not acting; he becomes whomever he's playing. So, for example, if he was dressed up as vampire, come too close and he might bite.
❄
Brief History
❄
Seras was eight years old when his family died.

His grandmother told him a gas leak had set their house on fire, that they had all died in their sleep even before the flames had taken them. If he hadn't been over at a friend's house when it had happened, he'd have died too.

But Seras knew differently. The leak had started late at night, which was the time he'd sneak into his twin little sisters' bedroom to tell stories and share secrets. Though they were two years younger than him, Seras adored talking to them and the three were closer than anyone. They would've been awake, smelled the gas, and had told Mom and Dad. They would've survived.

So he blamed himself, quietly, as he settled into a new life with his grandmother. She was a widow, and lived alone in her mansion, so she welcomed her grandson. Though he had to change schools, his grandmother was extremely wealthy and gave him whatever he wanted, which wasn't much. Seras hated his new school, hated everyone who went there.

He had lost the will to fit in. What was the point, impressing and getting along with people you didn't give a damn about? So he just did what he wanted, cosplaying more and more often until nobody could even remember him wearing normal clothing. He broke rules, got made fun of, and beat up.

Seras wanted a private tutor, but no matter how many times he asked, his grandmother would refuse. She knew that school was the only thing keeping Seras in the proximity of others his age.

---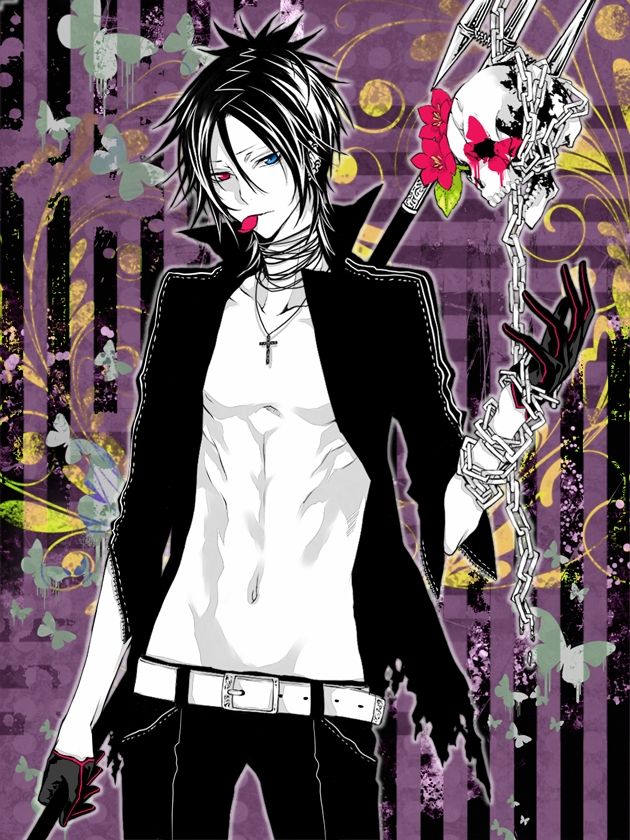 ---
---