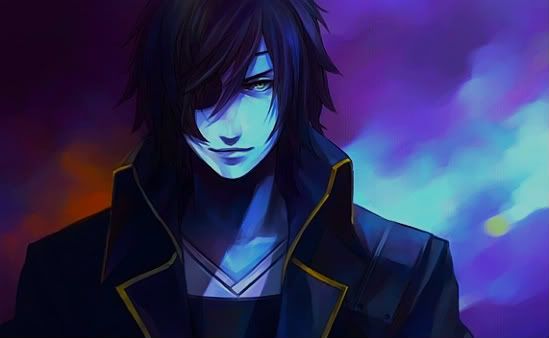 Full Name: Hudson C. Cabot Jr.
Age: 21
Race: Canadian Human
Appearance: Hudson has red hair and a green eye. He wears a black eye patch over the other one. Hudson is 5'11 and is pretty muscular. Although Hudson looks sort of scary, he isn't. He is kind of a "class clown" so he usually has a smile on his face. He usually wears a black and white tee shirt with a blue coat over it. He got it from serving in the military.
Alignment: Chaotic Good
Skills: Hudson is skilled at fighting and is very smart. Being a Canadian soldier, he is athletic and can think of awesome battle strategies.
Weaknesses: Hudson sucks at being patient. He gets bored VERY easily.
Personality: Hudson has a strange personality. His personality contradicts itself a lot. Hudson can be anything depending upon his mood. Hudson is pretty lazy when he wants to be, and unless his adrenalin is pumping, it's boring. Hudson is very passionate about what he does and longs for justice. That's why people were shocked when he quit the army. Hudson can be hilarious when he wants to. He's always very trustworthy and is a good person to have as an ally.
Bio: Edison was raised in Vancouver and had a loving mom (Cindy Cabot) and dad (Hudson Cabot Senior). He enlisted into the army at eighteen and was really dedicated to his work as a soldier. When he heard they were upgrading soldiers, he decided he needed to get out. He tried faking his death when a bomb exploded while overseas, but he wasn't as safe as he thought and his left eye was blinded when he got shrapnel stuck in it. He was taken back to Vancouver and recovered, but quit the army. When he was released, he found an eye patch in a thrift store and started wearing it. Soon, Bots tried to hunt him down. He went into hiding, realizing his actions would draw attention to his escape. He soon found out about The Resistance and joined. He swore to get the earth back if it was the last thing he would ever do.