---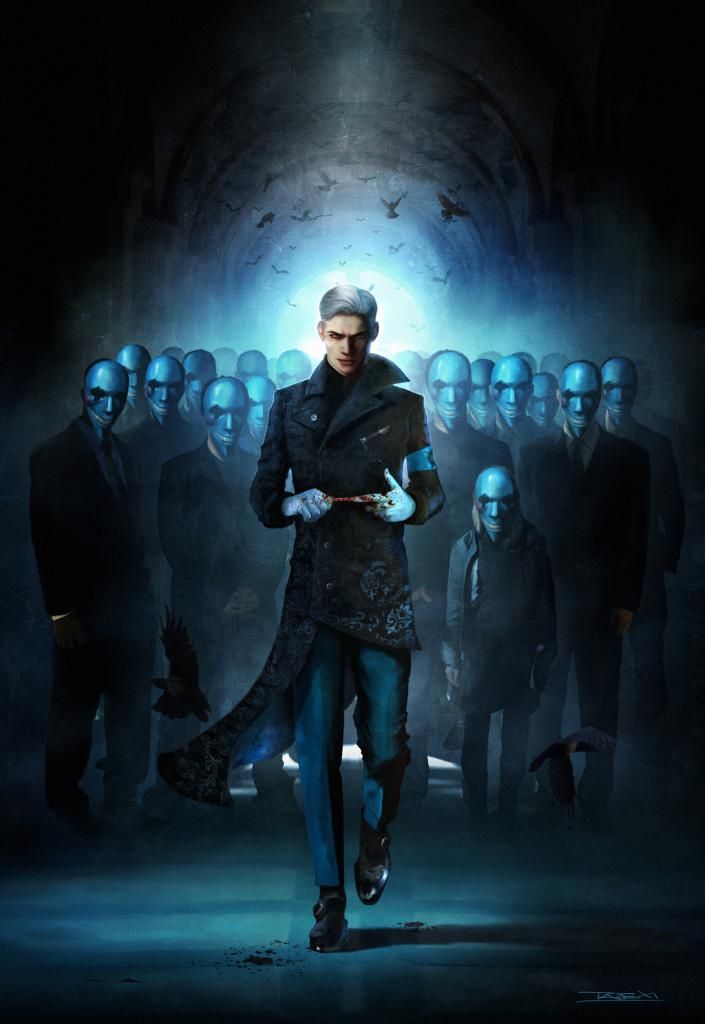 | Name |
Knight-Captain Alan Alexander Darkmare
| Nickname |
Cap'n, 'The Arm Of The Divine', Andraste's Butcher
| Gender |
Male
| Age |
28
| Sexuality |
Bisexual
| Race |
Human
| Status |
A youth spent in Tevinter as a slave has caused Alan to swear his allegiance to the Templar order. With his blade, and lyrium infused techniques such as 'Righteous Fire', he makes sure that not another life is ruined by the taint of magic.
| Eye Color |
An ice cold
blue.[/i]

[b]| Hair Color |
White
| Height |
6'1
| Weight |
200 lbs
| Skin Tone |
Alan's skin is extremely pale, a result of the amounts of lyrium he's forced to ingest in the order.
| Distinct Markings |
Alan has two tattoos, one of the Templar insignia on his right forearm, and the other of the Chantry's symbol on the left nape of his neck. Alan's back and shoulders are covered in deep scars from lashes during his time as a slave in Tevinter. The corner of his top lip is his only visible scar other than that, it's from a scuffle back when he was younger.
| Physical Description |
Alan Darkmare is of average height, and athletic framing. Through rigorous training within the Templars, Alan's body his hardened, and while his body is free of any large muscles, he is incredibly toned for one of his size. The captain prides himself on keeping up a good appearance, not a bit of hair is out of place, his armor is never without it's brilliant luster, as a result, he almost always looks 'put together', even when off duty.
Alan's armor is quite different from the average Templar, a luxury of being a Knight-Captain. From the get-go, one will note the extreme increase in lightness to Alan's armor set, a decision made to match his fighting style. Gone are the incredibly bulky breastplates of old. For starters, underneath it all is a layer of chainmail. This chainmail is covered by by a light set of black plate mail that only covers his chest. Over this, the Captain dons a long, loose fitting hooded black silk robe. The robe has golden trimmings, and is stained with blood near the heart.
Alan's lower body is near identical to the average Templar, the main exception being the 'skirt' that the knights wear. Rather than wrap around his entire lower body, the cloth only covers the right half of his legs. The red center cloth still hangs where it should. The knight wears a pair of black trousers, and silver Templar greaves that start at his calves. The Captain's
gauntlets are silver and clawed
.
Around his neck, Alan wears a long red scarf, the end of which is flipped over his shoulder. The sheathe for his blade hangs on back loop of his belt by a silver chain.
| Weapon(s) |
Andraste's Grace
. A powerful blade said to have been the blade of a Knight Commander during the Exalted Marches. Alan stole it from his master's home the night he escaped. The weapon is infused with powerful lyrium. It acts as a focus for his anti-magic abilities.
Alan's fighting style uses both the sheathe and blade. Blunt force of the heavy sheathe acts as a guard, and secondary striker, while the blade is used for swift, complex strikes. It's all very fluid and graceful
| Potential Interest |
Garhandor Lyrdius. By all means, he's a ghost. Records mention him a number of times as a notorious and powerful Blood Mage. His contacts have mentioned the Mage being spotted since the battle of Ostagar.
Kithic Desdemona. A runaway Mage recently awakened to her full powers. Desdemona ranaway from home a few years ago after turning her entire family to ice. An untrained Mage running about the countryside is a danger he won't allow.
Daylen Amell. He's a
very
good Mage. A talented one worthy of respect. For now, Daylen shows no signs of rebellion against the Circle, but that doesn't mean Alan will let him out of his sight.
Quest The Mad. No name fills him with more rage. The two have been playing a cat and mouse game for the past four years. The decadent runaway reminds him all too well of his former master from Tevinter.
| Family |
Father
: Curtis Darkmare | 48 | Deceased
Mother
: Leandra Darkmare | 47 | Unknown [somewhere in Tevinter]
Siblings
: Elena Darkmare | 18 | Unknown [somewhere in Tevinter]
| Personality |
Alan is a man driven by duty and ambition. His goal is to protect the innocent from what he calls the 'taint of magic'. It is a desire rooted deeply from origins of Tevinter slavery. The captain moves steadily towards realizing his goals, often without much thought as to whom he has to use to get there. Alan believes that the ends justify the means, and will gladly sacrifice any number of soldiers he has to get there. He is a visionary, and that is what draws people towards following him. Alan Darkmare has an obsessive personality, once something is in his mind, he will stop at nothing to seize it.
Alan appears very regal and noble. Cleanliness and order are a value of his. He actually coordinates the Templar marching drills each year. Despite his faults, Alan can be considered very honorable. He will never strike an unarmed foe, and never harms innocents. The captain is very calm and collected, those who have seen him in battle note that he never loses his cool. He treats most with the utmost respect and possess manners that would make any mother proud. As noble as he may appear, Alan has a strong lust of pleasure, a lust that can only be described as sadistic. Rumors run around the barracks now and then about him sleeping with new recruits, both male and female. His pleasures are not just aroused by typical means. Other things such as the spilling of blood, and intense combat greatly arouse Captain Darkmare. During his short time as a Chantry Seeker, Alan earned the title 'Andraste's Butcher' from the bloody mess he left behind after interrogations.
In an effort to further strengthen his resistance to magic, Alan has been taking increased amounts of lyrium. The supply comes as a kickback from an underground smuggling ring he just happened to 'overlook'. The excessive amounts of the 'drug' have caused an imbalance to occur in his brain. The drug has amplified the primal aspects of his personality and has caused him to fall victim to random fits of erratic, often aggressive behavior. Only more doses will cause the fits to subside. Long periods without the drug lead to withdraw.
Alan has an extreme distaste for Mages and magic in general. If he had it his way, it would be wiped clean from the world.
| History |
Alan Darkmare was the firstborn child of Curtis and Leandra, two wealthy nobles from the city of Kirkwall. There, the name 'Darkmare' was held with the highest esteem.
That is, until Alan's father lost the entire fortune of the family after throwing it all away gambling.
Alan, his father, and his then pregnant mother were forced into the slums of Lowtown, barely able to rub two silvers together. Alan's father had one final plan left to save his family, and that was to take one more gamble. The man Curtis had been gambling with, little did the man know, was a Tevinter Magister named Rorik. The conditions of the bet were enormous, yet simple. If Curtis won the game of cards, Rorik would pay him the entirety of the previous bet back in full. If Curtis lost however, the family's lives would belong to him.
Curtis couldn't lose, the Maker wouldn't allow it!
But woe, the Maker did, and Curtis lost the bet, and that same night the family was packed into a transport headed straight for Tevinter.
Upon arrival, Alan and family were split. As a woman, pregnant to boot, she would be suited for far different work than Curtis and Alan. That was the last Alan ever saw of his mother. Rumors said that she had a girl, but he's never been able to confirm for sure. Curtis and Alan remained together, staying with Rorik the Magister as guniea pigs for his practice of new spells. Rorik had them ingest lyrium, a tactic used by the Templars in order to build resistance to magic, so that they would not die.
Alan became a slave at the age of ten. For seven long years he endured being set aflame, certain body parts being frozen solid, and total loss of his body's control as a result of blood magic. His master made sure they were given just the right amount of lyrium so that they wouldn't die, but at the same time still feel the pain of his abilities. It wasn't until Alan turned twenty that his father told his son about his detailed plan of escape.
There was an underground railroad in Tevinter, a path through the nation that lead into Nevarra, all the way to Orlais. Curtis and Alan would escape into the night, freeing themselves from this nightmarish life. The would then return one day, as free men, to save his mother and sister.
That night they made their escape, and all seemed well at first, until Rorik revealed the phylacteries he held of each of his slaves. Curtis and Alan were caught in an instant.
In a last ditch effort, the father threw himself at his master, attempting to make a way for his son to escape into the world. The last thing Alan saw before the two were completely out of sight was Rorik, draining the life out of his father with blood magic.
The underground railroad saw Alan's escape into freedom. In Orlais he met a traveling Templar named Gregoir. Gregoir was the Knight-Commander of Ferelden, and when he heard of the young man's experience at the hand of Mages, and the hate that festered inside, he immediately took him under his wing.
Alan excelled in every category from knowledge based studies, to combat. His skill saw him inducted to the elite ranks of the Chantry Seekers at twenty-one. There, for three years Alan created a name for himself as 'Andraste's Butcher', carving bloody, lasting wounds in whomever he saw fit. Interrogations were his specialty, and normally, not a single one of his suspects left the room without at least one body part missing. His extreme measures saw him placed back into the Templars, where he now resides as Knight Captain in Ferelden as a powerful right hand of the Knight-Commander.
Father: [Age: Status: Personality; Personality is a five sentence minimum.]

Mother: [Age: Status: Personality; Personality is a five sentence minimum.]

Sibling(s): [Does your character have siblings?][If so, Age: Status: Personality; Personality is a five sentence minimum.]
+ Alan keeps a journal of his life. Starting from the first week of his life in slavery, he hasn't missed a single date yet. His journal is currently in it's fourth volume.
+ Alan's time in Tevinter numbed him to the 'Elvan Issue' he doesn't see them as any different from humans.
+ He loathes gambling, and won't allow it in his sight when it comes to his soldiers.
+ His favorite drink is Antivan white wine.
+ Alan's humor ranges from sarcastic to brilliantly tongue and cheek. He's got a silver tongue.
+ All the world's a stage, and the men and women all players. And Alan's the playwright. Orlesian plays are a love of his, he often recites his words in the form of poetic prose.
---