---
Name:
Kissa
Level:
7
Age:
38 (19 in human years and appearance)
Gender:
Female
Race/Tribe:
Duinehithe / Caith Duine
Class:
Knuckler
Job:
Artisan
Job Level:
1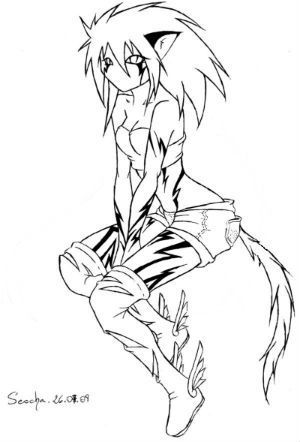 Level: 8
EXP: 96 / 1202
HP: 130
SP: 90
Weapon Grade: E, Physical
Armor Grade: E / E
P. ATK: 48
M. ATK: N/A
P. RES: 14
M. RES: 1
VIT: 13 (D)
ENG: 9 (E)
END: 8 + 6 (vest)- 12 (D)
STR: 15 (D)
DEX: 13 (D)
INT: 3 (E)
WIS: 2 (E)
AFF: 4 (E)
AGI: 12 + 4 (vest)- 18 (D)
LCK: 5 (E)

-3 Stat Points Unused-

Personality: Kissa is a very random and rambunctious person. For those who have played games with her before, she has been called sassy, spontaneous, and sometimes annoying. She often plays a thief character, but even when she doesn't, the character is portrayed as someone who loves treasure and shiny things. She is the type of character to go up to anyone around and strike up a conversation.
Despite being a new player, Kissa has a vast amount of knowledge about Daertalmos. When there is nothing else to talk about, she often rambles off facts about the game, as if she has been there before. In the forums, many thought the she was a compulsive lier because they could not find evidence of things she said she knew about the game.
Despite being a pretty friendly character, Kissa has trouble making friends in game. She takes on the role of her character and rarely acknowledges a world outside the one in a game.
(Still WIP....)
Description: Kissa is a slender female Caith Duine, though her hips and thighs are a bit larger due to her athletic nature. Her bright pink hair is fluffy due to its thickness, and usually worn down. Her hair is as wild as her spirit and often does whatever it wants. Her long bangs frame her slender face, but also, more often then not, fall into her face. The neko ears (located on the top of her head like a cats would be) are solid black, except for the fur on the inside which is a bright pink (like her hair) that fades into a light pink going in to the ears.
On various parts of her body, she has black tattoo like markings that look similar to tiger stripes or lighting bolts that stand out boldly against her creamy pale skin. A few inches below her tailbone protrudes a 4 feet long black tail. Upon close inspection, one would be able to see the occasional pink hairs among the black in her tail.
Due to wielding only knuckle weapons, she has very slender arms and shoulders. However, her strength can be found in her legs, skills, and speed. To keep her speed up, Kissa prefers non-restrictive clothes such at tank tops and shorts. The amour is normally cloth armour, though on certain missions she will wear light armour. Though many Caith Duines have paws, Kissa's bloodline is more human in appearance. She has human hands, but with long sharp claws. Her feet are also that of a humans, and usually covered in tight knee high boots that boost her agility. When out in the field, she has a belt with 2 bags attached for carrying items. One is for normal items, and the second is for crafting items.

History: (WIP)
Writing Sample: [If you want to know how I right, please look at the posts, other threads, or places tab.]
Please note, this profile is still under construction and probably will be forever.
---
---
~Bag 1~
Slot #| Item Name | Item Effects |
Slot 1 | Novice's Health Potion x5 | Restores the drinker to full health. Only usable under LV 8. |
Slot 2 | Novice's Mana Potion x4 | Restores the drinker to full SP. Only usable below LV 8.|
Slot 3 | Baile Crystal x3 | Returns the user to his or her set spawn-point. |
Slot 4 | Thick Fur Hide 3x | Artisan Material |
Slot 5 | Empty | N/A |
Slot 6 | Empty | N/A |
Slot 7 | Empty | N/A |
Slot 8 | Empty | N/A |
Coinpurse | 0 Gold Coins | 358 Silver Coins | 703 Copper Coins
~Equipment~
Area | Item Name | Item Effects |
Head | Empty | N/A |
Body | Old top | A cloth top that has been ripped, +1 AGI |
Hands | Empty | N/A |
Wrists | [Lv. 8.] Old Leather Vest |+ 6 END, +4 AGI|
Legs | Ripped Shorts | +1 AGI |
Feet | Ripped Knee High Boots | Tattered pair of boots, +1 AGI + Agility Rune [Adds + 3 Agility] |
Weapon 1 |Bronze Knuckles [Weapon Rank E] | Low grade knuckle weapon with spikes, + 2 ATT, + 1 Crit |
Side Weapon| Empty | N/A |
---
---
~Job Skills~
*Lv. 1. Thick Cotton Twine
| 12 Job Exp per stack
Ingredients:
|
Common Cotton Thread | 0/2 |
*Lv. 1. Thin Cotton Cloth
| 18 Job Exp per stack
Ingredients:
|
Thick Cotton Twine | 0/2 |
*Lv. 1. Common Fur Hide
| 14 Job Exp per stack
Ingredients:
|
Thin Fur Hide | 0/2 |