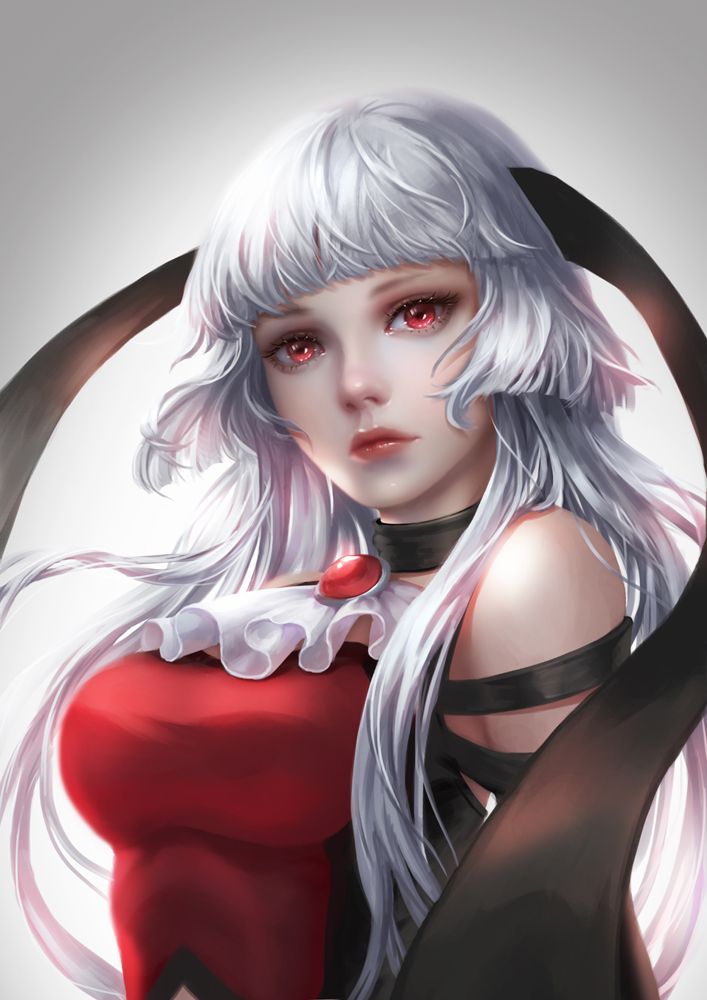 The Sins that Haunt Me
Reoccuring Nightmares
Save me from Myself
For you I'll be a Monster
Pain that Ails Me
Determind Soul
---
"
Friendship must be earned, just like respect and loyalty. But it must be earned genuinely, or it means nothing to me.
"
---
---
INTRODUCTION
---
"Why?"
[
B A S I C S
]
Username:
Mnemosyne
Meaning:
Goddess of memories (Remembrance)
Origin:
Greek mythology
Titles:
Prodigy: A title given to Mnemosyne for keeping the number one spot in battlegrounds and arenas throughout alpha, closed, and open beta testing. (Current)
Blood Soaked: A title in which Mnemosyne received for winning 500 duels.
War Master: A title received from being a part of many successful guild battles.
Assassin: A title given winning duels without sustaining any damage from the opponent.
Virtuoso: A special title she received through a pre launch contest, in which potential players were instructed to create a song, sing in a song, or write a song which would be featured on the games soundtrack. Mnemosyne was the first place winner for a song she not only composed, but also wrote and sang the main vocals of.
Age: 21
Addendum: Mnemosyne's avatar is as close to her normal appearance as it could be, and looking to be around the age of twenty, is accurate as well.
Gender:
Female.
Race:
MadraRua Duine
Addendum: Mnemosyne has nothing particularly interesting about her racial appearance, she does however have several earrings in her right ear.
Class:
Dualblades
Addendum: Mnemosyne had played mainly two classes in Daetalmos Online. Dualblades was her first class, mainly because she so strongly was drawn to it due to her fencing experience. The second class she had played after alpha, in close beta, was sorcerer. And while she was a great sorcerer, it was the most mindnumbing class she had ever played. In open beta, she had again made a sorcerer, but had instead built a battle mage, which combined the magical attacks of a sorcerer and the style of and close range sword or dagger attacks of a dualblades. She was a first to do this, and found it very enjoyable to begin with, however, it became less of a challenge, due to the overwhelming power magical attacks had, in general. And thus, she has went back to her roots, and made the dualblades she had begun with.
Job:
Blacksmith
Addendum: Blacksmith is what made the most sense to her, especially because she wanted to make weapons to herself that made the most sense, that she could make to fit her style, her way of fighting, and so that she could make some interesting weapons for her allies. She found this to be extremely profitable the last times around, and while not particularly choosing it for profit, it is helpful. For her second job, she still debates between chef and artisan.
Offensive/Defensive:
Offensive
Magical Affinity:
Racially high, but her class does not offer any high powered spells
---
---
PHYSICALITY
---
[
A P P E A R A N C E
]
Hair:
White
Eyes:
Bright red
Complexion:
Fair / very pale
Height:
5'6"
Build:
Slim and slender
Weight:
115
Body Markings:
Tattoos
[
A P P E A R A N C E
]
Mnemosyne stands around five feet six inches. She's rather pale, with bright red eyes, or arguably, orange at times. While she is very slim and slender, she looks to be fit and toned as well. Her hair, is a snow white color, that hangs all the way to her thighs. In the front, she has blunt bangs, with layered strands of shorter hair which hang down to her shoulders. Of course, due to her race, she has the typical fox ears and tail. While in color not so typical however, as they are as snow white as her hair. What is most eye catching, is probably her eyes, not just because they are a nearly demonic red, but because they are rather large - similar to a more innocent and wide eyed child. Her eyelashes, are quite long as well, and if one weren't put off but her eyes, they might think her quite beautiful. Her lips, nearly always look rather pouty, she has a large full lips, which you will rarely see in the form of a smile. Over almost her whole body, she has tattoos, all which are black in color, and can be seen under her rather skimpy armor. Whether confusing or not, she also appears as if she has wings, but instead, it is simply a part of her armor.
---
Moral Alignment

Chaotic Good/Neutral Good.
---
MENTALITY
---
[

P E R S O N A L I T Y

]
(The person)
Mnemosyne is a rather mysterious individual to most. She is a rather quiet individual when not engaged in conversation with friends, with a tendency to isolate herself from others. She seems rather cold and appears to lack any kind of empathy or consideration of other people. However, the truth is that Mnemosyne doesn't trust other easy, and thus keeps the world at a distance until people have gained her trust or earned her respect. Because people's real intentions are important to her, she's often observing others, taking a back seat to take in the actions of those around her. She has a habit of analyzing people and their habits, abilities, or weaknesses. That isn't to say however, that she thinks herself superior to most people, as she believes the worst thing you could ever do, is underestimate those around you. It leads to problems in the future. Should the situation call for it however, Mnemosyne can be really outspoken. Particularly when she is passionate about something, or knows that her opinion should be heard should she be knowledgeable of the topic at hand. It's in these moments that she turns into the spitfire that she really is. Quite bullheaded, once she starts, you can not get her to back down. She is a force to be reckoned with, as she is quite knowledgeable and very intelligent, as such something that gets under her skin is the ignorance of others.
What is sometimes a surprise to people, is that Mnemosyne is not the goody two shoes people think she is. She is quite rebellious, with a hatred for authority figures; the exception would be her teachers, which she has respect for due to her love of learning. Although she doesn't do it consciously, she has a history of always finding trouble, and always being there for trouble to find her. If there are rules to keep her away from something that may be dangerous, she'll find a reason to gravitate or just charge straight into said place, no fucks given. She does have a strong sense of morals however, and is rather pure of heart. Beneath the exterior of hers of the stone cold face which makes most people refer to her as mainly a serious individual, she is a very kind hearted a playful person. However, the only people that see that side of her, are close friends - which she doesn't seem to have much of. However, she is content with the few she has as she believes you only need one good friend.
Neither optimistic, nor pessimistic, Mnemosyne has more of a realistic outlook on life. She believes that people that are always optimistic are just kidding themselves, and living in a false reality, and pessimists are just a drag to be around. She will call everything exactly like it is and tell you her honest thoughts, regardless if it's appropriate for the situation at hand. Because of such, Mnemosyne is known to be a person that upsets a lot of people. She will never sugar coat her words, being blatantly honest to everyone she comes across at every given moment. While she doesn't intend to hurt anyone, it usually effects people's opinion of her. Mnemosyne's drive to succeed is nearly unrivaled by most people, as is her natural instinct to survive and adapt to what is going on around her. Because of the hardships she's been through in life, she's become very tough skinned and it's hard to get her down.
Mnemosyne can be rather bold when it comes to protecting the wellbeing of others. She would be the first person to jump in the middle of a fight, or voice her opinion in order to protect another. Regardless of the individual or individuals she was up against. She would sooner throw herself in front of another to save them, than sit back and watch them die before her eyes. She will however, completely disregard anyone she thinks is not worthy of being helped due to their personality or past actions. If the student that often bullied others was about to lose their life if she didn't save them, she would end up turning away, never turning back. She is a no-bullshit kind of a person, and there is no fooling her by spewing lies and nonsense. She will not stand for this kind of thing, and ones energy is better spent elsewhere.
Mnemosyne is not just an over achiever and a perfectionist, she is nearly obsessive about anything she sets her mind to. Often spending her time in fencing tournaments, chess tournaments, singing competitions, gaming and card game tournaments, she's obsessed with competition and anything that poses a challenge. Unfortunately, most of the time, nothing poses that much of a challenge. But in those rare occurrences, is when she is the most happy. Mnemosyne, is not only highly intelligent, and athletic, but artistically gifted. She is the whole package. If that were not enough, she has an eidetic memory, which aids her greatly.
(The avatar)
Mnemosyne the avatar...
is exactly the same as she is in person
. She's driven, always trying to be the first to complete everything, always striving to rank upon the best, to be the best, and better herself. She's notorious for taking on any challenge, even those that no one else dared go near, and to dance on the line of what is and isn't safe or even rational, soloing a lot of pre end game dungeons. She's extremely calculated, but also fights based on instinct and person real life experience. The ease of her movement, makes her look as if she has been in this world forever. Her confidence often makes her intimidating, and if that doesn't intimidate people, that eeriness she brings to the battlefield will. However, battles in the game bring her more joy than anything else, sometimes, you will even catch her grinning from ear to ear in the midst of battle.
[
F E A R S
]
☠ Failure
☠ Dying
☠ Silence
☠ Losing her sister
[
Q U I R K S
]
Has trouble sitting still for long periods of time (assuming she is not tired) and will try to occupy herself with something, anything.
Plays with her eyelashes before going to sleep
Smiles while fighting people or monsters; especially if it's a challenge
Can be overly protective or possessive of new people, who she's determined to be good individuals - one's that have won her trust and respect.
Will sometimes fight with one arm behind her back, when only with a single weapon
[
E T H I C | V A L U E S
]
Mnemosyne values her friends and family more than anything in the world. More than herself, more than her own well being. Furthermore, she values the lives of innocent living creatures. While she would risk her life for anyone or anything she cared about, she would also go so radical as to turn their worlds upsidown and take the lives of whoever was necessary to ensure her loved one's safety, or the safety of deserving other individuals. She values those that are honest, kind, loyal, and pure of heart. While she also strongly values those that are as determined as she, and that are also strong minded and hard working, these things mean nothing to her, if the first set of values don't exist within a person.
[
A G E N D A
]
Mnemosyne's agenda in mmos is usually the same. Experience the game to its fullest - or not really. It actually involves power leveling, ignoring most lore, and ranking up. This time around around, she's more interested in raids and world firsts, but is also determined to defend her pvp titles. She is also highly interested in obtaining the highest tier gear available as soon as possible. Her way of playing games, is usually a personal challenge to herself.
[
L I K E S
]
✔ Rainy days, the cold, snow, when it sprinkles, swimming
✔ Music, singing, violin, guitar, piano
✔ Reading, writing, poetry, writing lyrics
✔ Theme parks, roller coasters, fairs
✔ Technology, gaming, gadgets, building, hacking
✔ Animals, nature, scenery, wildlife
✔ Volunteering to help animals
✔ Interesting people, learning new things, the unknown
✔ Fencing, sword fighting, archery, fighting
✔ Fitness, training
✔ Competitions, contests, tournaments
✔ White, pastel colors, cool colors
✔ Movies, documentaries, fantasy, action
✔ Video games, computer games, online forums
✔ Stuffed animals, soft textures, body pillows

✔ Battlegrounds, guild wars, arenas, duels
✔ Blacksmithing, bending the rules of weapon creation
✔ End game content, competing for world firsts
✔ Treasure hunting, collecting


[
D I S L I K E S
]
✘ Authority figures, self proclaimed anything
✘ Dishonesty, ignorance, rudeness, closed mindedness, show-offs, try-hards, self absorbed people
✘ Being useless, having nothing to do
✘ Bullies, people who take advantage of others
✘ Cowardice
✘ Overly flirtatious people
✘ Pampered individuals, spoiled brats
✘ Parties
✘ Those that abuse their authority

✘ People that roleplay in game
✘ People that pretend to be anything other than themselves
✘ The stereotypical classes and jobs
✘ The party system
✘ Carrying other people's weight

[

S T R E N G T H S

]


▲ Highly intelligent
▲ Knowledgeable
▲ Strong willed
▲ Adaptable
▲ Resourceful
▲ Quick Witted
▲ Level headed
▲ Observant
▲ Fast reflexes
▲ Agile


[

W E A K N E S S E S

]


▼ Rebellious
▼ Blunt
▼ Unable to work in most group situations
▼ Has trust issues
▼ Has trouble with authority
▼ Has a bit of an eerie presence on the battlefield, allies tend to shy away from her
▼ Has a bit of a dark side, will relentlessly fight to the death when not necessary
▼ Suffers from night terrors
▼ Has a soft spot for her sister



---
---
RATING SYSTEM
✧Level - 15
✧Vitality - 10
✦Energy - 10
✧Strength - 20
✦Endurance - 9
✧Agility - 20
✦Intelligence - 7
✧Wisdom - 0
✦Dexterity - 20
✧Affinity - 9
✦Luck - 1

---
---
PROWESS
---
[
N A T U R A L | T A L E N T
]
Problem Solving: Mnemosyne has always been one of those people that was good at solving any problem thrown her way, regardless of the type of problem it was, she was good at finding the answer.
Strategy: Well strategic planning is Mnemosyne's forte, something she was gifted with and has ceased to fail her, she often times will opt out of this, purely to think on the fly, which she finds much more exciting and rewarding.
Adaptation: The ability to think and respond to what is happening around her, whether a disastrous scenario or not, has been something Mnemosyne cherished about herself. She was great at thinking on her feet, and using whatever was around her, to get out of a tight spot, or purely just her mind to think her through it.
[
C L A S S | S K I L L S
]
Deadly Strategy (Racial Passive): Increases the chance for critical attacks by 20%, when attacking weakened parts of the enemy. This skill also builds up the chance to land a critical attack by 5% when attacking pressure points of the enemy in succession. This means, it can possibly increase the chance for critical attacks on the enemy by 25% when attacking weakened areas, as well as/or a general 5% if pressure points have been hit.
Fade In (Class Active) : Allows the user to teleport short distances, after teleporting gains a ten second boost in agility (most often used for repositioning). This skill may also be used on an enemy, to switch locations with them, when doing this however, no agility boost is given.
Murderous Intent (Active buff: Special): Murderous Intent is a buff that she obtained by winning a pvp tournament. But it was something that came with conditions, as she must stay in the top rankings to keep this buff. Murderous intent is the buff that boosts the players Strength, Agility, Dexterity, and intelligence by 10 for a duration of 15 seconds. One was only able to use this skill once every 15 minutes.
[
W E A K N E S S E S
]
Defense: Mnemosyne's race and class have low defense, and furthermore, she wears cloth armor, which doesn't really aid in her defense in any way. Thus, she is fully reliant on her speed, reflexes, natural intelligence, and fighting prowess to survive.
Teamwork: Teamwork is not exactly Mnemosyne's strong suit. This is mainly because she does not trust people, and has learned she can not always rely on people. Furthermore, you can't make a person be competent at whatever you are asking them to do. Thus, she has a really hard time in group and team environments, and is quite hard to order or direct unless given a good amount of free will to do as she sees fit.
---
---
ARMAMENT
---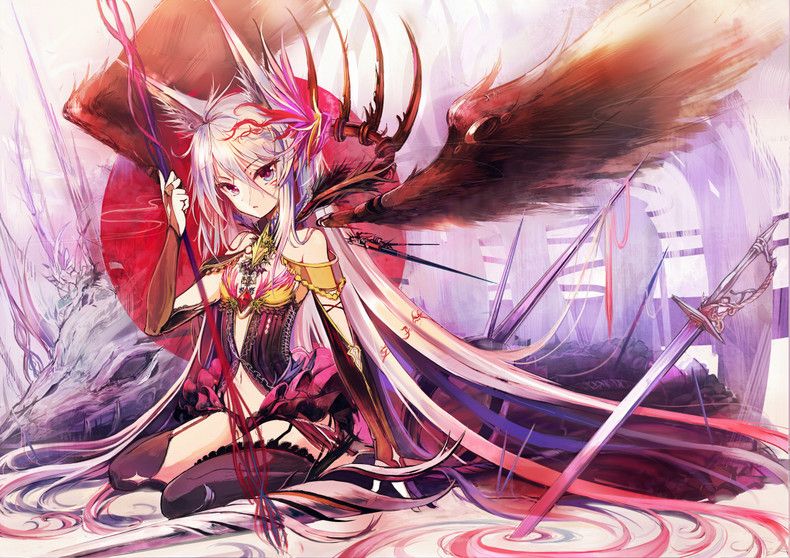 [
A R M O R
]
Mnemosyne's armor, like her weapon, is one of a kind. Participating and winning one of the games armor design contests, she was able to create her own light armor which had the ability to grow with her as she leveled. Furthermore, it had the appearance of a much higher level armor. While this armor would later be obtainable to others later, she was able to use it now. The most unique part of this armor was the wings, which though not functional, were both retractable and detachable. This armor would come to be named the Blood Empress set. With this set, she was given runes to place in it.
[
I T E M S
]
[
P R I M A R Y | W E A P O N
]
Weapon Name:
Pain and agony
Weapon Type:
Daggers
Length:
Long (for daggers)
Weight:
Light
Origin:
Mnemosyne's weapons are one of a kind, obtained from being the winner of a pvp tournament. These weapons were special in the sense that they would grow with their owner (however, not passed the power of any end game item). As well as, had an appearance of a higher level item, though unique in itself. Her name, is engraved on the daggers, in a blood red color. These weapons cannot be wielded by another player, sold, or dismantled, as it is only usable by its owner.
[
O T H E R | W E A P O N S
]
Weapon Type:
Length:
Weight:
Origin:
---
---
BACKGROUND
---
[
R E L A T I O N S H I P S T A T U S
]
Single
[
F A M I L Y | T I E S
]
ThoughtsThoughts.
ThoughtsThoughts.
ThoughtsThoughts.
[
O P I N I O N S
]
[
R E L A T I O N S
]
ThoughtsThoughts.
ThoughtsThoughts.
| C h a r a c t e r N a m e | [ ## ]
ThoughtsThoughts.
[
B I O | H I S T O R Y
]
Mnemosyne is probably one of few people, whose history is known to those of the cyber world. Or at least, some of it is. In the least, most people recognize her, if they are familiar with gaming tournaments, or the games she plays - as she always looks the same, and plays as herself. Mnemosyne grew up rather privledged, she grew up in a household with a mother and father who had her life set and squared away before she was even born. However, as such, they were barely there. Both her mother and father spent most of their time working and traveling, and only seldom checked on their daughter, who almost was left to raise herself. She did however, have butlers and nannies, but she only let them do the minimal, and they mostly became her baby sitters - they didn't actually have to do much of anything. This was because when she reached eight years old, she started dismissing them from work, although she continued to pay them. She became very self sufficient, learning to cook, making her own dinners, teaching herself. However, eventually, she would have a tutor forced upon her, as well as an at home teacher. It was at that age that it became very clear how intelligent she was, and she would be forced to attend a special school in which she would benefit from.
While she was at her new school, she learned that her mother and father were having another child, which she felt indifferent about, but also felt was a bad decision on their part. Years later, she would be proved right. Mnemosyne become the second mother to her younger sister, who was handicapped at a young age due to a car accident, and didn't have the ability to walk anymore. Furthermore, she was on medication for depression, that often kept her really weak and tired. History would repeat itself, and her parents would be out of her life and her sister's life again. It was around then that she started to join tournaments, simply for the fact of nothing in school had proved challenging, and she had gotten particularly bored. At first it was just card games, eventually online gaming competitions, later fencing, unfortunately gymnastics for three years, and finally chess. She would drag her sister to every one of these competitions, which she thoroughly seemed to enjoy, but noticed the look in her eyes as she yearned to do something similar. Eventually being sponsored, Mnemosyne was given the idea to invite her sister in given she could get her to a level that she would be able to help her current team. Although originally opposed to it, she fond her sister's niche was first person shooters, and didn't really need to teach her much of anything.
Her life of so called privilege and endless freedom would be short lived, when her parents threatened to throw her sister into a home after it was discovered that she was schizophrenic after an incident at home. When finding this out, Mnemosyne ended up in a long altercation with her parents, which was the first time she had ever laid a hand to either of them. However, her feelings were not acknowledged, and the fateful day came where her sister was to be taken away for good. Much speculation still goes around about this day. The story that many people are told is that the youngest daughter who suffered from schizophrenia, ended up pulling a gun on her parents, uttering words of nothingness before taking their lives. The other, is that the oldest sister forced the youngest sister, to kill the parents that she detested, and used her as a scapegoat due to her obvious illnesses. What was ultimately decided by the judge, was that the youngest daughter was guilty, but acting under pretenses in which she was unable to control, and was declared as mentally insane. Because of this, she was not actually thrown into jail, but it was decided upon she should go to a high security home to take care of her special needs.
However, the truth was much different than any of the speculation. The reality, was that Mnemosyne was the one who took her father's life, and her sister, in attempts to save Mnemosyne from getting caught, took the gun from Mnemosyne, and shot her mother (an act she later regretted and still cannot forget) in front of the man that was to take her away. In court, many things were thrown around, that it was the oldest daughter who shot them both, and the youngest tried to cover it up, that it was the youngest that did it, and the oldest daughter was confessing to both murders simply to cover it up. But to the court, all they heard was a daughter with schizophrenia, that was about to be taken away, put a gun to her parents - and that is what stuck. It was then Mnemosyne's hatred for authority figures began to grow. She was separated from her sister, and was to be thrown into a foster home until she was eighteen. Deciding that they had not done the right thing, and knowing that her sister was not schizophrenic, but having side effects from the medicine she had been on for depression, she was determined to save her.
She knew that her sister would not survive in this home, and she would end up more alone than she ever had been. She had always been particularly close to her sister, but she knew her sister still felt alone and the need to be like everyone else sometimes. The day that she was thrown into a foster home, was also her last day there. Mnemosyne would then end up masterminding the kidnapping of her own sister, and the two would soon go into hiding for several years. Mnemosyne ended up using her competition money to get her and her sister a place to stay. Rather, she and her sister became the roommate of someone that was in dire need of money. Mnemosyne became the guardian of her younger sister, and graduated school early, attending college and graduating early as well. But instead of living what could have been a normal or lavish life based on the opportunities she had given the scholarships offered, she decided not to have a normal job at all. Instead, she continued to live off her competition money, and started singing in contests as well. Even though she was often told she was wasting her potential, she felt she needed to be able to be at her sister's side whenever necessary. Furthermore, she wanted to do what she considered to be enjoyable, she did after all, live for a challenge and new experiences.
People often wonder why it seems she's untouchable by the authorities now, and though no one else knows her sister is with her, there is another story behind this. One which she hasn't told anyone but her sister.
--
Mnemosyne's reputation within the world of Daertalmos Online was both good and bad. She started off, as she always does. She ignored all of the games story and lore, as often as possible, power leveling herself, and jumping into the end game content as soon as possible. Mnemosyne, in many was, had a natural talent to use her class to the best of it's abilities. Mainly, because she had fenced in real life, she was comfortable with using her weapon, and knew how to move around with it properly, and most effectively. The world itself to her, was quite beautiful, and she loved every moment she spent in the game. But it was, alas, a game, so she never let herself get too attached to it. While she rose to the top in guild battles, duels, and battlegrounds, she was often given the cold shoulder in dungeons. Mainly because of her lack of prior dungeon history, her personality, and inability to follow orders. Because of this, she ended up becoming a solo player, brute forcing her way through dungeons on her own, or forming parties with random individuals that no one else would take, and coming up with a strategy that was almost outrageous even to her, just to make up for their obvious weaknesses.
During the betas, she probably had more game time then most people did. What was strange was her detachment from the magical world around her, as opposed to the others, who were fully immersed in the world and the lore, and even their characters. This was something that she could not stand, and she often stayed as far away similar individuals as possible. She became notoriously known as the champion of many pvp tournaments, as one of the top duelists, as the brains behind many successful large guild battles, and a very reputable blacksmith. Furthermore she would be quoted by some as untouchable on the battlefield, and it baffled some individuals how she was able to make it through dungeons with pugs that were undergeared and lacked skill, let alone how she solod some dungeons. There were a few who also knew her as a treasure hunter, something she did on her down time, for fun. Often times she would hunt for things that she could not even use, but simply wanted to collect or on rare occasions sell. Although that was all fine and dandy, Mnemosyne was someone that most people did not like, and almost no one understood. Many rumors were spread about her, ones that involved her past in real life, ones that questioned why she didn't have any friends, ones that painted her out as a monster, ones that called her a hacker, and others that claimed she had no skill whatsoever - simply built her way up by bloodlust. Mnemosyne was one of those people that everyone knew due to her history with competitions, and the recurrent use of an avatar that looks just like herself. And thus, any rumor ever said followed her everywhere.
Before the game started up, Mnemosyne spent a lot of time browsing forums, reading up on all the game had to offer, its features - even it's lore. That was probably the only time she bothered with some of the lore. She made all of her plans before coming into the world, set her goals, looked for possible guilds she could join, and even doubled her practice with fencing to try some new techniques which would be usable in the game. She also spent a lot of time getting into shape, and working on her footwork and positioning, and trying to brush herself up on gymnastics. Everyone always thought this was useless and this was crazy, however, she strongly believed knowing how to move outside of the game, prompted your mind to think to do something quicker if you already knew how to achieve it - and this proved to be true. She was never one to post in the forums, but she did track certain guilds and groups of people, and constantly kept herself up to date about the game. She was one of those people that preordered as soon as it was possible to do so, which had perks like earlier access to the betas.
Favorite mmo - Tera
Favorite game - Zelda (good ol nintendo zelda)