-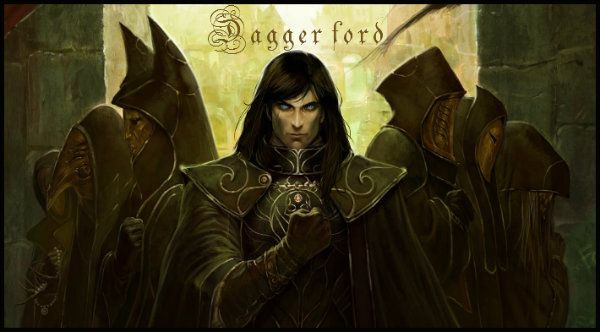 Daggerford – it was a cesspool of corruption; a city teeming with every imaginable debauch.
Though the air was potent with the flavours of the sea, a pungent odor of penury and ill-maintained runoff
constantly plagued the streets. The people festered in the city's veins -arteries devoid of opulence and merit.
There were few places in the City of Thieves that didn't warrant recoil. The bazaar often hailed trinkets of
grandeur, exotic fruits, beguiling weaponry, luster gems…and cheating peddlers. The majority of items pawned
and sold were tokens of fabricated myth. Yet still, in the cluster of lies and deceit, one could often find palpable
satins and silks, spices and perfumes, and passion fruit and poultry –but at insidious prices. What was the
source of such malfeasance? Why, the guilds of course. Daggerford was bereft of government and rule; simply
put, it was borderline anarchy. Order – as diminutive as it was – was maintained out of fear. The city was
controlled by elite guilds comprised thieves, assassins, bounty hunters, pirates, and flesh peddlers. These
leagues dominated whatever manner of wealth that came into port, but also, did the biddings of other cities
and powerful enterprises across the realms. The guild hierarchy was in constant turmoil and in a state of
perpetual war. Lesser leagues scrapped amongst themselves, whilst the top guilds battled over dominancy,
And at the top of the ladder – undefeated – was The Achaz. The guild's pasha, Rakkath, and his prized
assassins were reputed to be the best in the realm…and the most feared. Their rival guild -Sethur's Hand –
was infamous for their thieves. Both the Sethur and Achaz had been caught in guild war for near a decade, with
no end in sight. Every night blood stained the streets and every morning new corpses adorned the alley ways.
It was home; a filthy, sweltering, bustling home.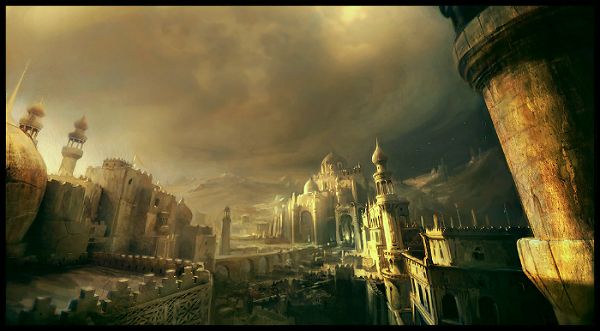 ῼ___________________________________________________________________________________________________________ῼ


S E T T I N G





The city of Daggerford is rather colossal in size. It is divided into five wards and three main districts. The city
itself is nestled on the border of the Uri Desert, where the rough sands turn into soft beaches. To the north,
Daggerford overlooks the two bays of Sarepta and Baara. These bays hold two massive ports which are
constantly bustling with traffic. Because Daggerford is a free port, the vast majority of ships coming through
are pirate vessels.

There are six main gates that go into the city: The South Gate, North Gate, West Gate, Northeast Gate, Northwest
Gate, and Southeast Gate. However, it is common knowledge that there are hundreds of small portals that lead
in and out of the city, including the sewer passages. There are two bazaars on the north and south side of the
city, making up Daggerford's main arteries. These two massive roadways lead into the heart of the city where the
Tavern and Trade districts are located. The most popular and renown establishment is The Filcher Tavern & Inn.
Within the Trade district, one can find blacksmiths, farriers, and other various tradesmen – but quality isn't
always guaranteed.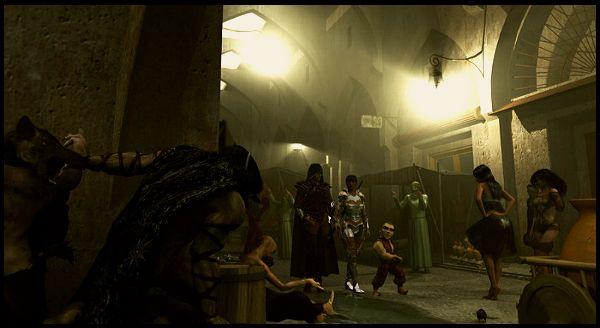 The city itself is bordered by a sturdy stone wall that stretches up to 60ft, and all five wards are also sectioned
off by smaller divides that go up to 30ft. In a way, Daggerford is made up of five cities each with their own
renown and purpose. The Grey Ward is essentially the residential district – and the slums. Because it is so
poorly maintained and riddled beggars, it is called the Grey Ward for its lackluster and gloomy presence.
There are few homes within the Grey Ward that are above the status of 'shack.' Sickness and disease run
rampart there, more so than the rest of the city.The Graveyard district is also located in the slums. The Ruby
Ward is Daggerford's Red Light District. It differs little from the Grey Ward, but there are a few establishments
and whorehouses that don't warrant a cringe. The Carmine Maid is the most luxurious and expensive brothel
in Daggerford. It is frequented by those of substantial means or those with a fair reputation.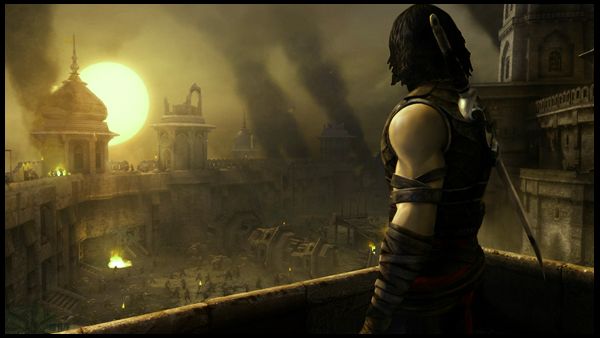 The Western Guild Ward is perhaps the most dangerous place in Daggerford. Its streets are rarely void of
bodies. It is here that The Achaz operate and run their affiliated guilds. This ward is composed of a tight network
of alleyways and bordered off buildings – not a soul wanders them without extreme caution. The Southern
Guild Ward differs little from it's counter-part, and it is the home district to Sethur's hand, the Achaz's rival.
The Palace Ward is the only dominion within the city that is -somewhat- maintained and free of entropy.
Formerly it showcased palaces and homes of grandeur, but after the former aristocrats were run out, it was
taken over by rich pashas, merchants, and other indivduals whom aquired their wealth through less humble
means. Keeps within the ward are often targeted by thieves for their wealth, therefore the majority the of
compounds are well guarded and employ forces from the guilds.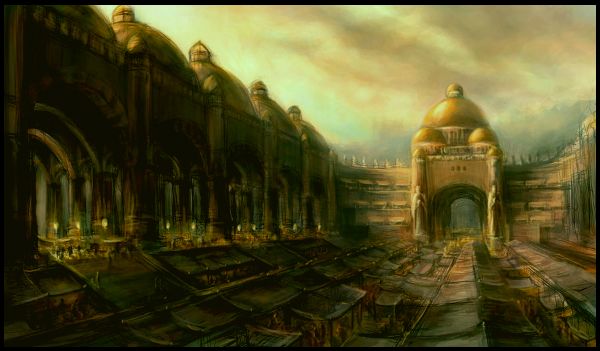 The bazaar's in Daggerford are undoubtedly the most busiest areas in the metropolis. Hundreds of vendors
constantly sell there wares from dawn until dusk. Most merchants are employed by guild or pirate lords to sell
and trade their goods. Independent merchants often hail from other cities, and they generally offer rare
oddities. Though the markets are considered the safest areas in Daggerford, it is no circus. Most merchants
have formidable allies and employers and use deadly force when provoked. Stealing is frequent, as well as
the loss of hands.

S T O R Y


Daggerford is located in the very far corners of Pathros, a fictional realm that has been void of magic for
nearly one-thousand years. It is divided into eight kingdoms, forty provinces, and twenty-four major cities.
Of these eight kingdoms, two belong to the elven empire of Eskandor, and one to the dwarven kingdom of
Norgal. These eight kingdoms have been at war for supremacy since The Crumble; a time of great upheaval,
when magic left the realm and rendered it weak. Diplomats and nobles from other kingdoms use Daggerford
as leverage against their foes by employing the guilds to do their dirty work. Because of this, the City of Thieves
is in a state of perennial war. The guilds are constantly competing for high favour of the foreign aristocrats.
As such, the guilds ally themselves with other factions and strive to employ the best thieves, merchants, pirates
and assassins to gain foot-hold in the city hierarchy.

Our story will begin on the brink of a total guild war. The Achaz and Sethur's Hand have started to affiliate
themselves with every faction they can get their hands on; the pirate lords, the merchant orders, alchemists,
etc. Your character will be another soul caught in this conflict, whether they be a trader, a pirate, a pasha - or
even a whore. Who's side will you play on?



C L A S S E S


Rogue: A rogue is a versatile character, capable of sneaky combat and nimble tricks. The rogue is stealthy and
dexterous, and often charming as well. Where other characters have the power to defeat enemies, the rogue
has the wit to track them down and lead the team past traps and barriers on the way to that fight. Rogues have
a reputation for thievery and the adept in the field. Typically, rogues are imagined as selfish burglars whose sole
motive is profit. In Daggerford, they are usually individual agents who do not pledged fealty to the guilds, but
rather work under temporary contracts with them.

Assassin: Assassins are deadly and unscrupulous killers and spies. The are hired killers that generally work
underneath guilds, or an individuals of power. Assassins are known for their stealth, silence, and prowess with
blades. They are good fighters, but they focus more on dealing stealthy blows that kill their opponent instantly
or incapacitate then. Because of this, they often use poisons and creative methods to achieve their kills. Out
of all the classes that dwell in shadows, the assassin is the most adept in remaining unseen and is exceptional
at avoiding physical blows. They are also fond of using traps, therefore their relationships with alchemists is
prudent.

Duelist: Duelists focus on quick, nimble feet and a good eye at striking with a light, one handed weapons. Often
referred to as "swashbucklers", duelists use their speed and coordination in a deadly blend with their intelligence
to become capable fighters who prefer to avoid getting hit instead of drawing upon their resilience to take the
blows and keep on standing. They are usually the fighters of the guilds and are known for exceptional prowess
in battle. Guild pashas use them as brawn and attack dogs when stealth and all else fails. Very few classes can
match the combative aptitude of a duelist.

Alchemist: An alchemist is a craft profession. At the most basic, anyone who mixes substances together in a liquid
form to create a wanted effect. Alchemy takes a fair amount of intelligence from the creator, as well as time and
materials. It can also cost a lot, therefore only guilds of great wealth and prestige can usually afford to employ
them. An alchemist can craft mundane substances, such as acid, fire, freezing agents, etc. However, they are also
adept in creating deadly poisons from assassins and rogues. They also create traps that are often laced with toxins,
explosives, etc, that give devastating results. They are also good herbalists & apothecaries and often create
potions with healing properties or create liquids that increase physical attributes. In the latest centuray, alchemists
have started branching out into sub-professions that deal with gadgets and new sciences.

Bard: Bards are a versatile class. They are often good in theft & stealth and are usually enchanting characters.
They are charismatic and exceptional with words, often using diplomacy rather than force to achieve their goals.
Bards often act as scribes, entertainers & heralds for higher guild members and pashas. They perform more
menial tasks and are often loyal only to one faction. They often use small meele or ranged weapons and try
to avoid being caught up in conflicts.

Tradesmen: To be added.

Aristocrats: To be added.


A T T EN T I O N


This roleplay has been moved to it's own private forum. Please join us there!

http://www.daggerford.forumotion.com



R U L E S


1. I am god here, what I say goes, and I request that me and my associates
are granted respect - do so and you shall receive the same.

2. All characters must first be approved and given a specific purpose to the
story-line (e.x. I don't want people joining without some form of plan.)

3. Many things fall under this category: Use common sense. Don't god-mod,
don't harass others, etc. You will receive only one warning if you slight
me.
4. All characters must fit the setting and I ask that you write tailored to the
setting (no characters from different realms, no modernized weapons,
etc.) This is a medieval realm...if you don't know what that means, don't
waste our time.
5. At the moment there is no magic allowed - none. It use to exist but no
longer does in the realm. The only races permitted are elves, halfings,
dwarves and humans.
6. This is a kill-zone. By that I mean your character can be killed at any
time if you are not cautious or your character is being an idiot.
7. This role-play will have mature themes, violence, and mature content. All
players must be +18.

8. You are permitted to play multiple characters so long as they are approved.

9. This role-play will be restricted to literate & descriptive players. I am
especially looking for veterans.

10. This role-play will be heavily based on realism, and I request that all
players keep this in mind while playing. Also, please keep OOC and IC
separate and avoid taking story events personally. Also, all IC knowledge
about a character can -not - be used as knowledge to your character while
in play (e.x. history) unless it is agreed open by the other party.

10. Have fun. -Grin.-
Arcs are bundles of posts that you can organize on your own. They're useful for telling a story that might span long periods of time or space.
There are no arcs in this roleplay.
There are no quests in this roleplay.
Here's the current leaderboard.
There are no groups in this roleplay!
Welcome home, Promethean. Here, you can manage your universe.
Arcs are bundles of posts from any location, allowing you to easily capture sub-plots which might be spread out across multiple locations.
You can create Quests with various rewards, encouraging your players to engage with specific plot lines.
Settings are the backdrop for the characters in your universe, giving meaning and context to their existence. By creating a number of well-written locations, you can organize your universe into areas and regions.
Navigation
While not required, locations can be organized onto a map. More information soon!
There are no groups in this roleplay!
By creating Collectibles, you can reward your players with unique items that accentuate their character sheets.
Once an Item has been created, it can be spawned in the IC using /spawn Item Name (case-sensitive, as usual) — this can be followed with /take Item Name to retrieve the item into the current character's inventory.
Give your Universe life by adding a Mob, which are auto-replenishing NPCs your players can interact with. Useful for some quick hack-and-slash fun!
Mobs can be automated spawns, like rats and bats, or full-on NPCs complete with conversation menus. Use them to enhance your player experience!
Current Mobs
No mobs have been created yet.
Locations where Mobs and Items might appear.
You can schedule events for your players to create notifications and schedule times for everyone to plan around.
Add and remove other people from your Universe.
The Forge
Use your INK to craft new artifacts in Daggerford. Once created, Items cannot be changed, but they can be bought and sold in the marketplace.
Notable Items
No items have been created yet!
The Market
Buy, sell, and even craft your own items in this universe.
Market Data

Market conditions are unknown. Use caution when trading.

Quick Buy (Items Most Recently Listed for Sale)
Discussions
Topics

Replies
Views

Last post
Most recent OOC posts in Daggerford
There have been no posts in the OOC topic for this roleplay!