Username
: lilverde
Character's name
: Arnita Purloin
Age
: 17
Gender
: female
Looks
: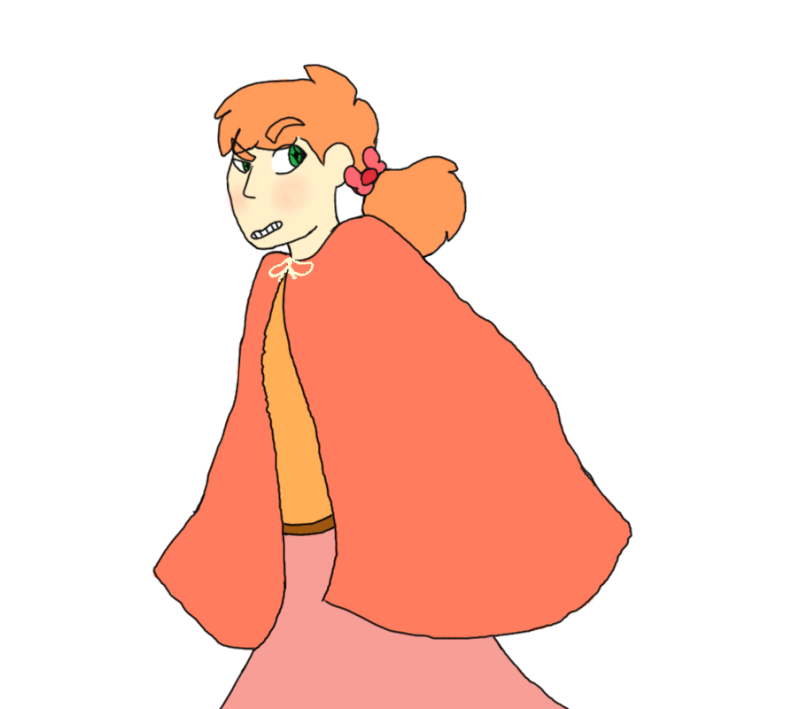 Despite her age, Arnita is only 5"4, giving her a younger appearance. Of course, like any good criminal, she uses this to her advantage. She has a head full of orange hair tied into a ball with a hair tie that has a bow of its left side. She has grass green eyes, freckles, and a light pink blush, which just adds to her childish appearance. Playing off her kid like look, she wears a cloak that stretches down past her waist that is tied at the top with a bow shaped string. It covers her top body, hiding her arms and makes it hard to spot a bag tied around her hips. This cloak has a color that's a mix of pink of red and gives her Little Red Riding Hood look. Underneath the mysterious cloak she wears a long sleeved shirt with an orange color. Although she hates skirts, she wears a light pink one in order to complete her innocent look, much to her dismay. However, she ensured that the skirt reaches down to her feet and under it she has yellow leggings. On her feet are light blue sneakers.
Talent
: Super High School Level Thief
Personality
: Although she may look like an innocent little kid, Arnita Purloin is quite the opposite. Her cunning and deceit have benefited her in ways that can definitely be harmful towards others. Using her misleading appearance and swift feet, she has become the most successful thief around. So great at it in fact, even when people know she was the one who stole from them, she is never caught. However despite her title, Arnita actually only steals what she needs to steal, and is kind of picky on who she takes things from. She'd sooner 'borrow' food from someone who has a surplus than from someone who desperately needs it. Unlike most thieves, money is pretty much never her target. In actuality, the only times she takes money is to give it to other people who need it more than her. Even though she's a criminal, Arnita is kindhearted towards others and puts more value on their life than hers. That is why she gives most of the stuff she takes to others less fortunate and even accepted the invitation to Hope's Peak Academy in the first place. Since she stays hidden most of the time, social interaction is a skill she lacks. That being said however, Arnita does enjoy speaking with others she likes. Ever since she accepted the invitation to Hope's Peak however, she vowed not to steal so long as she attended the school, mostly because it'd make it easier for her to be caught. So despite her distrustful title and history, she is a good person once you get to know her better. Her worst fear is being caught by the police and being sentenced to death.
Relations
: None at the moment