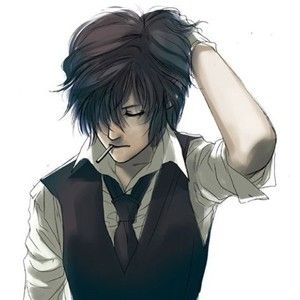 Username
: C17H21NO4
Character's name
: Jonathan Ripper
Age
: 17
Gender
:Male
Looks
: Thick, wavy, messy, brunette hair, with bangs that fluff to the right side. Long black eyelashes that show off his green eyes. A short narrow nose, and thin lips. Very slim and serious features, as for his body type. He dresses professional as to match his personality, except for the cigarette that dangles from his lips.
Talent
: Surgeon.
Personality
: Jonathan is a serious young man, nothing is a joke and nothing should be taken lightly. Words seem to be over used, as well as tears, being thought this he rarely talks or shows weak emotions. He is often cold, collect, as a surgeon should be. His biggest fear is failure of himself. Wither people believe he failed is nothing but wrong judgment in his eyes, but for himself to fail is the greatest fail he could have.
Relations
:None at the moment.