Pictured above, the death of Superman (Earth-21) at the hands of Hyper-GalactusThe setup:
Dark Matter Hulk, Dark Superman, Dark Venom, and the other super-powered heros had been abducted by Onslaught and imprisoned within the Realm of Nothingness, their memories erased. Earth-619 is without their protection, the human superheros (Batman etc.) are the planets only defense against the forces of evil which constantly assail the world.
Brief outline of the antagonists:
Galactus was one of the original inhabitants of the Taa universe, which existed before the Big Bang. A mysterious cataclysm had killed all other life in his universe, Galactus leaves the Taa universe (via a space vessel) which is collapsing into a sphere of disorganized, compact primordial matter, Galactus becoming engulfed in the Big Crunch. Galactus does not die, but is instead re-formed from the cosmic fires of the "Big Bang". There he gestates for billions of years in the next universe that is formed.
An unknown alien being from an alternate future (of the newly created universe) used his great power to take over the post-apocalyptic world he lived in, calling himself Hyperstorm. Eventually, he went on to conquer all the inhabited worlds of the explored space of his dimension, becoming a feared despot and heartless monster. Hyperstorm has the power to tap the extra-dimensional realm of hyperspace for any effect. He can control all forces of nature-- the electromagnetic force, the strong and weak nuclear force, and the gravitational force-- forces that emanate from hyperspace.
Galactus turns to Hyperstorm as a source of power to consume. The two battled, as the Unfathomable one attempts to stop a battle that would destroy his new creation, by drawing Galactus into a dimensional void, taking Hyperstorm with him. At some point within this void the two beings became a single, vastly more powerful being -Hyper-Galactus.
Hyper-Galactus is perhaps the most feared being in the cosmos. Hyper-Galactus is like a force of nature; an inevitable, planetary catastrophe that there is no reasoning with, no bargaining with and no escaping. Being from the very beginnings of existence Galactus possesses power beyond most forms of measurement (The Power Cosmic). Hyper-Galactus certainly considers himself the highest being in the universe, maintaining his existence by devouring planets that have the potential for supporting life.
Galactus has been traveling through all the alternate universes, destroying the superheros he has come into contact with. He has now entered the Dark Hero Earth universe (Earth 619).
Read the full story of Galactus under the character tabThe minions of Galactus:
Punisher Cyborgs "Extraterrestrials of unknown origin, semi-organic killing machines"
The Punisher has superhuman strength and durability. It can fly through both air and space. Can attach itself to any surface on which it stands, making it very difficult to knock from its feet. It is composed of an unknown material, described by Iron Man as not metal, but metalized living tissue.
- The exact origins of the Punisher are unknown, though there is evidence that it was in existence prior to the creation of the present universe, Galactus replicated the Punisher into a small army of Punishers. Galactus apparently recalled and repaired the Punisher some point after reforming himself.
Height: 8"
Weight: 960 pounds
NOTE:
No submitting of super-powered heroes to the present RPG, only human superheroes are allowed.
Available Characters:
You are free and encouraged to make the characters original, change their history etc. Some of these are "Dark Hero Earth" canon characters, therefore if you choose to RP one of these characters you must work with what has been established for that character in past "Dark Avengers" RPG's.
If a character is canon you will find an overview within its description, you must incorporate this into your present character. You can also visit the official Dark Hero Earth Forum......Look under Masked Heros.
http://www.darkheroearth.proboards.com
1. Two-Face (could be made a good guy)
2. Batwoman (could be made a bad guy)
3. The Phantom (could be made a bad guy)
4. Joker (could be made a good guy)
5. Hawkeye (could be made a bad guy)
6. Green Arrow (could be made a bad guy)
Dark Hero Earth Canon characters:
7. (Dark) Iron-Man
8. (Dark) Captain America
Taking place in...
1 posts here • Page 1 of 1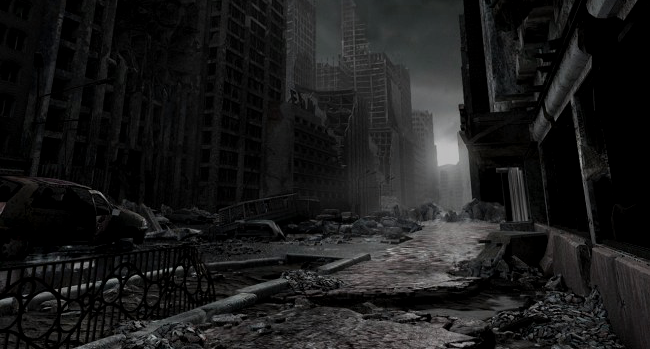 Downtown Gotham after the Symbiote Massacre
"The sonic boom! Did it help?" Daredevil said in a slightly garbled manner as he chocked on the blood which was pooling up in his throat. He was of course merely one individual in the mass of dead hero's and super villains which lay strewn about the land, for they too had participated in the battle against a common foe. Bat-Woman was still holding Matt's hand as he lay battered and broken in the rubble that was formally the home of Bruce Wayne.
"The Symbiote army! ....All dead? ....D..de..Defeated!?"
These strained words were the last the amazing Daredevil would speak before he slowly drifted into unconsciousness and ultimately death. Matt Murdock had sacrificed himself for his comrades and fellow superhero's, his death marked the end of the month's long war against the savage Symbiote's.
The specifics of their arrival upon Earth-619 remains shrouded in mystery. If the real Superhero's were here they would have told the human hero's about their fight against Onslaught within the Astral plane. The masked hero's, comprised solely of human beings with absolutely no Super-powers had nevertheless defeated the swarm of Sybiotes which had invaded the city.
The war had taken a great toll on Gotham city, a large portion of the downtown area was almost completely destroyed from the battles which had been wagged there. Not even the stately grounds of Wayne manor were spared from the carnage of what would eventually be coined The Symbiote Massacre.
A great many civilians had lost their lives, but thankfully the horrific holocaust had come to an end-The masked hero's won the day.
-The battle may be over, but the war has only just begun.
_______________________________________________________________________________________________________
The remaining masked hero's and villains had regrouped at the feet of their fallen teammates, there they would rethink their position and contemplate options for carrying on after the devastating events of these past weeks. The first thing that needed to be done was to find another base of operations, the Bat caves were now useless, being largely caved in and filled with rubble.
Clean up was going to be messy, that task however would be left to city officials, the concerns of the masked hero's would be far more labor intensive. Their job was simple, restore order and set up a new security system, not an easy endeavor, seeing as the three greatest minds of Earth-619 were missing. They could not rely on the knowledge and expertise of either Dr. Bruce Banner or Stephan Strange, they couldn't even pick the brain Tony Stark.
Luckily, Stark had been working on a new defense system prior to his disappearance into the realm of nothingness, the device was complete and fully functional, it just awaited approval. If it didn't have approval before, it would certainly be approved now.
There weren't enough hero's left to set up a second and third in command, Captain America would have been the natural choice as the new leader, but he was dead. Certainly Batman would have been the obvious second choice for commander, but he had also perished in the Symbiote war.
___________________________________________________________
"Damn it Frenchie, get us back on course! We are drifting into the wrong quadrant. Moon Spell tried his best to regain control over the Mooncopter which had momentarily lost its barring.
"What the hell was that sphere-like portal of wispy blueish strands of energy."
The answer to Moon Spell's inquiry was met with silence.
"Frenchie!?" Silence again. And then.... "I do not know Marc, I have never experienced such a strong energy force."
After yet another uncomfortable pause his pilot continued. "Marc! Something strange has happened. I am now reading comply new and unfamiliar coordinance, we are no where near our last position. The star field is totally wrong for this sector."
At that time Moon Spell was not aware that his ship had somehow traversed the dimensional barrier which separated his reality from that of the Dark Hero universe. "Do you suppose this strange occurrence is somehow the result of our complacency in the battle against the super being-Null, the conqueror?"
This time the answer to his question came immediately, though somewhat vague.
"Who is to say Marc, he was definitely a power to be reckoned with, I hate to think of the havoc that he is wreaking right now."
Marc Secret sat up straight in his chair when he notice that they were approaching the earth, somehow they were knocked from their location just outside Wayne Manor into uncharted space. Frenchie had already detected their approach and was working on establishing a link with the main frame back home, all attempts had failed, it was as if there was nothing to connect to.
The connection with the super computers at Wayne Manor and Stark Industries were similarly "off-line" the fact that the Manor had been destroyed was strangely not the reason for this inability to interface.
This was not their own world, it was an alternate reality and so the interconnection between the three systems had simply never been established.
---
1 posts here • Page 1 of 1
Arcs are bundles of posts that you can organize on your own. They're useful for telling a story that might span long periods of time or space.
There are no arcs in this roleplay.
There are no quests in this roleplay.
Here's the current leaderboard.
There are no groups in this roleplay!
Welcome home, Promethean. Here, you can manage your universe.
Arcs are bundles of posts from any location, allowing you to easily capture sub-plots which might be spread out across multiple locations.
You can create Quests with various rewards, encouraging your players to engage with specific plot lines.
Settings are the backdrop for the characters in your universe, giving meaning and context to their existence. By creating a number of well-written locations, you can organize your universe into areas and regions.
Navigation
While not required, locations can be organized onto a map. More information soon!
There are no groups in this roleplay!
By creating Collectibles, you can reward your players with unique items that accentuate their character sheets.
Once an Item has been created, it can be spawned in the IC using /spawn Item Name (case-sensitive, as usual) — this can be followed with /take Item Name to retrieve the item into the current character's inventory.
Give your Universe life by adding a Mob, which are auto-replenishing NPCs your players can interact with. Useful for some quick hack-and-slash fun!
Mobs can be automated spawns, like rats and bats, or full-on NPCs complete with conversation menus. Use them to enhance your player experience!
Current Mobs
No mobs have been created yet.
Locations where Mobs and Items might appear.
You can schedule events for your players to create notifications and schedule times for everyone to plan around.
Add and remove other people from your Universe.
Orphanage
By marking a character as abandoned, you can offer them to your players as pre-made character sheets.
The Forge
Use your INK to craft new artifacts in Dark Hero Earth: THE GALACTUS WARS part 1. Once created, Items cannot be changed, but they can be bought and sold in the marketplace.
Notable Items
No items have been created yet!
The Market
Buy, sell, and even craft your own items in this universe.
Market Data

Market conditions are unknown. Use caution when trading.

Quick Buy (Items Most Recently Listed for Sale)
None
Discussions
Topics

Replies
Views

Last post
Most recent OOC posts in Dark Hero Earth: THE GALACTUS WARS part 1