Nickname:
Cheshire
Status:
"If I harm an innocent person, kill me. Or join me, whichever you prefer."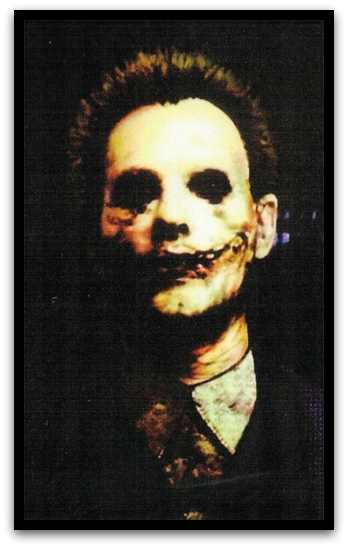 ---
BASIC INFORMATION
---
Name: Chester Harrison Lynch
Alias: The Grinning Man
Citizenship: Irish-American
Ethnic Race: Caucasian
Age: 27
Gender: Male
Marital Status: Single
Sexual Orientation: Heterosexual
Education: College
Profession: Author
---
BIOLOGICAL INFORMATION
---
D.O.B: 10/31/1986
Height: 6'0" ft.
Weight: 160 lbs
Eye Color: Green
Hair Color: Red
Handed: Right
Tattoo: No
Piercing: No
---
---
PSYCHOLOGICAL EVALUATION
---
Outlook: Optimistic
Integrity: Unscrupulous
Impulsiveness: Spontaneous
Boldness: Intrepid
Flexibility: Stubborn
Affinity: Cold
Comportment: Agreeable
Interactivity: Engaging
Disclosure: Secretive
Conformity: Heterodox
---
CRIMINAL RECORD
---
Criminal Class: Serial Killer
Past Conviction: No
Correctional Facility: N/A
Time Imprisoned: N/A
Inchoate Offense: No
Offence Against the Person: Yes
Crimes Against Property: Yes
Crimes Against Justice: No
---
---
PHYSICAL DESCRIPTION
---
Functionality and comfortably have always been Cheshire's guide to grooming and hygiene. You can't tell by the looks of him, but he actually cares a lot about how others perceive him. This is why he cuts his hair regularly. Albeit with a hunting knife, he still manages to keep those burnt orange locks neatly -- neatly used in the loosest sense possible -- trimmed and slicked with gel. Unfortunately, to his blade's dismay, he has never been able to grow facial hair including eyebrows.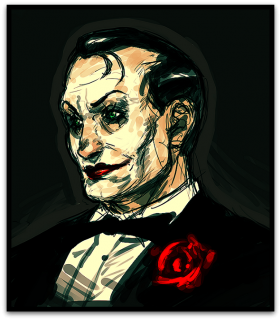 Green, bleak, empty orbs fill the space reserved for his eyes. No amount of polish or light can put a gleam on these emerald jewels. Yet, only whisper of malevolence and pandemonium then whiteness life where there was once none. In that moment you stand but sheep before the hungry lion. Like flowers under the harsh desert sun, many have wilted under Cheshire's unforgiving gaze; unable to withstand their bewitching effects. He will often don a mask to further unnerve victims. Remove this vizard and reveal war paint; cracking, peeling, and fading like old house paint. Eyeliner and lipstick are also effortlessly applied, done with just enough care to put a permanent smile on his face. Now, why go through such an extensive effort to hide his face? Ask this question and be drawn to Cheshire's ever-vigilant reminder of his childhood: a horrendous scar stretching from ear to ear. Woe to the unwary soul who dares call attention to this flaw...

Bound forever to his body is the dry, sun deprived flesh of a true nocturnal predator. Pale and white like the driven snow, such a universal lack of color can only be accomplished by tirelessly evading the sunlight. His skin is cold and clammy to touch, yet rough and calloused from constant use. And like a debris ridden battlefield, scars litter his body. Some are gifts from deceased foes, while others were not so profoundly earned, and are the result of nothing to do.


Mass murderer's don't evade law enforcement for years by being physically unfit and possessing bad hygienic habits. At an even 6'0 feet and 160 pounds, Cheshire is the deranged murderer's model of fitness. His personal odor is a combination of blood and chocolate: an off-putting yet delicious scent. To avoid looking suspicious, Cheshire begrudgingly tries not to walk around in his "work clothes". Despite this, he dresses to kill by adorning himself in nothing but expensive tailor made suits. Currently, Hannibal is wearing: an entire black tuxedo, complete with waistband, white gloves, white corsage, and a bow tie.

A freaky mask, out-of-place suit, and a penchant for stabbing things... in short, Cheshire is definitely a person you don't wanna be alone with. He's a killer ripped out of any horror-thriller and is more than eager to reenact the death scenes with an unwilling subject.
---
PERSONALITY DESCRIPTION
---
Now here is an interesting person. A schizophrenic personality and a winning smile make Cheshire the life of every party; mostly because he's the only one there... He is an evil, murdering sociopath with a charismatic nature that draws you in. His air of confidence and eccentric behavior make him very interesting, from his mannerisms to the things he says. For a person like Cheshire, who can be heavily animated at times, something as simple as his voice can be a big part of his personality. At times it is quite husky and other times his voice drops to only a whisper. When talking loudly, he typically has obvious undertones of anger brought on by loss of temper. Whispering is used to emphasize his point, and while it doesn't necessarily mean he isn't angry, it does mean he is focused. The point here is that either tone could lead to the sudden death of anyone close enough to occur his wrath, which further supports his unpredictability. Otherwise, every conversation with Cheshire is brief and to the point; he never drones on about anything and makes an effort to make sure everyone is always listening.

Cheshire trivializes every situation; it has made him quite blasé to death, danger, and debauchery. He never takes anything too seriously, always seeing the light-hearted and funny side of everything. Conversely, the Grinning Man hates jokes and sarcasm, especially those made at his expense. Never let it be said that he can take an insult. He is very aware of how handsome he is and is quick to anger upon mention of it. Bloodlust and an obsession over violence in all forms, make it a very poor choice for mortals or anything else to talk down to Cheshire. The slightest insult will usually enact an act of violence that may not even be proportionate to the insult dealt.

The Grinning Man is extremely intelligent and cunning no matter how crazy he may seem. His voracious hunger for knowledge is a welcomed compliment to his capricious behavior. Cheshire does things for no apparent reason, except for the sake of doing them. He has no plan or motive, and he doesn't care about the consequences; he just thinks of something and does it without giving it much thought. If he does have reasons for doing things, he will hide them. Cheshire never lets people know what he's up to, masking his true intentions with seemingly reckless behavior. It's the combination of spontaneity and intelligence that make him impervious to the pitfalls that ail a person with only one trait. You won't easily distract Cheshire because he isn't dumb enough to allow impulses and desires to cloud his judgment; he is able to adapt and make quick decisions because his recklessness often puts him in chaotic situations. But, he's also stubborn and will not be shaken from a path once descended. It's this ego-driven attitude that makes him intractable.

Abrasive, mischievous and cunning are three good words that come to mind when Chester Harrison Lynch is nearby. He has a proclivity for subterfuge undermined by his belief in asserting dominance. He loves taking advantage of any signs of frailty or weakness in another's psyche through induction of fear and intimation, but he fears nothing himself. The Grinning Man is not afraid of being locked up. He's not afraid of the Fraternity. He's not afraid to die. He's not afraid of pain. Even if he was captured today and was tortured for hours, all he would do is laugh. Cruel and sadistic as he is, Cheshire has a human side to appeal to. So far, he hasn't killed any innocent man, women, or child. Still, he maintains that he has no qualms about doing so.

Overall, Cheshire is a distant person that prefers to walk alone, for he believes that he is the only one to be completely trusted. He has a sharp wit, is extremely aggressive and appears often nonchalant in his behavior. There is no doubt that he is very self-confident and strongly believes in what he is doing, though he is mostly driven by spontaneity. This is partially the reason for his cold attitude that doesn't allow anyone too close. However, if one might take the time to get to know him and prove that they are worth his time, he will reveal himself as an intelligent person with a silver-tongue. He may also show that he can be a very loyal, protective companion, though only few will ever be able to gain his friendship like that. In the end, Cheshire is nothing but a bitter person.
---
MY DARK PASSENGER
---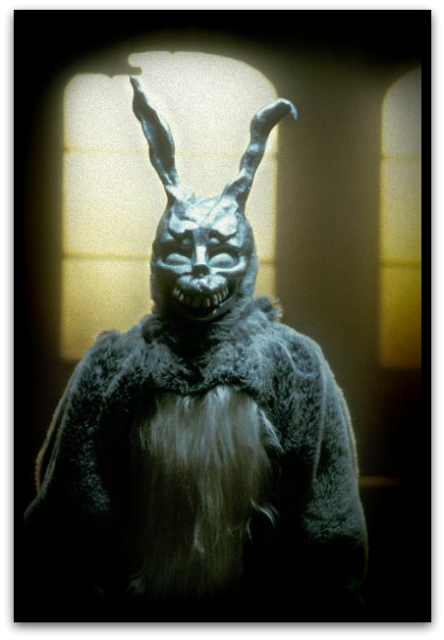 Sin-Eater - That Giant Bunny: Meet Hannibal the Giant Bunny, but don't even think about hugging him because he's not the cuddling type. Hannibal isn't what he seems and so the first thing you must know about this mysterious rabbit, is nothing about him is true; not even his name. His current form was chosen long ago as a familiar figure to a younger Chester. As a child, during times of duress, Chester's mother would read him his favorite book: Alice's Adventures in Wonderland. It was through this book that Chester found an escape from the harsh reality of his childhood. For just like the White Rabbit helped Alice find Wonderland, he helped Chester find the same. So when these two met for the first time, it was under the pretenses that Hannibal would rescue him.

Another thing you must realize, is that Hannibal's appearance is a reflection of Chester's innocence. Originally, Hannibal was a bright eyed, bushy tailed, fluffy white rabbit. But as Chester delve deeper into depravity, insanity set in and he became the homicidal sociopath he is today. So as Chester became Cheshire, Hannibal transformed from the imaginary friend of an innocent child to the twisted rag doll of a psychopath.

Lastly, Hannibal doesn't desire to control Cheshire. After the ritual, he waited in the shadows, biding his time until the right moment presented itself. And when that time finally came, Hannibal manifested and showed Chester how to use his Dark Talent. The mad rabbit never even spoke, except only to answer the boy's one question, "Who are you?" and to that he responded "Hannibal. Your friend now, and forever." True to his statement, Hannibal has never left Cheshire's side. He's always been there as a silent guardian, spectating and sometimes offering subtle guidance.

Dark Talent - Sanguikinesis: The original Dark Talent taught to Cheshire is the ability to control the flow of blood in oneself and others, whether it be animal or human. Mastery of this talent has honed it like an intense laser, yielding complete sovereignty and enabling such feats as: Manipulation, Immobilization, Hemorrhage, and Doping. During the early stages of Manipulation, Cheshire was only able to affect himself. With practice he learned he could affect others through touch and later, at distances of ten feet on a max of two targets or one at double that length. Manipulation paved the way to other abilities, giving them functionality within the same radius. Immobilization is the result of removing blood flow from a specific limb. Cheshire can immobilize targets completely or partially, leaving them without movement and sensation. Making motor functions and muscle movement unavailable, the victim may freeze on the spot or crumple to the ground. Hemorrhage is the opposite of immobilization, as it directs all blood flow to one area. Cheshire uses the ability to induce heart attacks, done blocking blood flow to the heart or his preferred method of overflowing it and creating an explosion. Lastly, there is Doping, which is a technique that involves speeding up the blood flow in all or selected body parts, to give them more oxygen and nutrients thus making him much faster and stronger. There is a drawback to this however, the increase in his metabolism causes hunger thus weariness or even have a paralysis type effect after prolonged use of it.

Dark Talent - Blood Memories: This talent developed secondarily from the use and mastery of Sanguikinesis. It's a form of extra-sensory perception known as clairgustance that allows Cheshire to gain information about a person or animal through supernatural means. By drinking blood he can get personal information retained by the donor during consumption. Meaning, Cheshire cannot acquire information the donor has recently learned by drinking old blood. What he can do, is induce visions of specific experiences/memories as well as gain access to anything that person knew. To better understand the mechanics of Blood Memories you must know the algorithm it follows: consuming 1 pint of blood induces a trance that last 300 seconds enabling the retrieval of any information equating to the donor's age divided by how many pints of blood is in the body. In order for Cheshire to go back to an adult's childhood, he would need to completely drain them wherein knowledge stored a few weeks ago, would only need a single pint. No matter what, a pint is the minimal needed to enter the trance. Keep in mind, that blood taken from its source and blood separated from its source, is two different things. Blood separated from its source abides a different set of rules entirely. In this case, discernible information is based on 60 minutes for every ounce. And since there is no trance, there is only cloud of images, words, and numbers making usable information that much harder to distinguish.

Five years of practice and training put this talent on par with machines, granting him a few bonuses. Cheshire can now garner basic information from merely a taste, things like name, age, gender, blood type, etc... He even boasts that he can detect the faintest trace of blood in the air. Additionally, he seems resistant to negative effects associated with consuming blood.

Origin Disorder - Vampirism: Young minds are easily impressionable and therefore capable of molding. This idea is what drove Sebastian Castellan into thinking an infant -- his son -- was the perfect vessel for a Sin-Eater. Using the abilities of a telepath, Cheshire's mind was altered to have similar brain patterns as a killer's. But a side effect left Cheshire with a psychological need for blood. This is due to a mislabelling of synapses that now associates all scenes, sounds, scents, and sensations of blood with satisfaction and sobriety. For Cheshire, intake of blood is necessary for his survival like water and oxygen. In this sense this makes him a modern-day vampire as he will become depressed and enter a state of pseudo-sickness if he goes too long without it.

Tribute - Bloody Murder: Coinciding with the origin of his Dark Talents, blood is the obvious tribute that fuels his powers. It doesn't matter how or where its obtained, what matters is consumption. Minimal functional capacity requires at least eight ounces a day, five days without it and sickness sets in disabling use of Dark Talents. Blood fresh from a donor will achieve maximum effectiveness in Dark Talents.
---
PARAPHERNALIA
---

Rabbit Mask: The trade mark calling card is a facet only the dead are aware of. For the last seven years, Cheshire has worn a mask when abducting and killing his victims. It started as a way to hide his identity, but evolved into something more after Alice got involved. Once she started making each mask different from the last, it became a tradition to wear her latest creation when preparing a tribute.

Leather Wallet: A fold-able leather wallet, brown in color and worn in use. The wallet contains four-hundred dollars in an unknown combination of bills and various plastic cards that any adult would need to make it through life, all of which are falsified. Identities and backgrounds are swapped every six-months through contacts given by Andy.

Create-a-Face: Utilizing theatrical makeup, Cheshire is able to create a number of guises needed to operate out in the open. The kit contains a wide array of prosthetics and other miscellaneous items needed to create realistic masks. It must be noted that Alice is actually the artist and Cheshire is merely the actor that brings the character to life.

Inconspicuous Van: Being elusive means constantly changing the mode of transportation. Currently, Cheshire is driving a stolen white paneled van he got from a backwoods car lot in Virgina. He isn't too worried about it getting reported since he killed the owner and disposed of his body.

Stabby and Friends: Convenience plays a large role in weapon use for Chester. With no particular skill set or formal martial training, he will actively make use of the surrounding environment as best he can. This can mean picking up a large rock to bash your head in or using shard of glass from a broken window to cut your throat. Additionally, A high level of unpredictability and tendency to fight dirty lends to his overall formidableness. But never let it be said that Chester isn't armed and dangerous. Always hidden on his person is a knife by the name of Stabby, which was a parting gift from his father and commonly used by the High Priest of the Fraternity. Cheshire has also been known to use a Garrote, Blackjack, and small, easily concealable blades. If being caught is not a problem, he will gladly opt out for much bigger melee weapons like axes, bats, and flammable projectiles.
---
BIO/HISTORY
---
To say Chester had a normal upbringing would mean redefining the word entirely. His biological parents offered him as a vessel to a malevolent spirit. Then his adopted parents locked him up in a filthy basement. And instead of being educated in a school like most kids, depraved professors in a mental institution taught him. But the weirdest thing of all is how animals and even humans mysteriously died around him. And with a history like that, a more accurate appraisal of Chester's childhood would conclude that he would be one disturbed and completely fucked up person...

As stated before, Chester had two sets of parents: those that conceived him and those that raised him. Sebastian and Carmen Castellan were the former, giving birth to a child who would have been Alabaster Castellan if it wasn't for the switch. The confusion took place on All Hallows' Eve of 1986 in the maternity ward of _____ hospital. A sudden influx of births sent the staff into a flustered frenzy, creating a lack of concentration among the staff. Meanwhile, in the old cathedral of an abandoned wing, robed men were performing a sacred rite.

Conducting said ceremony was none other than Sebastian Castellan, High Priest to a satanic cult known as the Fraternity of the Constant Ones. This unholy act would call forth the malign entity of a Sin-Eater. But before this could be done, the host body needed preparation. This meant using a telepath to alter Chester's mentality and give him deranged thoughts, psychotic habits, and homicidal tendencies. These adjustments would satiate the demon's hunger until the child was capable of making a true tribute. Once it was all said and done, he was to be placed back in the nursery for rest until checkout time. Except the error of a weary nurse would see baby Chester placed in the wrong crib and eventually taken home by Aidan and Evelyn Lynch.

Nearly polar opposites of the Castellan's, the Lynch's were a working-class, god-fearing family. What a nice couple they were too; so in love with each other and their newest edition to the family... that is, until the strange phenomena started occurring. The first thing they noticed was the crying that never happened. Silence was all they received from baby Chester; no wails, no howls, no nothing – it was baffling. Worried about their son's well being, they immediately launched a medical investigation. Numerous appointments with multiple pediatricians culminated in the arrival to one conclusion: Chester was perfectly healthy, just special. Hearing this diagnosis made Aidan skeptical, but happy to know his son was fine. Still, there were many questions left unanswered, which became the foundation to a mystery that wouldn't be solved until years later. In the meantime, the family was more than preoccupied with a series of unfortunate events that filled the gap.

With the passage of time, came the untimely end of several unlucky souls that crossed paths with Chester. His presence became synonymous with omens such as, black cats and the mothman. This aura of darkness enveloped everyone the Lynch's knew, from loved ones to perfect strangers. Only a single moment alone with their son and death was imminent; at least that was how Aiden and Evelyn saw it. Fear lead to Chester's imprisonment in the basement where he would be confined to the dark, dank cage as punishment. Sure, you could say his parents felt horrible for what they were doing, and it was even possible Chester wasn't behind the accused evil deeds. However, they were his parents; therefore responsibility was solely theirs as is the failure from not protecting their son and forsaking humanity if they allowed him to become a homicidal maniac. Their ignorance had already put one boy in the ER; they couldn't bear the guilt from another incident. This is why they had to look beyond the cute face, the innocent façade of a child and see the underlying truth. They had been in the dark for too long... the light was nothing to them but blinding. Evelyn was still refusing to see, leaving Aidan alone to configure the pieces to the puzzle. It was clear though -- the pattern featuring Chester as the common denominator in a string of deaths. He recalled the many times he caught his son torturing animals. And now, after collecting blood samples, he had the DNA results which were negative for any markers relating Chester to Aidan or Evelyn. It was this discovery that lead him to a mind blowing epiphany.

Armed with a cross, Aidan set out to face who he thought was the anti-Christ. The arrival to such an outlandish inference was a journey fueled by paranoia and delusion brought on by Chester's corrupt past. Nevertheless, he stormed into the basement reciting religious phrases and going on about what he discovered. He soon found his hand firmly gripping the collar of Chester's shirt, lifting his former son inches off the ground. It was then that he suddenly felt foolish and realized the error of his ways. Clarity washed over him causing him to drop Chester and retreat to his thoughts. He wasn't alone in this act though... Chester had not been alone during his incarceration; he had made a friend -- a friend who was now telling him to kill his father, which was a pretty tempting suggestion. Chester had seen how Aidan looked at him, how he talked about him, and how he took away his freedom. Furthermore, Chester wouldn't allow Aidan to take him away from his mother who had secretly took him outside, read him to sleep, and snuck him candy. The decision was made. Slowly moving towards a knife he managed to hide; he grabbed it and dashed toward his father who had made the mistake of turning his back. Years of piggybacking had taught Chester how to successfully jump and latch on his father's back. Aidan sensing this as an act of aggression instinctively bucked. It didn't take much, after a few times of slamming his back into nearby walls, Chester's grip loosened and he fell. Aidan had lost however, his wounds were many and it seemed he would die. Upstairs, Evelyn, who had been sleeping this whole time, was woke by all the ruckus. She rushed to the source of the commotion where she then screamed at the sight of blood pooling from her dead husband. Dropping to her knees, she clutched his body trying to stop the flow of blood. While Chester laid stoic still on the ground, covered in blood and emotionless to what he was witnessing. Despite feeling nothing, he wanted to cheer his mom up, after all it was his fault, and so he did what he always did in that situation. Usually, this was making funny faces until she started laughing. But as his friend pointed out, this was an especially dire moment, thus something extra was needed. So he pressed the knife to his cheeks, cut in an upward motion, and calmly said, "Look mom."

Thursday of February 14th, 1999 marks the day that both of Chester's parent died (this date would become a personal holiday celebrated by an annual tribute of horrific proportions). As a result, he admitted to Pleasantville Asylum where his life was surprisingly better. It was within the walls of a mental institution that allowed Chester to finally found a home, a place where he could be himself among the broken, unwanted members of society. Admittedly, it took some getting used to, especially the uniqueness of Dr. Rose's "therapeutic treatments"... Still, he adapted and made use of every aspect of the facility. Even when he got and made an outsider, he was still able to turn both into a source of revelry: producing victims for his dark urges and allowing him time to pursue scholastic goals (which he discovered he had a knack for). Unfortunately, what he couldn't handle was a peculiar meeting with the warden, which heralded events that would destroy his home. Said meeting revealed many truths, all surrounding how the warden was actually his biological father. Sebastian told him

everything

: the details of his birth and how it was an experiment, how he brought him to Pleasantville to keep a closer eye on him, and even about the Fraternity and the Sin-Eaters. Apparently, it was all to prepare him for a role he was literally born for. Chester, and others like him, were to escape only to become Sebastian's personal harbingers of death and guarantee his rise to power. And as fun as that sounded, Chester wasn't fond of being someone's weapon nor lab rat. So he gave this father what he gave the last one, bringing his seven-year vacation to an end. Luckily, his father was a traitor and made an escape plan utilizing gaps in security.

Chester and five other inmates escaped that night, leaving nothing behind but a burning pile of rubble. The group split up soon after that, never bothering to become facebook friends or send each other Christmas cards. Although, Chester and a girl who simply went by Alice, became a team. Together they traveled the country becoming infamous through a series of murders. Actually, it was Chester who did all the killing. The media even gave him a moniker, the Grinning Man, bestowed because he pins a custom smiley-face pin to the body of every victim. He even wrote a few manifesto like biographies detailing these crimes and more, all of which became best sellers. Alice just seemed to tag along, enjoying the ride and the protection that came from her pseudo-brother and guardian.