Murtagh MacCaddoch
"Whatever it takes to live."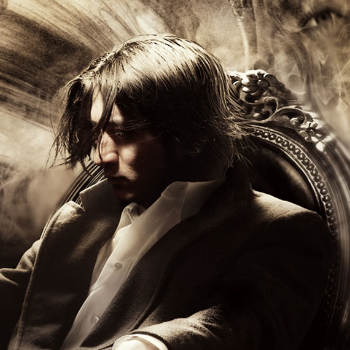 ---
BASIC INFORMATION
---
Name: Murtagh MacCaddoch
Nickname: Murtagh
Ethnic Race: Irish
Age: 28
Gender: Male
Marital Status: Single
Sexual Orientation: Hetero
Education: Some Community College
Employment: Animal Control Officer
---
BIOLOGICAL INFORMATION
---
D.O.B: 07/14/1985
Height: 5'10
Weight: 180 lbs
Eye Color: Brown
Hair Color: Brown
Handed: Right-handed
Tattoo: None
Piercing: None
---
---
PSYCHOLOGICAL EVALUATION
---
Outlook: Pessimistic
Integrity: Conscientious
Impulsiveness: Controlled
Boldness: Cautious
Flexibility: Stubborn
Affinity: Cold
Comportment: Discordant
Interactivity: Reserved
Disclosure: Secretive
Conformity: Heterodox
---
CRIMINAL RECORD
---
Criminal Class: Murderer
Past Conviction: N
Correctional Facility: None
Time Imprisoned: None
Inchoate Offense: None
Offence Against the Person: Fratricide
Crimes Against Property: None
Crimes Against Justice: None
---
---
PHYSICAL DESCRIPTION
---
Crowned with medium-length, long, and brown hair, Murtagh's hairstyle is that of a curtained appearance. Divided down the middle, his hair is parted to the sides to reveal his brown eyes and thin brows. His appearance is brooding, accentuated by his downturned lips and lowered nose. His body is not very built, standing at five feet and 10 inches but with only about 180 pounds to spread over his tall frame. His skin is rather pale, with no markings or freckles on his body to display his Irish blood.
---
PERSONALITY DESCRIPTION
---
Murtagh does not consider himself brave or bold, and nobody else would either. Murtagh is at best, a survivalist. At his worse, he is a total coward. Unwilling to take risks, Murtagh is cautious, distrustful, and nervous. When pushed to his limit, the only thing he can muster is a survivalist instinct, where he will do whatever it takes to live- even if it means condemning others. Murtagh cannot handle social interaction for prolonged periods of time, and is prone to fainting and running away if pushed hard enough. He distrusts people so much that he finds it impossible to make friends, and is often painfully lonely. He is a pitiful creature carving out a pitiful life, but Murtagh would probably not have it any other way.
---
FACULTIES OF THE MIND & BODY
---
Mental Health
Mental Strength:
Murtagh is not mentally strong. He has a tendency to be kind and compassionate, but acting on his tendencies is a different story. If he had some sort of strength, it would be his ability to stay calm under pressures outside of social interaction. While Murtagh is a total and complete coward, he is a cunning coward. He analyzes his situation quickly, and finds the quickest or most efficient way to escape—be it tricking the enemy or ducking through an obscured opening.
Mental Weakness:
Murtagh's bane of existence is social interaction. He experiences nausea and fainting if forced into talking to others for too long, and will often overreact and resort to feral violence if pressed too hard. He has extreme paranoia about what others think of him.
Physical Health
Physical Strength:
Murtagh is not strong, but he is very quick to react. He has an almost superhuman reaction to danger, because of his strong tendencies to run away at the first hint of it. His reactions are strong enough to allow him a small advantage in fights. While he cannot hit back without risking being countered, he can dodge and duck with the best.
Physical Weakness:
Murtagh's strength and speed are sub-par. He cannot lift heavy objects easily, and cannot escape a determined pursuer. He can only hope to rely on tricks and his knowledge of the area to disappear. He has the endurance to run as long as he wants, since all his energy comes fromt he intense fear and adrenaline he feels during a chase, but he lacks the ability to turn that fear into power to hit back.
---
MY DARK PASSENGER
---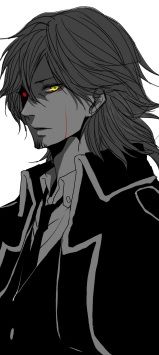 Dark Passenger Name:
Murtagh's Dark Passenger chooses to identify itself as Myron, after Murtagh's dead twin brother.
Dark Passenger Personality:
Myron is sinister socialite. He is not outwardly hostile or evil, but he has an unsettling aura about him. He enjoys manipulating peoples thoughts and escalating conflicts, though he is restrained. Murtagh greater control over the mind limits Myron's interaction with the world, and the times that Myron can break free are brief and thus he is unable to accomplish much. Myron does not outwardly defy Murtagh's desires and wishes, but if left alone he can cause great trouble for others. Myron's strength of persuasion can extend to his body, tricking Murtagh's doppelganger (explained below) into doing feats of strength and speed that are inhuman.
Dark Talent Name: "Quicksave"
Murtagh can create a doppelganger based on the fuel coming from his Soul Hub (see below), controlled by his other personality. Upon will/death of one doppelganger, the consciousness in that body immediately transports to the body that is still alive, all information and memories gathered by one doppelganger carried over and remaining intact. A doppelganger who has died or whose consciousness has left it will die and turn into water.
Fuel Type Name: "Soul Hub"
For each use of Quicksave, Murtagh must expend a soul from a source known as the "Soul Hub". Souls that can be stored in the Soul Hub are gathered through killing others, but is not limited to killing humans. To gain a soul, the victim must have had a connection to a human. It can be a pet, an animal saved or showcased by humans, or a hated animal that preys on farm animals. The number of souls that can be stored in the Soul Hub is infinite. Depending on the soul called upon, the attributes of the doppelganger are different. A dog soul will create a faster, more feral doppelganger, but a human soul will be more dextrous and the soul of a cat will offer heightened agility. Generally, these differences are not noticeable upon quick observation but easily become apparent on closer inspection. Average intelligence and current skills are not affected much by each soul; as an example it will take a doppelganger a little longer to solve a puzzle when using a non-human soul than normal.
---
SKILLS & ABILITIES
---
Danger Sense:
Murtagh has the ability to detect danger. This comes from years of living in fear, as well as working with Animal Control during dangerous situations. His uncanny ability to pick up on incoming threats is almost superhuman, but Murtagh's paranoia sometimes leaves him susceptible to making bad calls and feeling danger where there is none.
Bullet-time:
Murtagh is very good at ducking and dodging. His past and his training at Animal Control to anticipate strikes has honed his reaction time to be very quick. While he is not adept at using this to fight, he can use this skill to run away.
Puzzle-minded:
Murtagh has the ability to decipher a situation quickly and find a solution. This solution usually involves an escape route.
---
PARAPHERNALIA
---
Swiss-Army Knife:
The best multi-tool available for any situation. Being about five inches long and an inch wide, this compact handle holds just about every tool imaginable within.
Touch-screen Phone:
Armed with an internet connection, this phone has been tinkered with so that it is difficult to track whether it be from his internet history to his calls.
Snub-nose Revolver:
A six-shot gun with a very short barrel. It is known for its compactness, not for its accuracy. Being the terrible shot he is, Murtagh will only use this gun if there was no other means of escape. It comes with a sling that allows it to be stored away on Murtagh's body.
Wallet:
Contains the necessary identification and money for day-to-day use. Sown within the folds of the wallet is a chemically treated paper that will burst into violent flames and burn it's content when exposed to a flame. The paper is replaced every couple months.
Lighter:
The only thing that a Swiss-Army Knife can't do is light things (namely his wallet) on fire.
---
BIO/HISTORY
---
Murtagh's parents were a mystery to him in all but history. His father was caught in the crossfire of a gang shootout, leaving his six-month pregnant mother to fend for herself. She could not bear to simply abort the child this far in, especially after she learned that it wasn't just a child, it was twins. However, she understood the reality of the situation, she could not afford to feed her children and raise them as a single mother in these times. She dropped the children off after birth at a church.
As it turned out, the church's intentions were nothing like they preached. Living in horrible conditions sealed away from the world, the church effectively erased them from existence. Their mother was always working, unable to make visits. The twins Murtagh and Myron fended for themselves, learning their words and math from the harsh schooling they received once they were old enough to babble and walk. They relied heavily on each other, distrustful of the world around them which only showed them indifference. The education was merely a front- it would not do if their mother came back and found them babbling like fools and wetting the bed at the age of six. Threatened heavily by the church, they said nothing about their situation to their mother- who was far too busy to notice. Once news of the twin's mother dying in a car crash reached the church, they began to unfurl their grim plans.
The twins were taken to a room, and locked in there. No food or water was given, only instructions. One twin had to be dead in order for one to be able to leave. Standing upon a carved circle which only could have been the ritual circle for their plans, the twins refused to do anything at first. Reality set in soon after. Nobody was coming to save them. Myron had always been the bold, self-sacrificing brother, and was willing to let himself die. How rare it was for a child of thirteen to be so brave, but Murtagh wasn't having any of it. It was when the hunger and desperation set in that Myron's reasoning began to go through. Unlike Myron, Murtagh was afraid of death. He didn't want to die. Combined with the hunger and thirst, Murtagh took the ceremonial blade that had been left with them and stabbed Myron. Myron never accused Murtagh of anything as he died in his brother's arms. He only told his brother to live. Murtagh was taken from the room, numb with shock. He was given food and drink once again, but half the time it was force-fed to him. Murtagh was simply unresponsive for days on end. He killed his own damn brother. He had nobody else in the world now. That was what he thought.
Voices began talking to him. At first, Murtagh remained unresponsive. However, it became apparent that the voices weren't going away and he responded. It grew a personality, a form. It introduced himself as his Dark Passenger, something Murtagh had no idea about. Responding to Murtagh's confusion, the voice just decided to name itself Myron, which Murtagh took offense to. "Myron" refused to answer to anything else. Feeling intense loneliness after a long period of time, Murtagh caved and allowed himself to call the voice after his dead brother.
After a couple years of cultivating this Dark Passenger as a partner, Murtagh developed a sort of bond with it. He loathed calling it a friend, but it was the closest thing to one that he could claim to have. Soon after, the church was raided by the police. Turned out that Murtagh wasn't the only one participating in the church's crazed rituals, but Murtagh was the only one that was still alive when the authorities found him. He was sent to a psychiatric ward for people like him as a result of all the trauma that a psychologist diagnosed him with. He said nothing to his ward-mates. He couldn't trust them. He didn't need to trust them to live. However, he did listen and experiment. Myron's soul counted for one instance of his Quicksave ability. Against his will, he was forced into the plan of escaping from the ward. He eventually did. He could not trust anybody within the facility. However, after the escape happened and they all made it out, he severed all ties and found his way into Animal Control as an officer on duty. It suited him perfectly. The dangerous animals that earned the ire of the neighborhood it lived in proved to be an excellent source of souls. He never raised suspicion about it, he would only occasionally kill and make sure the remains were gone. Murtagh continued to live, and while it was an empty life, it was better than anything he could have ever hoped for in the past.