Name: Raechel Pravsane
Age: Appears mid-teens.
Gender: Female
Race: Dark Soul
Appearance: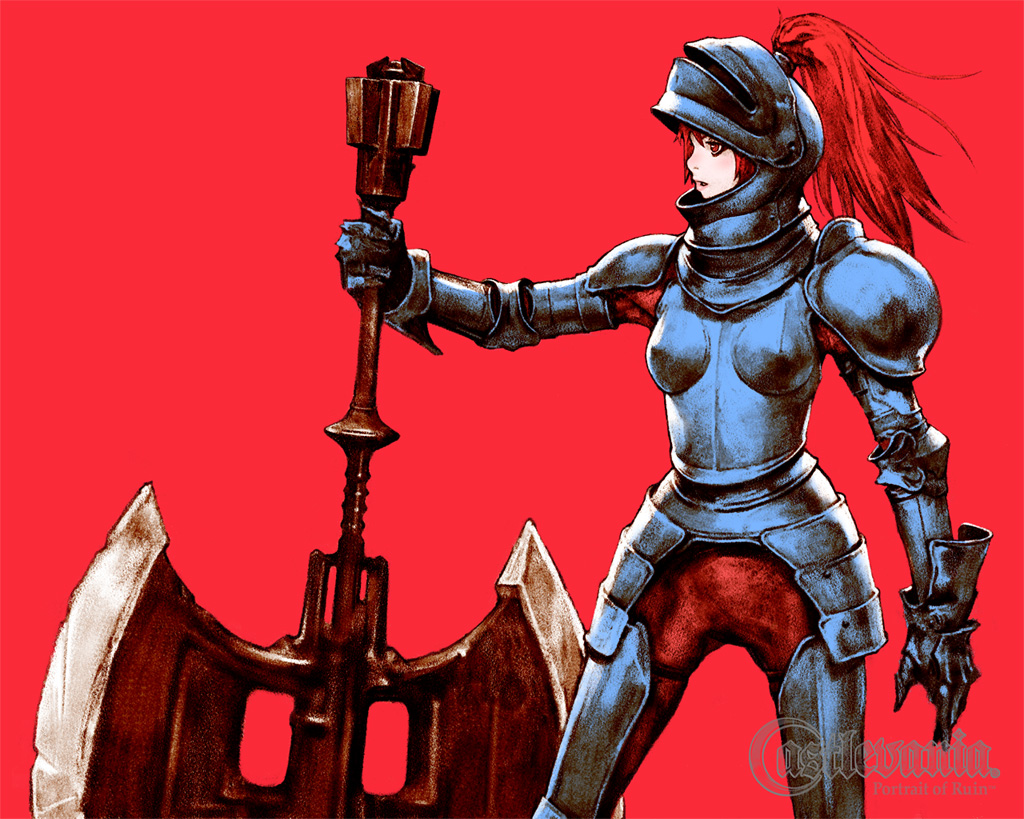 Clothing: It's rare to see Rae outside of her armor, just because her shocking crimson hair and eyes make her stick out like a sore thumb. However, when outside her armor, she wears a long skirt and long sleeve blouse, nothing above peasant appearance.
Abilities:
Extreme Strength - Raechel has outstanding strength for her appearance....as seen with her weapon.
Axe Master - Raechel has mastered her category of weapon, the battle axe.
Weapons
Castle Reaver - An utterly massive two handed axe that looks to weigh a ton. It's edge is razor sharp, and it has a counter-weight on the pommel to make it easier to swing.
Alignment: Lawful Neutral - Raechel doesn't want to be a bad person, but she always does what she thinks to be the right thing to do.
Personality - Raechel is bright and cheerful when not around public, and she's very nice. However, in public, she is mocked and usually discriminated against because her being a Dark Soul. She doesn't talk much, and her eyes are always latched to the ground. She's direly protective of her friends, because she values not being alone more than everything else.
Background: Before she became a Dark Soul, she had a relitively normal life, the daughter of a farmer and a baker. She dreamt of becoming a Knight one day, but the town she was in prohibited women from becoming knight, smashing her dream to tiny pieces. But she wasn't going to be discouraged so easily. She searched around her town, before finding a kind old man whom was named Felix. Felix was an old hermit, whom apperently had been a grand champion back in his day. He paid for young Raechel's starting 'Knight' gear, a set of full plate armor, and a hand axe. The armor was loose, and didn't fit her well at all, and in fact, she couldn't keep her greaves on without a belt. And the axe's handle cracked after only a few practices. But she loved it. It was slowly piecing together her broken dream.
However, when the Darkness swallowed their town whole, she was training in her armor... When she awoke, not only did she find that her entire appearance had changed, but her armor had actually changed with her. Now it fit her perfectly, having just enough room in just the right places to fit perfectly. And her weapon had changed too. From a small hand axe to a massive battle axe. At first, she doubted she could lift the shaft. But to her surprise, she easily lifted the object with one arm.
A year passed, and she tried to repair the appearance damage done to her. She tried to dye her hair back it's natural red. But combining with the 'curse's natural white, this made her hair bright red, standing out like a beacon. Branded an outcast, she would before to roam the lands as a mercenary knight, finding acceptance nowhere, even the places she saved from bandits and maruaders. Today, she does the same...