The Frog Prince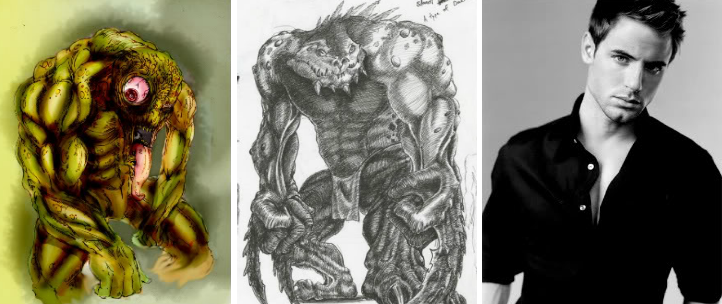 Name:
Frosch
(Prince Emmanuel Beyer)
Age:
27
Gender:
Male
Height:
7'3"
(6'2")
Weight:
535 lbs.
(175lbs.)
Personality:
The prince has grown bitter and wicked since the day he was transformed into a monster. Before, he used to weep when people would run from him frightened. He still clung to his humanity. On the inside, he was still a prince! After spending years as a monstrosity, the names people would call him, the way people would treat him, what was left of the prince within him was rotting away. His conscience was beginning to warp, becoming what everyone said he was: a monster. He was becoming what his reflection in the lake always portrayed him to be. And now that is who he is.
Emmanuel is now a walking nightmare. When Fantasia fell into darkness, he was the monster devouring those who had once despised him. He has long lost his appreciation for human food. When he gazes at fine wine and roast, he doesn't smell or see anything desirable as he once did, but flesh is another thing. As a frog, he not only just enjoys the slurp and crunch of insects and vermin, but the chomp and chew of human meat.
Frogs follow him around and bask in his presence for the prince has become their prince. He is the frog prince! The amphibians watch as he devours humans left and right, humans that once fried, boiled, and ate them as fancy dishes. The prince adored the appreciation of his amphibious subjects, plummeting further from humanity until he no longer thought he was ever a man. He had forgotten who he was.
Though now a monster, the prince's self-conceited attitude still lingers. He is arrogant and cocky, willing to take any job for nothing seems too difficult to him. He feels invincible as long as his frog subjects keep praising him. He has become numb to insults though flattery is something he takes to heart; and if pissed off, he won't hesitate to lick the face from a person's skull.
Likes:
Women, eating others, amphibians, bugs, ponds, and flattery.
Dislikes:
Peasants, insults, frog legs or frog dishes, and people who murder his frog subjects.
Psychological Disorder(s):
Trust issues, pride, self-loathing, and superiority complex. The prince often listens to his frog subjects. They have become his manipulative family and know how to pull the prince's strings. He is afraid that they may abandon him if he doesn't listen to them for they regarded him as a prince and not a monster.
Background:
Once upon a time, there lived a prince in a glorious castle. He was handsome and wealthy, and felt that he could have anything he so desired: the hearts of women, riches, and endless pleasantries. One day, a dark woman floated through his bedroom window. She glowed like the moon and had wings as black as night. She told him that if he slept with her and was able to please her, then she would bestow upon him great power. The prince was unconvinced at first, feeling cautious of the fairy, but she wasn't only beautiful but clever. She had learned of the prince's behavior one night when she attended one of his formal parties in disguise. She knew he was arrogant, and so told him that if he didn't think he was good enough, then she would leave. The prince annoyed with the fairy and eager to prove her wrong, took her into his bed.
The prince knowing he had beaten her at her own game demanded that she give him the great power she had promised, but the fairy was sour. No human had ever won. Instead of giving the prince great power, she instead left him with a curse. She told the prince that he would soon see what she had given him and left.
The next few days, the prince began to notice his changes. No longer could he taste his fine food and his skin was beginning to turn green. Growing fearful of his new disease, he cancelled his parties, meetings, and hid away in his room, continuing to transform and grow until he was no longer a human. The prince had become a monster. His servants no longer recognized him and refusing to believe he was the prince, he was chased from his kingdom. The world around him saw him only as a monster; and over the years, the prince had become exactly that. It was when the new queen had taken the throne that the prince unleashed his anger and went on a rampage, devouring humans left and right. Frogs began to praise him and follow him around, calling him their prince. The prince soon grew drunk with the power that was given to him by the fairy, and thanks to his amphibious subjects, they had told him of her whereabouts. The prince found the fairy in the castle of another prince and snatched her from him with his tongue. The frog prince fled into the night having eaten the fairy and satisfied his revenge.
He was now Frosch, The Frog Prince, unaware that his loyal servant Heinrich was searching for him with the intention to cure him.
Frosch's Appearance:
Frosch is about the height of a door and his warty skin is smooth, slick, and rippling with muscles. Veins run across his arms as he stands slightly hunched over. His massive fists have sharp, protruding nails with webbing between each of his fingers. His chest and upper abdominal muscles are solid but his stomach is globular and bloated, hanging over his black, shredded trousers. His mouth is wide with a few canines poking out like an ogre. The large, black warts that cake his back, calves, and arms are tough enough to stop a blade if ever he is attacked from behind and secrete a mucus that can be sticky as well as poisonous if touched. The length of Frosch's tongue can reach extraordinary lengths. His longest is five yards. Frosch carries a foul odor that isn't pleasant around others, but he could care less.
Partner:
Heinrich –
NPC
– Emmanuel's servant that is searching for him. He sympathizes with the prince and has his cure.
Weaponry:
Tongue, venom, appetite, strength and frog servants.
Powers
•
Devour
- as a frog, the prince can devour almost anything. People, weapons, magic, if it goes into his mouth, chances are, it won't be seen again.
•
Venom
– A disgusting sludge the frog will spew from his mouth to coat anything in its path and reduce it to nothing.
•
Mucus Guard
– The frog can secrete a sticky film that covers his body and acts like a glue to cling to several things.
•
Tongue Lash
– The frog's tongue is dangerous. It is what he uses to snatch up food.
•
Vocal Shield
– The frog's vocal sac swells and deflates when he is croaking, but it can also swell to become a shield against frontal attacks.
•
Leap, Climb, & Cling
– The frog can leap great distances and cling to large buildings.
•
Frog Form
- The prince can take on the form of a common frog.
•
Water Absorption
– When in frog form, the prince can reach colossal heights if exposed to a body of water. His body absorbs the water and thus increases his size, but when not around water for too long, he'll shrink back into a dinky frog.
•
Night Vision
- Self-explanatory.
•
Breathe Underwater
- His gills are in the pits of his arms.
•
Inhuman Strength
- About as strong as an ogre. One does not want to get punched by this guy.
Passive traits: The frog carries a foul odor and frogs migrate wherever he goes. He is a prince after all. One may notice the plague of small frogs entering a town or city before they see the beast that's following.
Frog Form Written Appearance:
The frog is small (can be enormous), warty, and one can smell the beast from miles away. He smells like a bog, and it's even worse when he's in close proximity. When he's a tiny frog, it's not as awful. The frog's skin is thick with protective black warts and sticky with mucus. The frog is fat and round with a short, tadpole-like tail.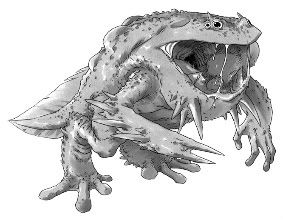 If the prince ever becomes a prince again, well, then this profile will read a bit differently, but for now, he's this way for whatever events take place IC.